On July 7, 2020, S&P/NZX50 ended the session in green as the index witnessed a rise of 0.75% to 11,744 while S&P/NZX20 encountered a rise of 0.86% to 7,841. On the same day, S&P/NZX10 rose by 0.80% to 12,466.
On July 7, 2020, S&P/NZX All Energy witnessed a rise of 1.56% while S&P/NZX All Materials ended in red as there was a fall of 0.77%. We will now have a look at the performance of individual stocks.
The share of QEX Logistics Limited (NZX: QEX) ended the session in red as there was a fall of 8.62% on an intraday basis to NZ$0.530 per share. The stock price of Mercer Group Limited (NZX: MGL) fell by 6% to NZ$0.235 per share.
The following image provides a broad overview as to how the share price of MGL has trended in the span of 90 days: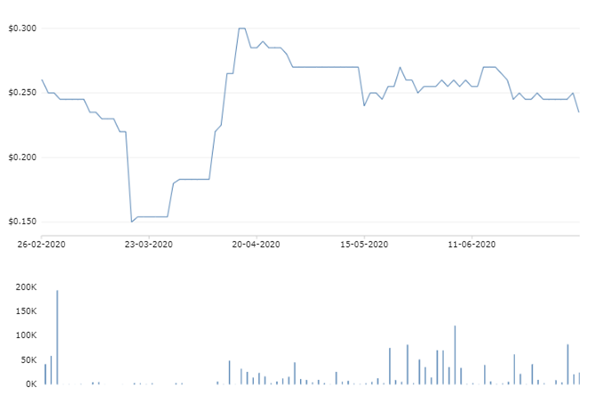 Stock Performance (Source: NZX)
SCT Ended the Session in Green
Scott Technology Limited (NZX: SCT) has released a trading update in which it was mentioned that the company is continuing to recover post-lockdown as well as in the new COVID-operating environment, with numerous projects coming back onstream and the growing list of enquiries for its innovative and reliable automation and robotic solutions.
The company's streamlined business model as well as new strategy places it to take advantage of continued demand for innovative and reliable automation and robotic solutions while, at the same time, minimising risk and delivering growth in earnings along with improvement in margin.
COVID-19 would be having a significant impact on FY 2020 results (for the year ending August 31, 2020). However, the company's revenue is anticipated to continue to recover as restrictions are eased and businesses recommence projects as well as capital expenditure.
The stock of SCT ended the session in green as there was an increase of 9.09% on an intraday basis to NZ$1.800 per share.
RAK Releases Annual Report for FY 2020
On July 2, 2020, Rakon Limited (NZX: RAK) has released its annual report for FY 2020. Coronavirus has had a negative short-term impact to the company with NZ as well as Indian operations severely restricted for the periods of time. However, in the medium to longer term, coronavirus is not expected to have a significant adverse effect on the group. The telecommunications segment happens to be a major part of the operations and the coronavirus has increased reliance on the remote communications, reliable telecommunications infrastructure as well as higher network capacities.
---
Disclaimer
The website has been prepared for informational purposes only and is not intended to be used as a complete source of information on any particular company. The above article is NOT a solicitation or recommendation to buy, sell or hold the stock of the company (or companies) under discussion. Kalkine does not in any way endorse or recommend individuals, products or services that may be discussed on this site.