On 18th October 2021, the equity market in NZ closed in red as significant selling pressure was witnessed on the consumer staples as well as communications services sectors. However, industrials sector witnessed buying. NZX 50 Index fell by 0.11% and NZX All Consumer Staples declined by 1.14%. NZX 10 Index witnessed a fall of 0.05%.
Data Source: NZX, Table Source: Copyright © 2021 Kalkine Media
Performance of Indices:
NZX 50 Index closed at 12,998.51, reflecting ~4.95% growth in the previous 1 year. MidCap Index and SmallCap Index ended at 6,538.97 and 23,220.31 points, respectively.
S&P/NZX 50 Index vs SmallCap Index vs MidCap Index – Performance Over One Year

Source: REFINITIV
Gainers and Losers:
NZME Limited (NZX: NZM) has decided to extend the period for satisfaction of the finance condition under sale and purchase agreement with Global Marketplace New Zealand Limited to 22nd October 2021. Notably, the company announced the sale of GrabOne to GMP for the consideration amounting to $17.5 Mn on 24th August 2021.
New Zealand Oil & Gas Ltd (NZX: NZO) rose by 8.26% to NZ$0.590 per share.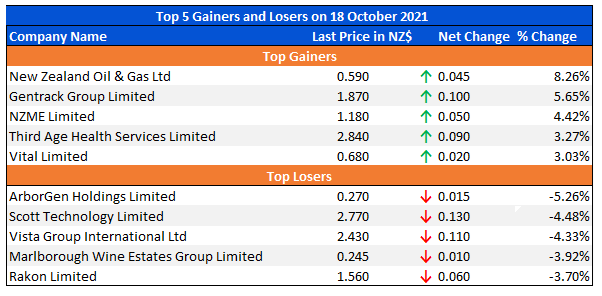 Data Source: NZX, Table Source: Copyright © 2021 Kalkine Media
Movement on Wall Street:
On 15th October 2021, NASDAQ Composite increased by 0.50% to 14,897.34. Notably, Dow Jones Industrials Average increased 1.09% to 35,294.76.
Note: The reference data in this article has been partly sourced from REFINITIV