On 23rd September 2021, the broader NZ market ended in green as significant buying was witnessed in the consumer staples, energy as well as IT sectors among others. Notably, NZX 50 Index rose by 0.65% to 13,305.92 and NZX 20 Index increased by 0.65% to 8,388.11. Also, NZX All Consumer Staples witnessed a rise of 2.15%.

Data Source: NZX, Table Source: Copyright © 2021 Kalkine Media
Performance of Indices:
NZX 50 Index closed at 13,305.92, implying ~13.68% increase in the time frame of the past 1 year. Notably, MidCap Index and SmallCap Index ended at 6,637.08 and 22,577.26 points, respectively.
S&P/NZX 50 Index vs SmallCap Index vs MidCap Index – Performance Over One Year

Source: REFINITIV
Gainers and Losers:
In the release dated 23rd September 2021, Me Today Limited (NZX: MEE) stated that it has wrapped up the acquisition of King Honey Limited on 30th June 2021. As per the release, the company has been anticipating that the sales for the 9-month period from acquisition date to 31st March 2022 is expected to be NZ$10 Mn for the King Honey business. Notably, at EBITDA, the company is anticipating that the King Honey business would be breakeven prior to the acquisition accounting adjustments.
Accordant Group Limited (NZX: AGL) rose by 4.17% to NZ$1.750 per share.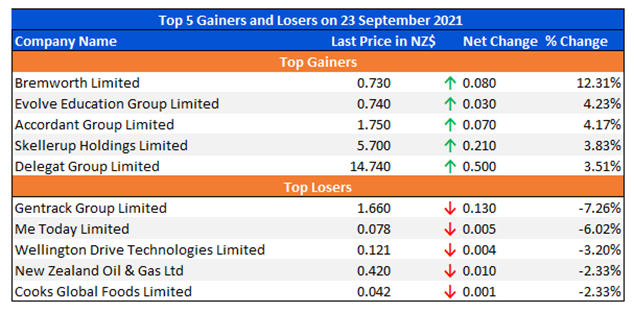 Data Source: NZX, Table Source: Copyright © 2021 Kalkine Media
Movement on Wall Street:
On 22nd September 2021, NASDAQ Composite increased by 1.02% to 14,896.85. Notably, Dow Jones Industrials Average rose 1.00% to 34,258.32.
Note: The reference data in this article has been partly sourced from REFINITIV