On 28th September 2021, the broader NZ market closed the session in red. However, buying was witnessed in the consumer staples sector. On the other hand, healthcare sector encountered selling. NZX 50 Index declined by 0.40% to 13,174.38 and NZX 20 Index fell by 0.49% to 8,287.40. NZX All Consumer Staples increased by 2.49% and NZX Primary Sector Index rose by 1.48%.

Data Source: NZX, Table Source: Copyright © 2021 Kalkine Media
Performance of Indices:
NZX 50 Index closed at 13,174.38, implying ~11.63% rise in 1 year. MidCap Index and SmallCap Index ended at 6,628.41 and 22,666.84 points, respectively.
S&P/NZX 50 Index vs SmallCap Index vs MidCap Index – Performance Over One Year

Source: REFINITIV
Gainers and Losers:
Pacific Edge Limited (NZX: PEB) made an announcement that it has opened the retail offer which constitutes part of the capital raising which was announced on 23rd September 2021. The eligible shareholders in NZ have been given an opportunity to participate in the retail offer, to garner up to a further NZ$20 Mn (A$19.4 Mn) (with the ability to accept oversubscriptions, subject to demand as well as at Board's discretion).
Cannasouth Limited (NZX: CBD) rose by 6.58% to NZ$0.405 per share.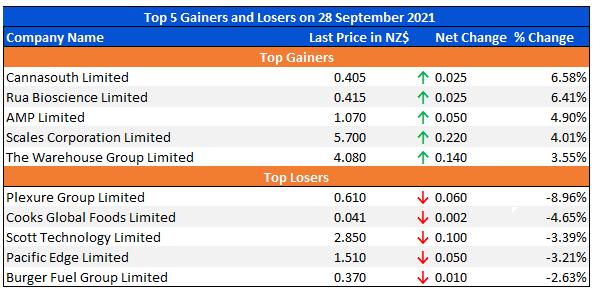 Data Source: NZX, Table Source: Copyright © 2021 Kalkine Media
Movement on Wall Street:
On 27th September 2021, NASDAQ Composite declined by 0.52% to 14,969.97. Notably, Dow Jones Industrials Average increased by 0.21% to 34,869.37.
Note: The reference data in this article has been partly sourced from REFINITIV