On 20th September 2021, the broader NZ market ended the session in red as significant selling was witnessed in the Information Technology Stocks followed by Consumer Discretionary and Financial stocks, among others. Notably, NZX 50 Index fell by 0.42% to 13,178.58 and NZX 20 Index declined by 0.34% to 8,305.57. Besides this, NZX All Information Technology Index fell by 2.80%.
Data Source: NZX, Table Source: Copyright © 2021 Kalkine Media
Performance of Indices:
NZX 50 Index closed at 13,178.58, reflecting ~14.21% rise in the time span of the past 1 year. Notably, MidCap Index and SmallCap Index closed 6,640.89 and 22,754.51 points, respectively.
S&P/NZX 50 Index vs SmallCap Index vs MidCap Index – Performance Over One Year

Source: REFINITIV
Gainers and Losers:
In the release dated 16th September 2021, AMP Limited (NZX: AMP) made an announcement that it has established the Small Shareholding Sale Facility. This is for the shareholders holding less than A$500 of the fully paid ordinary shares. It needs to be noted that Sale Facility allows the eligible AMP shareholders to sell their Small Shareholdings. In doing this, they don't have to incur any brokerage costs.
ikeGPS Group Limited (NZX: IKE) rose by 2.91% to NZ$1.060 per share.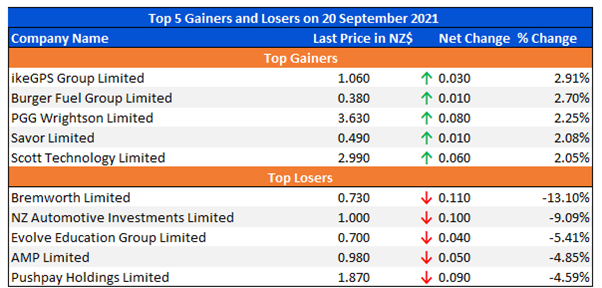 Data Source: NZX, Table Source: Copyright © 2021 Kalkine Media
Movement on Wall Street:
On 17th September 2021, NASDAQ Composite fell by 0.91% to 15,043.97. Notably, Dow Jones Industrials Average declined by 0.48% to 34,584.88.
Note: The reference data in this article has been partly sourced from REFINITIV