Gold is traditionally considered by investors as a safe investment, especially during a time of recession with high risks of inflation and exchange rates depreciating. The current price of gold is indicated in terms of currency. And the current price of currency is affected by the on-going financial crisis. Investors tend deploy their capital towards gold when they expect that global growth might witness some headwinds.
Advantages of Gold as an Investment
Safe investment during volatile times: Gold is generally considered during volatility and when stock markets are severely impacted.
Diversification: Because gold often moves inversely to the stock market, it is an effective way to diversify/hedge one's risk;
Hedge against Inflation: Gold rises in value when inflation takes hold because gold is priced in U.S. dollars, any deterioration in the dollar will logically lead to a higher price of gold;
Disadvantages of Gold as an Investment
Excessive speculation can create a bubble: Many people start investing in gold as the stock market turns volatile, which can make gold overpriced and one can lose value once the price corrects itself;
One cannot earn extra income through investing in gold: By investing in stocks or bonds, one can earn passive income, but in gold, one only gains through increase in the underlying price of gold;
Occupies space and needs insurance: If one chooses to buy actual, physical gold, he/she will not only need to store it, but will need to insure it as well otherwise, he/she won't be able to replace it if it gets damaged or stolen;
Ways of Investing in Gold
There are many ways of investing in gold:
By investing in Gold ETFs: A gold ETF is an exchange-traded fund that specializes in investing in a range of gold securities. Such diversification can somewhat minimize your risk;
Directly Buying Gold: One can buy gold directly in the form of coins or bullions; however, one must pay additional amount to store or secure it;
Impact of COVID-19 on Gold Performance
To understand the potential impact of COVID-19 on the gold performance and global economy, we went through a report published by World Gold Council. In this report, the World Gold Council analysed the possible performance of gold in four hypothetical scenarios provided by Oxford Economics:
Swift Recovery
US corporate crisis
Emerging Markets Downturns
Deep Recession
We will discuss all the four hypothetical situations one by one in this article.
Swift Recovery
As the global economy is now hampered due to the situation of lockdown, the world GDP is anticipated to contract in 2020. While the economic activity throughout the world is weak in the first half of 2020, the markets across the world are tracking the government action to successfully tackle COVID-19 and, based on the outcome, the performance of 2H FY 2020 will be determined. Expected sharp recovery is dependent upon the quick and successful development of COVID-19 vaccine.
The gold returns in 2020 will be maintained by ongoing uncertainty, market risk and the excess liquidity as a result of governments' stimulus packages and central banks' monetary actions.
Swift recovery: implied gold return*
Key Data (Source: World Gold Council)
US Corporate Crisis
Many US companies are negatively impacted by the COVID-19 pandemic and are the main contributor to the slowdown in the global economy with the stock market of US falling by 45% in 2020. A weaker US dollar will keep costs of import high, which will result in a greater decline in corporate profits and impacting investor and business confidence in 2020.
In this situation, the model made by World Gold Council indicates that the gold will have a strong return in 2020, which will be followed by successive falls over the span of next 4 years. However, the 5-year compounded return will be positive at 2 per cent.
US corporate crisis: implied gold return*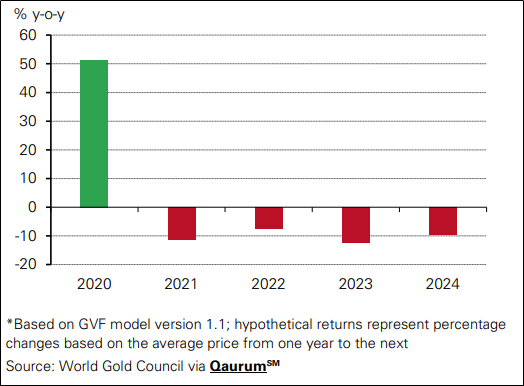 Key Data (Source: World Gold Council)
EM downturn
Under this scenario, the impact of the pandemic is much worse and even Chinese economy contracts on the year and low commodity prices negatively impact many other EMs. However, governments across the world react swiftly via accommodative monetary policy. While the world economy recovers in the year 2021, central banks keep interest rates low for the significant period of time.
In this situation, the model made by World Gold Council indicates that gold returns in 2020 and 2021 are higher than other scenarios. The returns are then expected to turn to negative in 2023 and 2024.
EM Downturn: Implied Gold Return*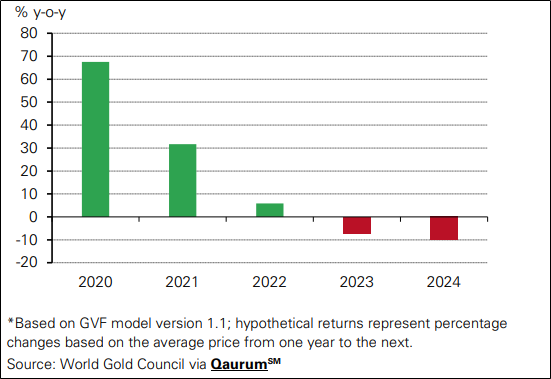 Key Data (Source: World Gold Council)
Deep recession
Under this scenario, the impact of COVID-19 is much worse than expected initially. All the economic activity remains suppressed amidst the worries regarding multiple waves of contagion as well as global economic output does not return to pre-pandemic levels until the year 2023.
In this situation, the model reflects that gold's strong performance in 2020 is expected to be followed by robust but decreasing gains through 2023 before it turns negative in the year 2024, leading to annualised implied return of around 20% over the time span of five years.
Deep Recession *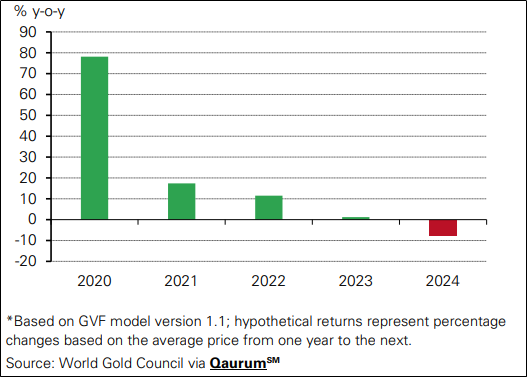 Key Data (Source: World Gold Council)