Z Energy Limited (NZX:ZEL)
New Zealand based entity, Z Energy Limited (NZX:ZEL) supplies fuel to retail and many large commercial customers like trucking companies, airlines, mines, vehicle fleet operators and shipping companies.
Z Energy has decided to provide and since 9 April this year has been updating with its weekly volume data for greater transparency around current fuel market trading environments during the coronavirus pandemic. The data includes retail volumes for the Company's network, which includes the Caltex network, Foodstuffs, and the domestic supply deals that the company supports.
The Company has also started to reveal data related to commercial volume, especially Truckstop volumes, which also consist of private Truckstops that it distributes to many big commercial consumers along with Mini-Tankers. It is providing Marine, Commercial Jet and 'Other' volumes.
ZEL has reported a moderate rise in volumes in the week ended April 19 on the previous week, although levels remain significantly below pre-COVID-19 levels.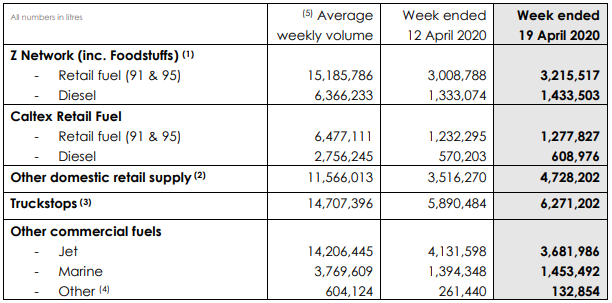 Weekly Volumes (Source: Company's Report)
Intense Retail Competition Affected Trading Environment
In the 6 months to September 30, 2019, ZEL saw intense retail fuel competition spread to new areas in New Zealand. Major discounting occurred in urban areas of the lower North Island and South Island regions. For the six months to 30th September 2019, the Company reported HC NPAT (or Historical cost net profit after tax) of $28 million, down 80% from $139 million in the pcp, driven by a reduction in global commodity prices, lower retail fuel margins and a weaker NZD compared to pcp partially offset by increased refining margins. Z Energy noted RC EBITDAF or replacement cost earnings before interest, depreciation and amortisation standing at $182 million, up 4% from $175 million in the pcp and RC NPAT (or replacement cost net profit after tax) standing at$22 million, declining by 69% compared to $72 million in the previous corresponding period.
The competition in the retail fuels market was exceptional and highlighted the build-out of new to industry (NTI) sites in recent years. In the last couple of years, the Company saw an average of around twenty new sites arriving to the market every year. It followed a rise in industry capability against a background of flat to negative overall industry demand. In the last six months, the Company's financials are being adversely affected by intense retail fuel competition, which has spread to new areas in New Zealand.

Financial Highlights (Source: Company Reports)
Generating value for Shareholders
Z Energy is dedicated to reducing its debt and returning the cash to its shareholders. During the first half of 2020, the Company repaid $20 million of debt principal and reduced its debt leverage, defined as gross debt to RC EBITDAF, to 2.1x on a non-IFRS adjusted basis, which was down from 2.4x as compared to pcp. Adjusting for IFRS-16, the company had a debt leverage of 2.6x, and it aims to progressively reduce its debt towards a 2.0x debt to RC EBITDAF level. The company's interim dividend of 16.5 cents per share represents its dividend policy of a payout ratio of 65% of operating cashflow.
Initiatives to Encounter COVID-19
Because of the uncertainty due to Covid-19, ZEL is implementing a series of initiatives with a focus on reducing operating expenses and improving cash flow to support a resilient balance sheet.
FY20 Final Dividend Cancelled: The Company has decided to not pay a final dividend for FY20, and shareholders have already received an interim dividend of 16.5cps during the current financial year.
Cost Reduction Initiatives: ZEL is implementing several cost reduction initiatives already planned for FY21 and is developing options to ensure it can endure a sustained impact from Covid-19.
Non-integrity Capital Expenditure: Z Energy has suspended all capital expenditure not required to maintain safe and reliable operations.
Working capital facilities: In view of continued volatility in commodity prices and the exchange rate, the Company is in constructive dialogue with its banks to increase its working capital facility.
Guidance for FY20
On 3 April, Z Energy notified the market that it had narrowed its guidance for FY20 in the range of $355 million to $365 million from the previous range of $350 million to $385 million. During FY20, the Company faced a period of materially reduced retail margins coupled with extremely low refinery margins that, as predicted in December 2019 guidance revision, have endured for a much longer period than seen at any time during the past decade.
The prices for crude oil declined quickly and significantly from 5 March 2020. The unexpected price weakness has provided some support to the Company's replacement cost earnings for FY20, even though with the adverse consequences for cash flow as inventory purchased at higher prices is then sold at lower prices. The underlying commodity price volatility has been compounded by currency movements, particularly the decline in the NZ Dollar / US Dollar exchange rate from NZD 0.64 in early March to a recent low of NZD0.55.
Stock Performance
The stock of ZEL closed the day's trading at $3.15 per share on 23rd April 2020, up by 2.94% from its previous closing price. The Company has a market capitalisation of $1.28 billion and its 52-week low and high is $2.50 and $6.85, respectively. The Company has given a total return of 6.04% in the time period of one month and has corrected 40.93% in the time period of three months.