Summary

Foley Wines Limited has announced a multi-million-dollar investment at Te Kairanga in Martinborough, to boost its Lighthouse Gin brand and leverage on the growing tourism surge in the Wellington region in New Zealand
The Te Kairanga project is expected to boost employment in the Wellington region during construction activities and boosting food services and winery visits once completed
Evaluating the employment opportunities and tourism services the company is expected to provide, the New Zealand economy stand to gain considerably.
Foley Wines Limited (NZX: FWL) recently announced a few company developments, including 2020 vintage harvest and its earnings outlook. However, the showstopper of the announcements was its multi-million dollar investment on development of a winery, gin distillery and a restaurant at Martinborough Vineyard Te Kairanga in Martinborough, a part of Wellington Region.
The construction at Te Kairanga is expected to have an underground barrel facility and tasting rooms. The restaurant will be built to accommodate 100 people with proper sit and dine facility along with a private dining room and an open-air area suitable for hosting weddings. A new distillery for Lighthouse Gin will be constructed to support future growth of the brand.
According to CEO Mark Turnbull, the company intends to leverage on the surge in international and domestic wine tourism New Zealand has been experiencing. He further said that the project will take 18 months to complete and by then the negative impact of Coronavirus pandemic is expected to subside, creating a win-win position for the company.
According to US billionaire Bill Foley, Chairman of the company, investment at Te Kairanga is expected to boost its business significantly along with adding economic benefits in the greater Wellington region.
How Kiwi Land stand to gain from the project?
Tourism
Tourism New Zealand has been promoting its vintage wineries located in numerous growing regions throughout the North and South Islands. The department has been offering food and wine based holidays to international tourists to boost its inbound tourism.
Fig 1: Tourism growth (in %) in New Zealand and Wellington 2010 – 2019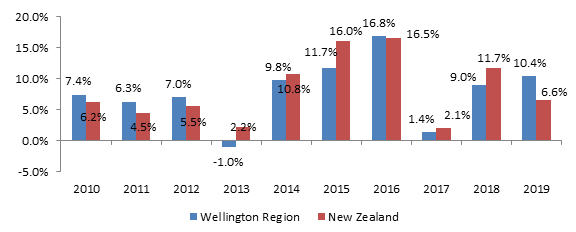 Source: NZ Government and Infometrics
Tourism growth in Wellington Region
Wellington Tourism contributed ~10% ($1,541 million) to the New Zealand tourism, which grew by 2.5% in 2019 to hit $16,150 million.
While overall tourism growth in 2019 increased by 6.6% in New Zealand Y-o-Y, the Wellington area experienced an escalation of 6.6% in tourism growth in 2019 compared to previous year.
Tourism employment in Wellington region grew by 9.2% in 2019 to reach 23,835
Total dollar amount of spending by domestic and international visitors to Wellington Region increased by 6.0% to reach $2,669 million. Food and beverage serving services contributed to $496 million, an increase of 18.6% Y-o-Y.
The Te Kairanga project which offers 100 people sitting arrangement and winery and gin distillery and an open area banquet is expected to bring in more tourists in the Wellington region. The promotional activities of the company should further boost the tourism growth.
Also Read: New Zealand Provides Support to Tourism Sector
Economy Growth in Wellington Region
The economy of the Wellington region grew by 2.5% Y-o-Y in 2019 where as national economic growth was 2.0% Y-o-Y.
Accommodation and Food Services industry grew by 1.9% Y-o-Y in 2019 and Agriculture, Forestry and Fishing (which also include Wineries) increased by 7.8% Y-o-Y in 2019.
Accommodation and Food Services added 4,177 jobs in ten years ending 2019 with 6.8% employment contribution to total employment in 2019 in Wellington Region.
The construction industry contributed to 8% job to total employment in 2019 in Wellington Region.
Company expects to start the construction within two-three months. The 18-month long project is expected to provide income generating opportunities for locals during the time of construction and beyond to work for the company, boosting the economy of the local area significantly.
Bottom-line
The New Zealand economy is currently going through a trough because of the coronavirus pandemic. However, the nation is expected to ease COVID-19 restrictions which might boost the tourism sector activities that are currently stalled due to social distancing and closed international borders. The Te Kairanga project by Foley Wines will take 18 months to complete, which is expected to boost the economy at the time of recovery by commencing construction activities within two-three months. The project will also boost tourism once completed as it will provide winery visits and food services to tourists.
Disclaimer: All the currencies mentioned are in NZ$ unless specified