Today when the world is progressing digitally and generating a mind-boggling amount of data, any organisation that is data-driven is outshining its competitors.
Whenever you hear data and organisation together, the term that automatically rings the bell in your ears is Cloud Computing. But what do you mean by cloud computing? In simple terms, cloud computing is the process of accessing data that is stored in an off-site location via internet. Now the question is what are these off-site locations? Why do we need off-site locations when we have the on-site ones?
Do you often realise that you are running out of memory space or your system speed isn't working well with the major concern of data safety? All these factors are pivotal for any company or individual, and one can blow away these concerns through cloud computing.
Remember the days when we used to access stored files via USBs and hard disks? Well the time has changed. In the case of Cloud Computing, a lot of data is stored in a virtual space which can be sneaked in via internet connection. Also, cloud computing constitutes various services such as databases, data storage, networking, servers, analytics, and software that deliver innovation and resource flexibility.
Cloud Computing – Adoption Acceleration
Cloud computing has triggered innovation across all industries, as it comes with a promise to deliver improved business models with cheap and effective services. Due to this fact, cloud computing has moved deep into many organisations' technology strategies.
Organisations use cloud computing to maximise the value of their data and look upon it as an asset due to its quality and completeness.
With the shift of data storage from in-house to off-site (in the cloud), organisations are enjoying various benefits, including:
Cost efficiency: Organisations pay for what they need and when they need, thereby saving significant costs.
Infrastructure: Spending on hardware and software is reduced due to shared infrastructure and other resources on the cloud, which ultimately saves time on procurement cycles and money.
Scalability: Organisations are not likely to be short of capacity, as computing efficiency in terms of storage, processing or network bandwidth can be scaled-up and down instantly as per the demand.
Remote access: Data can be accessed by any authorised user on any authorised device from any authorised location via internet.
More time to focus on customers: As cloud computing infrastructure is not built in house, it gives the organisations more time to spend on productively, know-how of customers and their needs, thereby enabling them to address client requirements even beyond their expectations.
Did you read: Changing Paradigm and New Normal in Travel Sector
Cloud Computing Service Models
Presently, cloud computing services are capable of meeting any organisation's IT needs.
Although cloud computing has evolved over time, there is availability of a variety of cloud computing services that offers certain basic characteristics and benefits in common.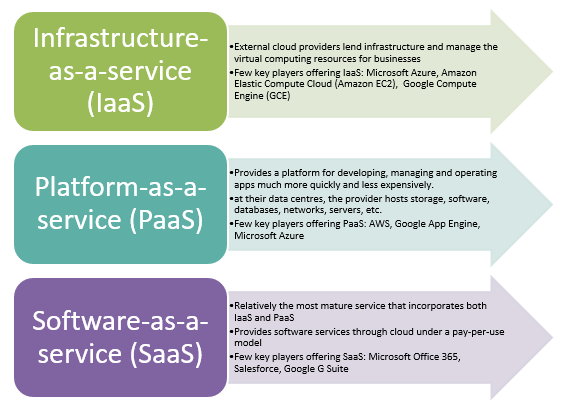 Cloud Deployment – Abundance of Choice
Cloud deployment is the way in which a cloud platform is implemented, accessed, and hosted. Also, while deploying cloud, an organisation has immense choice amongst public, private, or hybrid.
Public cloud:
A 3rd party cloud service provider owns and manages supporting infrastructure including software and hardware, thereby offering access to storage, server, and other resources over internet. Amazon Web Services, Microsoft Azure, and Google Cloud are some of the examples of public cloud.
Private cloud:
Adopted by medium and large organisations to build and manage their own data centres for specialised business needs. This model offers both control over customisability, scalability, flexibility, and security of business operations, built either by third party or organisation itself. In this cloud type, a private network maintains services and infrastructure.
Hybrid cloud:
Mix of private and public cloud, hybrid cloud offers control over critical operations and assets in addition to improved flexibility and cost efficiency.
We have evidently sneaked into a new decade, and based on the technology trends in the past, one can confidently say that the adoption of cloud computing would continue to grow and embraced by all the organisations across sectors.
Did you read: NZX listed Technology stocks Mount up strong amid COVID-19
With this backdrop, let us discuss two NZX-listed cloud computing stocks.
Geo, a SaaS business, is engaged in catering to field service and sales teams with advanced mobile workforce management platforms. Its cloud-based platform is intuitive, removes paperwork, and combines easily with other business tools while providing real-time sales insights.
Trading Update During COVID-19 Outbreak
In early May 2020, the Company announced robust usage of its platform during the COVID-19 epidemic, while closely monitoring customers activity.
In late-February 2020, the Company reported that during the first half of FY20, underlying average monthly cash burn ran at ~NZD0.2 million. To fund its operations through the last quarter of 2020, the Company has adequate cash reserves and undrawn convertible note facilities.
The Company reconfirmed on 1 May 2020 that its cash reserves are expected to fund the business through the current calendar year (2020) or beyond. Its monthly cash burn for H2 FY20 is estimated at ~NZD70,000 and is anticipated to reduce to less than NZD50,000 in H1 FY21, remaining at that level till the effects of pandemic recede.
Stable First Half Revenue
The Company reported revenues of NZD2.1 million in first half ended 31 December 2019, a decrease of 15.3% y-o-y, primarily due to drop in revenue from the Geo for Sales product.
Subscription revenue for the core Geo platform continued to be stable at NZD1.7 million.
EBITDA losses increased to NZD1.2 million from NZD0.6 million in the previous year
On 18 May 2020, GEO stock traded flat at NZD0.058.
Did you read: NZ Budget 2020: Reflections
ikeGPS Group Limited (NZX: IKE)
IKE is engaged in the design of integrated GPS data capture devices and related software. The Company is also involved in the marketing and sale of its products.
FY20 Performance amid COVID-19
IKE published its FY'20 performance update on 14 April 2020 and highlighted following approximate performance metrics for the 12 months to 31 March 2020:
Record revenues of ~NZD9.8million, an increase of 23% y-o-y; significant shift in revenue mix in last 18 months; transaction and recurring sources accounted for ~70% of the total revenue
Record gross margin at NZD7.1million, an increase of 33% y-o-y
Expects materially improved EBITDA for the period against pcp but will be negative for the one-year period
Cash and receivables stood at NZD6 million, at the end of the period.
On 18 May 2020, IKE stock closed the day's trade at NZD0.630, down 4.55%.