Agriculture is one of the key industries that constitute the primary industry in New Zealand and includes dairy and meat & wool. Moreover, the agriculture industry's performance in the country is supported by highly skilled farmers as well as the engagement of technology and science to help produce more from less.
In New Zealand, dairy farming is a huge business and forms the top export earner with nearly as many dairy cows in the country as the number of people in the country. New Zealand has over 35,000 people employed on farms and more than 40,000 people employed in the dairy industry as of 2019.
According to the Dairy Companies Association of New Zealand, the representative body of dairy processors and exporters on policy matters in New Zealand as well as globally:
New Zealand is the world's 8th largest dairy producer with approximately 3% of the world's milk produced in New Zealand
Dairy accounts for one in every three dollars earned by New Zealand for exporting goods
The Top 10 countries for the export from New Zealand for the year ended June 2019 are shown in the figure below. China is the biggest importer of dairy, forestry, seafood, meat& wool, horticulture, arable and other agricultural items from New Zealand.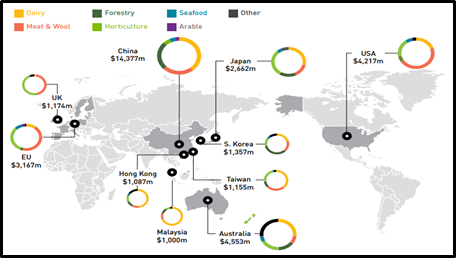 Top 10 Export Destinations for the year ended June 2019 (Source: SOPI 2020)
Agriculture and Dairy Farming in Times of Pandemic
Since the detection of the COVID-19 in December 2019, New Zealand's primary sector exporters have been materially impacted, especially since late January 2020. This was due to the cities in China, particularly Wuhan in Hubei Province, that were placed in lockdown to control the spread of COVID-19 and lockdown started to be apparent around the end of January causing substantial disruptions to Chinese port activities, transport logistics and supply chains.
Further due to continued global spread of COVID-19, the economic impacts of which are expected to last for several months, New Zealand could experience slower growth until December 2020. However, following the COVID-19 outbreak in February 2020, dairy commodity prices softened, and average prices on the Global Dairy Trade auction fell 7.5 per cent with weakness in milk powders, butter, and anhydrous milk fat.
On the other hand, in recent auctions, North Asian buyers have continued to be active with volumes traded higher than the previous corresponding period, notwithstanding the disruptions in Chinese markets.
Post-Pandemic Outlook
Due to the changing scenario of the economic activities across the globe, the dairy farm in New Zealand is expected to be a lot different from what it used to be.
Export prices for dairy products have remained strong by historical standards despite the weakening international dairy markets due to the COVID-19 outbreak. All this led to Global Dairy Trade Index declining 7.5 per cent during February and whole milk powder prices falling 8.2 per cent.
Driven by strong domestic production and favourable export prices, the dairy export revenue is forecast to rise 6.3 per cent to $19.2 billion for the year ending June 2020. Moreover, there has been a positive start to milk production in the current dairy season, and production is forecast to be only 0.1 per cent above last year specially under these conditions which are expected to continue for much of the remainder season.
Moreover, it is expected that the strength in the export price shall be seen over the medium term and is likely to support a 0.5 per cent forecast growth in export revenues to $19.3 billion in 2021, notwithstanding the short term impacts of COVID-19 on commodity prices.
Several NZX-listed companies have been extensively supporting the dairy and farming space in New Zealand. Let us look at some of these companies.
The a2 Milk Company Limited
Founded in February 2000, The a2 Milk Company Limited (NZX: ATM) offers a variety of products available in multiple countries other than Australia and New Zealand. The Company has witnessed robust growth in revenue through all key regions, especially in connection with the infant nutrition products commercialised in China and Australia and also validated that its revenue for the three months till 31 March 2020 surpassed its expectations.
Moreover, the revenue in China segment that is executed in USD was positively stuck by a considerable depreciation of the NZD to the USD during the quarter.
For FY20, ATM expects its revenue to be in the range of $1,700 million to $1,750 million despite the uncertainty and full-year EBITDA margin is anticipated to be above the range of 31% to 32%.
Fonterra Co-Operative Group Limited
Another multinational dairy company and the world's largest exporter of dairy products, exporting 95% of its production, Fonterra Co-Operative Group Limited (NZX:FCG) announced that the monthly milk production for New Zealand was down 1.9% on a litres basis (up 0.1% on a milk solids basis) in March compared to March in the previous year.
This is due to the prolonged drought conditions for many locations across New Zealand, particularly in the upper North Island that compelled some farmers to dry-off herds earlier than usual. In addition to this, milk production in New Zealand was 1.1% lower for the 12 months to March as compared to last year.
In a similar fashion, the monthly exports for New Zealand and Australia declined during the month of February with 5.9% fall in New Zealand exports and 16% decline in Australia exports for February 2020 compared to February 2019.
The dairy exports for New Zealand decreased by 5.9%, or 18,713 MT, in February primarily driven by decreased demand for butter from Iran and for fluid milk products from China, down a combined 19,132 MT.
Fonterra's New Zealand collection in March, was down 1.2% at 128 million kgMS on the same month last season since March was drier than usual across most of the country, and conditions continued to weigh on North Island milk supply through March.
Recently, easing geopolitical tensions had been replaced with increased uncertainty around COVID-19 effects, and the outlook for agricultural market conditions has become more and more uncertain as the potential impact of COVID-19 on the global economy unfolds.
Despite favourable developments in some key macroeconomic drivers, global economic growth is expected to continue to be slow in 2020. Moreover, any upside sentiment in global markets that may have been created has currently been outweighed by the impact of COVID-19.
Bottomline
Currently, New Zealand is making a comeback with a win over the pandemic, and the economy has gradually started to reboot with significant limitations still in place. New Zealand's biggest importer, China has also started its economic activities in recent times after a period of a severe jolt to society as well as economy. As conditions ease in the near future and the economic activities across borders gear up, we might witness a rebound in the agriculture and dairy businesses of New Zealand.
Please Note: All financial used in the article are in NZD, unless otherwise specified.