Insurance sector plays a very critical role in the broader financial system. Following are some of the key points:
An efficient insurance sector allows efficient allotment of resources throughout the economy via redistribution and pricing of risks.
In New Zealand, the life insurers first started its operation in 1854. For the next 100 years (approximately), sector was dominated by branches of large Australian mutuals as well as by Government Life Insurance.
In the latter half of the 20th century, the sector witnessed huge changes. There was an introduction of group policies as well as unit-linked policies.
Group policies permitted firms to cover their employees at the cost-efficient rate as well as with minimum underwriting.
Unit-linked policies permitted policyholders to select their own investment portfolios and accept investment risk.
Characteristics of NZ's Life Insurance Sector: A Brief Look
Life insurance products
The image shown gives a broad overview of life insurance products in NZ for the year to June 2019 (by gross premium).
It can be seen that lump sum insurance accounts for approximately 78%. Notably, the second position is being grabbed by Disability insurance, which accounts for about 16%.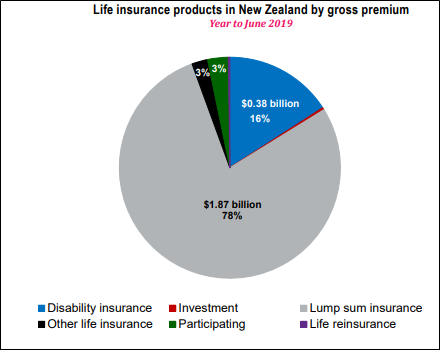 Key Data (Source: Reserve Bank of New Zealand)
Life Insurance Penetration
Life insurance penetration (which is being assessed as the ratio of gross premiums to the GDP) and the density in NZ are well below the OECD average. The following image is crucial in this regard: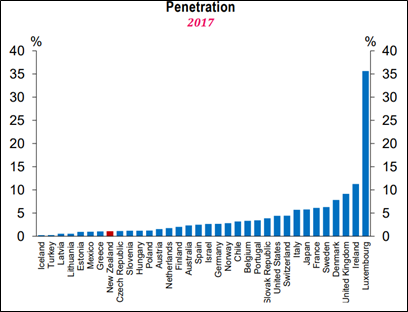 Penetration (Source: RBNZ)
Distribution channels
In NZ, life insurers generally acquire customers via banking relationships or with the assistance of independent financial advisers.
Bancassurance happens to be an arrangement between bank and an insurer. This allows the insurer to offer its insurance products to customer base of the bank. Other channels are also used, like online distribution and outbound call centres.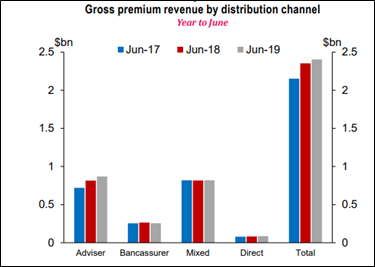 Key Data (Source: RBNZ)
Market concentration
The largest three and the largest five life insurers in the country account for 54% and 72% of the life insurance premiums, respectively. If we consider these two market concentration measures, life insurance sector in the country is not particularly concentrated and is near to the average. However, sector is witnessing a few merger and some acquisition activity. It is anticipated that sector would become more concentrated.
Market Concentration (Source: RBNZ)
Let us look at few companies that are operating in the insurance industry.
Tower Limited (NZX: TWR)
Tower Limited is primarily engaged in the provision of general insurance. The company mainly operates in New Zealand with some of its operations based in the Pacific Islands region.
The company has reduced its total claims ratio from 56.4% in FY18 to 48.8% in FY19 led by benign weather and improved underwriting. The Gross Written Premium (GWP) in the company's core New Zealand book, including Youi NZ portfolio, rose 11% in the 4 months to January 31, 2020 as compared to the same period last year. The total Tower GWP rose by 8% over the same period.
The company's latest, easy-to-use digital platform is being well received by customers, with new business through this channel accounting for over 55% of GWP, as compared to less than 10% in 2016.
It has also improved its digital claims lodgement process and delivered innovations like a claims chatbot, Charlie, which has resulted in 27% of claims being lodged online in September 2019, indicating that digital is the way of the future. The company has given underlying NPAT guidance of $27 million to $30 million for FY20.
The company's reported result amounting to $16.8 Mn happens to be a significant achievement as well as a $23.5 Mn improvement on the last year, and its underlying profit after tax increased to $13.8 Mn on previous year, to $27.4 Mn. The company stated that this return to profitability is because of the strategy which is focused towards making things easier and better.
Insurance Australia Group Limited
Insurance Australia Group Limited (ASX: IAG) is principally involved in the business of underwriting of general insurance as well as related corporate services and investing activities. The company's segments include:
Australia, which provides general insurance products to individuals, businesses and families throughout Australia;
New Zealand, which provides general insurance products underwritten in NZ.
Corporate and other, which comprises other activities, including corporate services, capital management activity and others.
Robust 1H FY 2020 Results
The company's underlying performance in 1HFY20 was strong as well as in line with the expectations. Australian division registered solid underlying profitability, while witnessing the challenge of serious bushfire events. New Zealand division sustained its record of posting a roust underlying margin, while also registering strong GWP growth.

1HFY20 Results (Source: Company Reports)
FY 2020 Guidance
In the release dated March 30, 2020, IAG stated that its underlying business has performed well, although overall YTD profitability has absorbed substantial adverse impacts from net natural peril claim costs and, more recently, severe movements in the investment markets. Despite these challenges, the company's FY20 guidance is unaffected, and it expects that reported margin would be between 12.5%-14.5% and it would post low single-digit GWP growth.