Best Companies to Consider in New Zealand Market
Summary

In the quarter of March 2020, NZ economy declined by 1.6 per cent
S&P reaffirmed MEL's rating as BBB+/Stable/A-2
Amidst unprecedented times, investors need to look for the stocks which are fundamentally strong
The year 2020 has been very volatile for the investors because of many reasons like the US-China trade war, Australian bushfire, but the main disruptor to the market is the COVID-19 pandemic. According to the latest data published by Stats NZ, the economy of New Zealand declined by 1.6 per cent in the quarter of March 2020. Notably, the goods-producing industries fell by 2.7%.
Key Data (Source: Stats NZ)
However, there are some stocks which are fundamentally strong and the importance of these stocks are highlighted during tough times.
Let us have a look at five such stocks.
Meridian Energy Limited (NZX: MEL)
MEL is a 51 percent government-owned NZ listed company and is NZ's leading electricity company.
Recently, rating agency Standard & Poor's has reaffirmed the company's corporate credit rating as BBB+/Stable/A-2.
In the month of June, the company released an operating report for the month of May 2020. Key highlights of the month are:
In the month to 11th June 2020, national hydro storage decreased from 103% to 80% of the historical average;
South Island storage sat at 84% of average and North Island storage at 52% of average on 11th June 2020;
Meridian's May 2020 monthly total inflows were 90% of the historical average;
Meridian's New Zealand retail sales volumes in May 2020 were 10.7% higher than May 2019.
Compared to May 2019, the company saw increased segment sales in residential (+16.2 percent) agricultural (+25.5 per cent) and corporate (+11.6 percent), with reduced sales in small medium business (-2.2 per cent) and large business (-2.6 percent).
Mainfreight Limited (NZX: MFT)
In the time period of three months, the stock of MFT has given a total return of ~26.67%. MFT is a global logistics provider that offers managed warehousing and domestic and international freight forwarding.
MFT Reports Satisfactory Improvement in Numbers
For the 12 months ended 31st March 2020, the company reported sales revenue of $3.09 billion and net profit before abnormals of $147.98 million. The company has also declared a dividend of 34 cents per share, which will be payable on 17 July 2020.
The company generated operating cash flow of $300.80 million, up from $197.42 million in the prior year. Net debt at 31 March 2020, stood at $157.38 million, up from $130.48 million at 31 March 2019, an increase of $26.90 million.
The company's New Zealand businesses continued to expand the network, giving it a stronger regional presence across all three products. Australian segment witnessed a strong recovery during its second half led by pleasing progress from Warehousing and Transport divisions. The key numbers have been mentioned in the below image: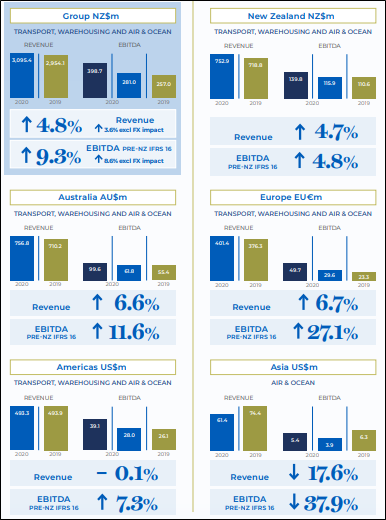 Key Data (Source: Company Reports)
Fisher & Paykel Healthcare Corporation Limited (NZX: FPH)
In the time period of nine months, the stock of FPH has given a total return of 83.98 per cent. FPH is a primary marketer, manufacturer and designer of systems and products for usage in surgery, acute care, respiratory care, and the treatment of obstructive sleep apnea.
In the first half of 2020, the company delivered a good set of numbers. The company witnessed strong demand throughout its Hospital product portfolio, but mainly for AirvoTM and OptiflowTM systems, which persisted to gain from the growing body of clinical research in the usage of nasal high flow therapy. Net profit after tax was up 24 per cent at $121.2 million and operating revenue was up 12 per cent at $570.9 million.
The company has decided to release its full year results on 29 June 2020, instead of 28 May 2020, as was previously declared.
Ebos Group Limited (NZX: EBO)
The company is a leading distributor and marketer of recognised consumer products and animal care brands.
The company's wholesale, distribution and retail Healthcare businesses were essential services and were critical in ensuring a continued and stable supply of healthcare, medical and pharmaceutical products to the community. Its Healthcare segment remained open and operational. The Healthcare segment experienced unprecedented levels of demand in the third quarter ended 31 March 2020.
The a2 Milk Company Limited (NZX: ATM)
In the time period of nine months, the stock of ATM has given a total return of 49.31 per cent. In the release dated April 22, 2020, the company stated that, because of the COVID-19 situation, the outlook with respect to revenue as well as earnings is unclear.
The company's 2H20 EBITDA margin is anticipated to be higher than previously expected. The higher EBITDA margin is mainly because of:
Greater revenue, and therefore gross margin, from greater margin nutritional products, in part because of the consumer pantry stocking in 3QFY20 compared to anticipations;
Positive impact arising from exchange rate movement in USD: NZD effecting on China segment revenue and earnings; and
Lesser than expected costs for travel, and other costs as a result of a delay in recruitment, because of COVID-19 restrictions.