Summary

EROAD reported revenue growth of 32% in FY20
ERD is well placed for FY21
ERD would continue to concentrate towards increasing Monthly SaaS ARPU (Average Revenue per Unit) and also investing to improve operating leverage.
Stock price of an NZX-listed transport technology company, EROAD Limited (NZX: ERD) has recently released decent set of numbers. In the article, we would be having a look at ERD's FY 2020 results.
EROAD Delivers Robust Results for FY 2020
For the full year to March 31, 2020, the company reported total revenue of $81.2 million, up by 32% from the prior financial year. Future Contracted Income increased by 14 per cent to $134.4 million from $117.4 million and Average SaaS Monthly Revenue per Unit (ARPU) witnessed a rise to $58.38 per month from $55.08.
Other key highlights:
Growth of 21% in Total Contracted Units and 6 per cent in Average SaaS Monthly Revenue per Unit demonstrate continued execution against strategy;
ERD reported PBT of $1.4 Mn, up from the loss of $5.1 Mn in the previous year;
Asset retention rate of 95%.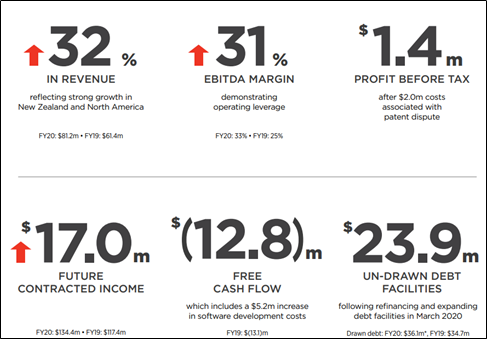 Financial Performance (Source: Company Reports)
FY20 was a milestone year for ERD
FY20 was another year of substantial achievements for ERD. In May 2019, the company reached a major milestone of 100,000 contracted units. The company grew strongly at the rate of 21% in FY 2020 and managed to end the financial year with 116,488 contracted units.
In FY20, the company invested $15.6 million or 19 per cent of revenue in research and development. Resultantly, it launched 7 new SaaS products and enhancements, as well as rolled out innovative tracking system "EROAD Where". The company has also invested $6.9 million to implement new business systems that allowed it to scale up to provide future growth while also ensuring that its operating efficiency can support growth ambitions.
Geographical Performance
New Zealand
The New Zealand business reported 80,366 units for the year, adding 10,256 contracted units, to attain an annual growth rate of 15% via expansion into current customer fleets, combined with a robust underlying new customer run rate.
North America
North American segment reported significant increase in revenue of 62% to $24.8 million from $15.3 million led by robust enterprise sales growth in the market. The North American segment added 9,342 contracted units and registered a growth rate of 38%, indicating the on-boarding of 2 enterprise customers in the 1H of the year.
Australia
During the year, the Australian segment added 784 contracted units, indicating growth in the small-to-medium business section, to register growth of 59%. This growth rate is anticipated to increase in FY21 via the Enterprise customer segment.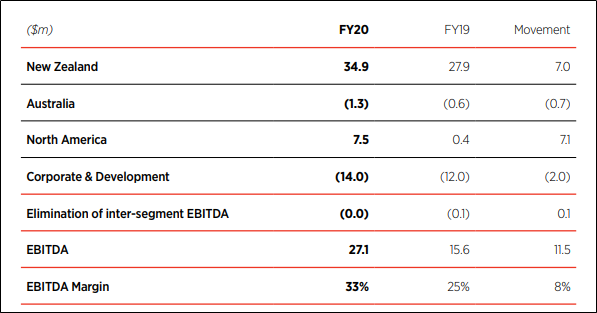 EBITDA Growth (Source: Company Reports)
Operations During COVID-19 Pandemic
The company's global business continuity plan ensured that it has been able to operate effectively through the entire period of interruption caused by COVID-19.
During this time, its products, employees, and services helped supply chain and business activities of many customers;
Many of its customers were provider of essential services that kept the NZ, North American and Australian economies running, in spite of the operating restrictions applied to stop the spread of COVID-19.
Financial Position of the Company
The company's operating cash flow increased strongly to $23.1m from $14.2m reflecting an increased contribution from New Zealand and North America. Investing cash flows increased to $(35.9) million from $(27.3) million, reflecting growth in contracted units, continued investment in Development Assets and a $6.9 million investment in new generation business systems. Resultantly, free cash flow for the year to 31 March 2020 improved by $0.3 million on the prior year to $(12.8) million.
Launch of EROAD Go
The company is expected to launch EROAD Go in HY21. It gives customers the ability to dispatch, track proof of delivery and integrate Transportation Management Systems solutions, which is required for fleet sizes over 100 trucks. This launch, together with the release of camera will increases its ability to access the addressable market in the medium and enterprise customer space.
ERD is Well Positioned for FY21
The company remains well positioned for FY21 despite economic ambiguity across all the markets. This reflects the company's future contracted income, strong customer value proposition and varied customer base throughout business size, regions, and industry. While ambiguity results in longer sales lead-times; the company stays confident in continued unit growth throughout all three markets, even though it is likely to be lower than provided in FY20 and earlier expected for FY21.
The company continues to examine economic conditions and their effect on asset retention rates and debtor collectability. The company is committed towards seeking growth opportunities to deliver its long-term strategy. As per the release, any medium to large opportunities, including acquisitions, would be equity funded.
---
Disclaimer
The website has been prepared for informational purposes only and is not intended to be used as a complete source of information on any particular company. The above article is NOT a solicitation or recommendation to buy, sell or hold the stock of the company (or companies) under discussion. Kalkine does not in any way endorse or recommend individuals, products or services that may be discussed on this site.