According to Meat Industry Association, during the year 2018/19, the value of NZ's red meat and co-products export increased by 8% to $8.75 billion due to a rise in demand and strong global prices. The value of sheepmeat, beef and co-product exports all rose, and the largest rise was seen in beef exports, which was up by 13% to $3.3 billion.
Halal certified exports was the strong feature of the industry's value-add proposition as well as accounted for more than 43% of the total exports. Halal certified products are exported to Muslim consumers worldwide, with China being the largest market.
Exports to China increased by 49 per cent or $980 million as compared to the previous year to $2.98 billion. The United States remained second-largest market despite a 2 per cent decline to $1.75 billion. It still accounted for 20% of total exports.
China has rapidly grown to become the country's most significant market for red meat and co-products. The outbreak of African Swine Fever (ASF) in China has impacted pork production and led to increased demand for other proteins.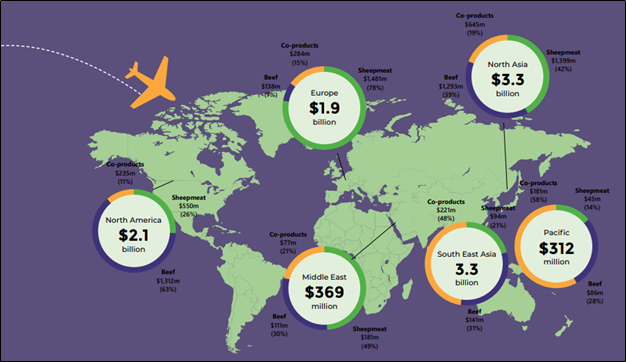 Major Exports in 120 Countries (Source: MIA Annual Report)
A Quick Glance at Export Data
In the month of March 2020, the total exports increased by 12 per cent and reached $1.1 billion as compared to March 2019. While the exports to China were down by 9 per cent due to COVID-19 pandemic, the exports to other significant markets increased. The export volumes of sheepmeat were up by 4 per cent, and the value for sheepmeat was up by 13 per cent as compared to March last year.
There was a fall in the sheepmeat exports to the United States. Notably, this was offset by a robust increase in exports to Malaysia, which rose by 131% to 3,310 tonnes.
The beef exports rose by 14% by value and 3% by volume. China was the only country where beef exports declined as compared to last March, but as seen in sheepmeat, the numbers significantly increased as compared to the month of February and doubled to 13,408 tonnes.
Looking at the quarterly performance, there was strong growth in 2020, and the exports were up by 11 per cent by value as compared to the same quarter previous year. Although the total exports to China decreased by 10 per cent by value, there were increases to nearly all other significant markets.
In the first quarter of 2020, the sheepmeat exports volume was down by 5 per cent, mainly due to a drop of 23 per cent in the volume of exports to China. The overall sheepmeat export value increased by 6 per cent to $1.4 billion. There was a decline of 13% in export value to China, that was offset by:
Germany, up 15% to $102 Mn;
UK, up 25% to $184 Mn;
Malaysia, up 171% to $61 Mn.
Looking at the annual performance, the annual exports also increased by 7 per cent to $9.3 billion in the time period of 12 months. The total exports to China rose by 36 per cent by value, despite the impact of COVID-19 pandemic on the first quarter of the year. This represents the high demand from China in the most part of the last year. Exports to most other main markets declined by value, apart from Australia, up 6 per cent to $174 million, and Japan, up 8 per cent to $400 million.
Drop in Prices for Beef and Sheep Farmers
Stats NZ has recently declared that prices paid to sheep as well as beef cattle farmers and meat manufacturers witnessed a sharp fall in the quarter ended March 2020. Sheep, grain, and beef farmers got 11.5% less for their products in the quarter ended March.
The prices that were paid to meat manufacturers fell by 4.4% in the March quarter.
As per the acting Manager Geoffrey Wong:
The sharp decline in prices for sheep and beef farming in the first three months of 2020 coincided with the dry conditions in several parts of the country, with sheep and beef prices falling;
Farmers were reported to be sending stock off to meat works early because of the drought.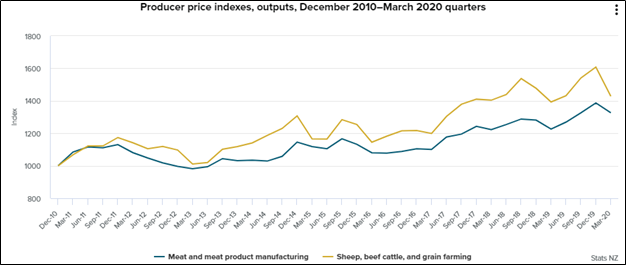 Mr Wong also said that there was a decline in supermarket meat prices in the month of March, with lower prices for beef sausages, lamb chops and beef mince.
Future Outlook of the Meat Industry
As per SOPI's estimates, meat and wool exports are expected to reach $10.2 billion for the year ending June 2020, a 0.3 per cent rise from the previous year. The longer-term outlook for meat exports is bright due to reduced Chinese pork supplies, Australia's rebuilding of their sheep and cattle population, and growing Asian demand. China continues to grow as New Zealand's largest export partner for meat and wool products, accounting for 39 per cent of export revenue; more than twice the amount taken by next largest partner – the United States.
---
Disclaimer
The website has been prepared for informational purposes only and is not intended to be used as a complete source of information on any particular company. The above article is NOT a solicitation or recommendation to buy, sell or hold the stock of the company (or companies) under discussion. Kalkine does not in any way endorse or recommend individuals, products or services that may be discussed on this site.