When will Covid-19 end? When will life come back to normal? Will we ever get rid of the masks and the fear that this pandemic has induced upon us in the last two years? There are numerable questions around coronavirus with no definite answer insight. As the Wuhan-born coronavirus stretches well into 2022, there are a lot of debates, doubts, and a dilemma around how the next year will look like.
Just as things started to stabilize and life was getting back to normal, a new variant of the virus reopened the doors to uncertainty. If we look at the latest numbers, over 263.5 million confirmed cases and more than 5.2 million deaths have been reported globally as per the World Health Organization (WHO). With the new Omicron variant spreading, our fear has further deepened.
SARS-COV-2 variants and what do they mean?
Viruses like the SARS-COV-2 keep evolving with various genetic mutations. Genetic lineages of the virus have been emerging since the beginning. Now, there are Variants of Concerns (VOCs) and Variant of Interests (VOIs). The latest one Omicron is a VOC, just like the Delta variant that claimed over 5 million lives.
As per the Center for Disease Control and Prevention, the US health agency, some variants spread more quickly than others. Hence, the classification of the variants is based on how easily they spread, how severe symptoms it carries and how well the vaccines can protect us from the same.
Omicron (B.1.1.529) variant, first identified in South Africa, is highly contagious as compared to other variants and has many mutations.
The delta (B.1.617.2) variant, which was first identified in India, is highly transmissible and fueled severe cases than other variants.
The other alarming variants of concern and their timelines are mentioned below.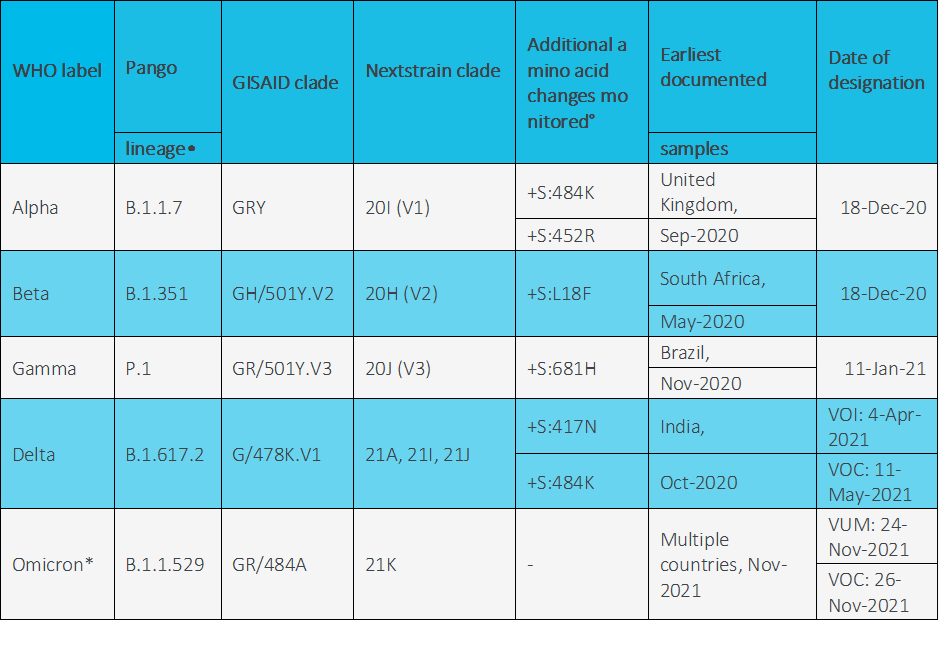 Source: WHO
Includes all descendent lineages.
° Only found in a subset of sequences
VOIs are generally less severe and are predicted to affect the characteristics of the virus.

Source: WHO
Coronavirus variants are like the branches of a tree, a new branch growing out every now and then, and each one different from the other branches.
Will the Wuhan-born coronavirus continue to impact our lives in 2022?
What will the virus do in 2022?
Coronavirus may become less severe in the coming years as immunization expands and people acquire immunity. Thanks to the success in medical science, we've seen great progress in the last two years.
As per WHO, over 7.8 billion vaccine doses have been administered globally as of December 6, 2021, and around 36 countries moving to booster shots. This is a commendable figure and may help in limiting the fast spread of the pandemic. In 2022, we may see easier accessibility of vaccines and might be successful in breaking the link between infections and deaths.
Scientists are working round the clock to develop vaccines for new variants like Omicron. So, in 2022, if there are more variants in line, we surely will have the pharma giants like Pfizer and Moderna coming to the rescue. Polio vaccines took 20 years to just enter the early trial stage after development, but coronavirus vaccines did create commendable history in terms of development and administration of shots.
As per experts' suggestion, we might need to take one to two booster shots every year in the future to contain the virus. It may take decades to get common cold like immunity to the coronavirus.
Vaccine mandates will see a huge pick up in the coming years. As of now, vaccines are compulsory for all adults in Indonesia, Micronesia and Turkmenistan and almost all countries might move towards it especially for the working population. Canada, Denmark, Hungary, Italy, Fiji, Costa Rica, Russia, Saudi Arabia , Egypt, Latvia, Ukraine, Turkey, Tunisia and the United States have made vaccination compulsory for government and private sector workforce. So, in 2022, there are chances that your vaccine certificate may become your personal ID. The Czech Republic, Austria and Bulgaria have already made vaccines compulsory for access to public spaces.
The whole idea behind this move is to acquire herd immunity and stop the spread. As 2021 nears the end, we have understood the virus better and are better equipped to fight with it. The United Kingdom and the United States have approved the oral pill to treat symptomatic virus – Molnupiravir. Hence, the living with the virus may become a little easier next year. The new normal, as we step into 2022, will be living with the less deadly virus.
To sum it all up, the world will need to address vaccine equity while masks and social distancing continues. Travel and other businesses may bounce back, but our vaccine certificates will be the most important document in 2022. Our lives will take a step towards normalization, but this will be a post-pandemic normal.