Summary

Due to an oversupply of properties available for rent, house owners are reducing rents to attract the tenants.
Two major reasons for the drop in rents are decreasing number of international students during the pandemic and companies putting relocations plans on hold.
With average rents falling by four per cent as compared to 2019, some areas such as the Barbican estate has recorded a decrease by up to 20 per cent since the lockdown.
An oversupply of rental properties available in the market during the coronavirus pandemic has led the owners to reduce the amount of rents to attract the tenants. The rental value of properties at some areas in London such as in and around the Barbican estate area has decreased by up to 20 per cent since the imposition of lockdown in March 2020. The two main reasons for this sharp fall in rents are attributed to a decrease in the number of international students and companies putting relocations plans on hold.
According to leading estate agents, the average rents in London have moved downwards by almost four per cent as compared to corresponding time in 2019, with prime areas recording around six to seven per cent of average fall on an annual basis.
Views from market experts
Hamptons International, a leading UK residential property firm said that the trend of fall in rents is not exclusive only to London. It emphasised that the overall demand for rental properties across urban locations across Britain has declined by 23 per cent on an annual basis, especially across cities in the Midlands and the north of England, besides London.
Further, as per an analysis by Rightmove, another property firm, in addition to the prime localities in London, Tooting in south London has also witnessed a rental value decline of around 12 per cent from mid-July 2020.
The coronavirus pandemic has reduced the number of overseas students, adding to the oversupply of rental properties in the capital. Chestertons, a lettings agency with one of the biggest networks of branches in London noticed that the coronavirus lockdown and travel restrictions in Britain and across the world have impacted the rental values. The agency highlighted that usually between June and September every year, around 30 per cent of its tenants in central London area comprised of international students who have a good budget. In addition to the central London area, Bloomsbury and Camden, which are near the major universities, are popular among the students.
Nonetheless, Hamilton Brooks, a leading independent estate agent, elaborated that in the past few weeks, a substantial number of overseas students have returned and have a decent budget to rent homes. The agent mentioned that it had recently let a flat with around 16 per cent slashed rental value as compared to 2019.
Hamptons pointed out that similar to the homeowners, tenants are also looking to move in the sub-urban areas. Due to the pandemic, the corporate houses have put relocations on hold and investors at companies like Airbnb that are not getting enough tourists, are planning to put their flats out in long-term rental market.
Market surveys have also suggested that one reason for the drop in rental value is that the city residents are leaving their houses after knowing that work from home could continue for a longer period. These tenants have either shifted with their parents or to localities that are affordable, provide additional space, and are near the countryside.
Some key reasons for fall in rents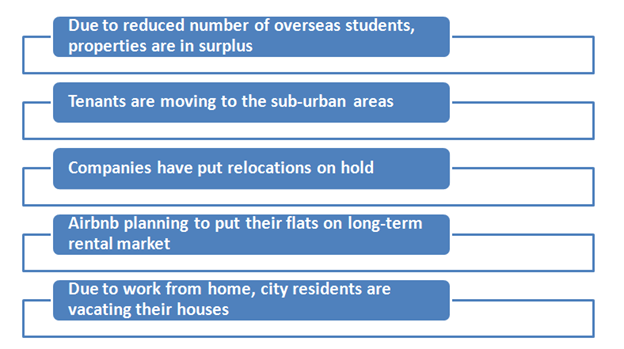 At the same time, people who want to rejoin their offices are showing some demand for rented homes. Savills, an up-market estate agent, observed that rents have dropped by a few percentage points in localities such as Wapping and Canary Wharf that have several offices. Savills felt that people are utilising this period to rent a bigger space and negotiate discounts till offices reopen completely. Similar trends have been noticed at other markets, where properties having gardens and adequate space for work-from-home space were in demand.
British Land Company lost on rent
Let us now take a closer look at the rental income of British Land Company plc (LON: BLND) that came up with its full year results for the year ended 31 March 2020 in end- May 2020.
British Land stated that it suffered a financial loss of £2 million due to the lost rental income because smaller retailers, food and beverage outlets, and leisure clients were released from paying rents for three months to June 2020. In addition, £35 million worth of rents were deferred to clients that faced financial challenges because of the coronavirus pandemic.
The company had collected around 68 per cent of its total rental income for March 2020, out of which 97 per cent came from offices and 43 per cent came from retail outlets.
British Land had temporarily suspended dividend that led to a 48 per cent decrease in the dividend payouts for financial year 2020. The company mentioned that it would resume the dividend payouts as soon as it gets a clarity regarding the outlook.
Given the coronavirus-led crisis and the uncertainty of the speed of market recovery, companies are gearing up to engage meaningfully with their customers to sustain as well as grow demands. To this end, British Land has also recently partnered with a property technology firm, Equiem, for a digital tenant engagement app.
This app would bring the property owners and their tenants closer by using enhanced communication and customer experience, besides showing newer revenue streams and useful insights in real time. The app would support the customers in reoccupying their space by enabling them to know and assess their environments like traffic and occupancy. British Land has plans to build a mixed-use business comprising of London campuses, retail, and residential spaces.
Stock Performance of British Land
On 21 September 2020, at 12.06 PM, the company's stock (LON: BLND) was trading at £330.00 down 5.74 per cent from its previous day's close of £350.00. The 52-week low high range was recorded as 313.80 and 638.80. The stock provided a negative return on price, which was minus 44.29 per cent on a year to date (YTD) basis. The total volume of shares traded at the time of reporting was recorded at 1,261,808.
To sum up, the coronavirus-led crisis has brought a significant impact on the rental value of the properties in London. Due to a surplus in supply of the properties available to be rented, the value of rents has fallen down considerably as property owners try to attract potential tenants. Many estate agents have agreed that there are lesser number of international students in London due to the pandemic as they form a sizeable chunk of tenant population during this time of the year.