Summary

RBA Board announced to maintain the targets for the cash rate at 0.25% on 1 September 2020.
Under the expanded Term Funding Facility, ADIs shall have access to additional funding at a fixed rate of 25 basis points for 3-years.
The Board would keep extremely accommodative settings, as long as, it is necessary and persists to contemplate on how further monetary measures could support the recovery.
On 1 September 2020, the benchmark S&P/ASX 200 index dropped 1.77%, by more than100 points, to settled at 5,953.4 points.
The Reserve Bank of Australia (RBA) made a decision to retain the targets for the cash rate and the yield on 3-year Australian Government bonds of 0.25% bps (basis points) during its meeting on 1 September 2020. The Board also agreed to raise the size of the Term Funding Facility and make the facility available for extended period.
ADIs able to draw on this extra funding until June 2021
After the Term Funding Facility is expanded, authorised deposit-taking institutions (ADIs) will gain access to more funding, corresponding to 2% of their outstanding credit, at a fixed rate of 25 bps for 3-years duration. ADIs would be able to receive this additional funding until the end of June 2021.
With this extension until June next year, all ADIs continue to have access to the Term Funding Facility after September ends.
ADIs will have access to the Facility once the window for drawings as per the initial allowance of 3% of outstanding credit ends. Further allowances that are related to an ADI's growth of business credit will now be accessible till June 2021. RBA notified that additional details are given in the accompanying notice.
So far, ADIs have received A$52 billion as per the Term Funding Facility, and further drawings are anticipated over the forthcoming weeks. This switch was announced by the RBA on 1 September 2020, and it would aid in maintaining low-interest rates for borrowers and support the credit provision by offering greater certainty to ADIs related to constant low-cost funding access.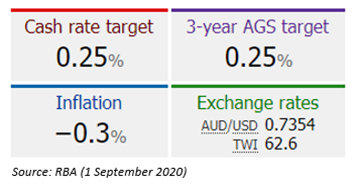 GOOD READ: RBA's Projection: What if the Cash Rate stays at 0.25 per cent for 3 years?
Australian Economy Facing the Highest Contraction Since the Great Depression
Currently, the Australian economy is going through an extremely challenging time and is confronting the greatest contraction since the great depression experienced in the 1930s.
However, this decline is not as acute as was anticipated earlier, and revival is now in progress in majority of Australian regions. Though, this recovery is expected to be uneven as well as bumpy, with the ongoing market turmoil induced by COVID-19 in Victoria, causing a significant impact on the Victorian economy.
ALSO READ: Impact of Coronavirus on Australian Economy and Way Forward
Fiscal Policy is Playing Important Role to Support Australia's Economy
The economy of Australia is receiving support from the organised, considerable, and exceptional policy easing throughout the previous 6-months. Public sector balance sheets in Australia remains in decent structure, which enables continued support. Undeniably, economic along with monetary assistance would be required for the certain time given the economy outlook and the possibility of high unemployment.
Furthermore, backing for the recovery is being given by the financial institutions of Australia, which also have resilient balance sheets and access to increased levels of liquidity.
The RBA Board stated that it will not raise the cash rate target until any improvement is being made towards full employment. Moreover, it is confident that inflation shall be sustainably within the 2-3% target band.
Notably, the board shall keep highly accommodative settings as long as it is necessary and persists to ponder on how further monetary measures could help the recovery.
DO READ: How increased spending support & cash rate at 0.25% would help the Australian economy?
How ASX Performed Post RBA Announcement On 1 September 2020
As a result of the ongoing COVID-19 turmoil, Australia's economic downturn is likely to extend into the 3rd quarter, making it an extensive recession in almost 40 years. Private banks in Australia anticipate a slow recovery in GDP that will drag on until the 2nd half of the year 2022.
The Australian share market was notably lower on 1 September 2020 as investors turned vigilant on the day RBA's monetary policy meeting was taking place.
By the end of the trading session, the benchmark S&P/ASX 200 index had lost 1.77%, and above 100 points, to settle at 5,953.4 points. Majority of the sectors including energy, information technology and financial sector stocks contributed to the drop.
The major banks along with metals and mining stocks also closed in red, including National Australia Bank Limited (ASX:NAB) (dropped by 2.956%), Westpac Banking Corporation (ASX:WBC) (down by 2.794%) and BHP Group Limited (ASX:BHP) (fell by 1.082%) post the market session ended on 1 September 2020.
The lower interest rate would be helpful to provide support to house prices and the property market in general; however, the increasing rate of unemployment and uncertainty can prove to be negative for housing price growth in the country. Also, S&P/ASX 200 Real Estate (Sector) fell by 2.18% to 2,948.5 points, on 1 September.
HAVE YOU READ: Are negative interest rates being considered for a long haul - ASX 200 Shares to watch?
Some economists stated sense of economic stability, as a reason the RBA has held the cash rate. The decision of RBA to hold cash signifies that the rate of interest on loans will remain steady, which will help several households as well as businesses to oversee their cash flow.