Highlights

Unofficial results of the 2021 snap elections show that Canadians are sending Justin Trudeau back to the prime minister's office for another term.
The Liberal Party, however, is projected to be heading for a minority government.
In a minority government, the ruling party is required to work with other parties to function in parliament.
Prime Minister Justin Trudeau may be heading back to office for a third term, but his dream of expanding his power in Parliament with a majority government is projected to remain unfulfilled – at least for this time around.
As per the unofficial results of 2021 Canada's snap election, Prime Minister Trudeau's Liberal Party is leading in 158 out of the 338 seats in the House of Commons, which is an extra seat as compared to the 2019 election. The Erin O'Toole-led Conservatives, on the other hand, appears to have lost out on a couple of seats in comparison to last time, coming up with 119 seats.
The victory, however, is expected to send the Liberals back to power with a minority government – for the second time in a row.
Also read: What's Next For Canadian Real Estate As Trudeau Wins Without Majority?
What would a Liberal minority government mean?
In a minority government, the ruling party is required to work with other parties to function in parliament – something that the Liberals were looking to overcome with a majority win in the 2021 snap polls.
But now that Trudeau is on his way back with a minority government yet again, the Canadian Parliament is expected to remain unchanged from what it was prior to the election for the most part.
Also read: Will Canada's election results bring a paradigm shift to ZEVs?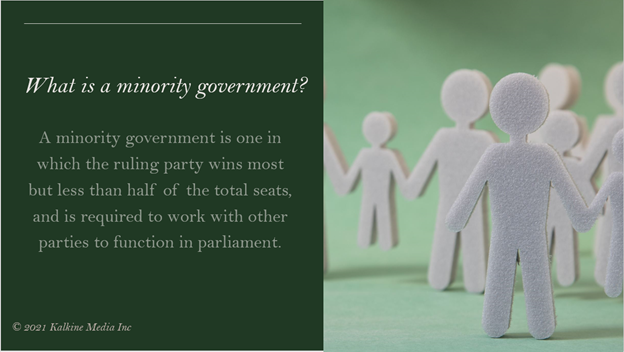 It is important to note, however, that the minority government is set to be a stable one with potential allies that can help greenlight legislation. The projected result shows that the New Democratic Party and the Bloc Quebecois have bagged 25 and 34 seats, respectively.
The win will leave the Liberals with the power to pursue their spending plans, as it had already been greenlit in the parliament. Prime Minister Trudeau is also expected to carry on with his proposals for stronger carbon emission restrictions, taxes on financial enterprises, regulation of streaming networks, etc.
Also read: What to consider when creating post-snap election portfolio in Canada
Why did Liberals decide on a snap poll?
The lack of a clear majority can push minority governments to call for snap elections, as we saw a few months ago. But the outcome of the 2021 snap poll could be a lesson for the Liberals.
Prime Minister Trudeau called for snap election in August – leaving many surprised – based on his high approval ratings. With this poll, Trudeau said that he was looking to establish a strong mandate for his Liberal Party to make a quicker recovery out of the pandemic.
But to some people, his call for an election two years ahead of schedule struck as "opportunistic", some political commentators note.
Disregard of what his agenda may have been, it does not seem to have worked this time.
Bottom line
Majority or not, Trudeau's victory in the 2021 snap elections will go down in history as a landmark one, making him one of the very few Canadian leaders to have won three straight elections.