Highlights

The Harmony (ONE) crypto, founded in 2017, is migrating its wallet to Metamask as its "end-of-life" date lapses on March 15, 2022.


Its new 1wallet is in the final stage of development and has many new and exciting features.


The Harmony (ONE) coin increased by 470% in one year, as per coinmarketcap.com.
The Harmony (ONE) crypto is migrating its wallet to MetaMask from Chrome extension as its shelf life expires on March 15, 2022.
The token holders can migrate to the MetaMask wallet by following a simple process.
Harmony has recommended users to use the MetaMask wallet to hold and stake coins until the new 1wallet is released for the public.
The migration process is easy. Users will need to import their private key from the Chrome extension to MetaMask.
Also Read: 5 ways you can avoid being duped by crypto scammers
Users first need to log out from the staking.harmony.one and then log in again using the MetaMask option to stake the coins on MetaMask.
After logging in, they will see the balance under the portfolio option.
According to its blog post, once the balance is displayed, users will need to remove the Chrome extension from the browser by right-clicking and selecting the 'Remove from Chrome' option.
Harmony said its new 1wallet is under development with many new and exciting features.
The wallet will have security features like social recovery mechanisms, on-chain security with one-time password authentication, simple multi-sig wallet and DAO creation, and may offer up to 20% annual interest.
Also Read: Top 5 gold stock picks for strategic inflation hedge: From GOLD to FNV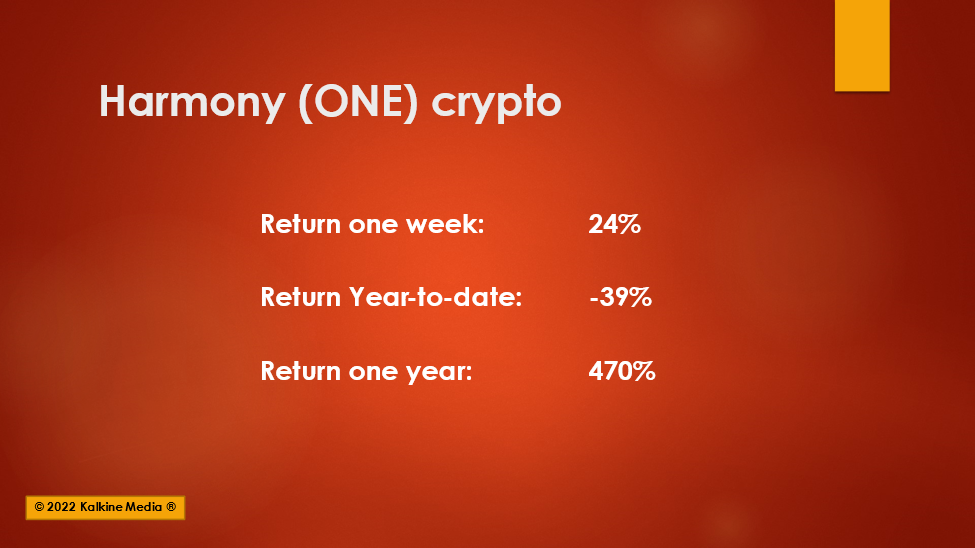 Data Source: coinmarketcap.com
Also Read: Is Dovu Crypto a zero-carbon hero?
What Is Harmony (ONE)?
Harmony is a layer-1 blockchain with EVM compatibility. It was founded by Stephen Tse in 2017. Tse is a PhD holder in cryptographic protocols and type theory from the University of Pennsylvania. He has worked with Microsoft and Google. In 2011, Apple bought his search-engine company 'Spotsetter'. He served as Apple's principal engineer in 2014.
The Harmony blockchain is an open platform for assets, collectibles, governance etc. It helps bridge the gap of switching between different chains.
Harmony aims to improve the processing speed and validation.
The blockchain offers cross-chain asset transfers such as Bitcoin, Ethereum, Binance, etc. Its mainnet runs applications with a 2-second transaction processing speed at the cost of US$0.0001.
Also Read: From COIN to PYPL: Crypto-focused stocks to explore in March
Harmony uses effective proof-of-stake (EPoS), a new version of the proof-of-stake (PoS) consensus where simultaneous staking is allowed from hundreds of validators.
Harmony has seen considerable growth since the launch of open staking in 2020. Currently, it has more than 26,000 stakers, staking roughly 4.4 billion coins in the network's validator pools.
Also Read: Top 5 green energy stocks to watch in March: NEE to TSLA
Price and performance:
Harmony is ranked 51st based on its market capitalization, as per coinmarketcap.com. Its current market cap is US$1.9 billion. The circulating supply is 11.81 billion, and its total supply is 13.368 billion.
On Tuesday, the ONE coin rose 15.52% to US$0.1641 at 7:16 am ET.
The coin can be purchased on Binance, Bybit, Mandala Exchange, OKX, and DigiFinex.
Bottomline
The Harmony coin rose 470% in one year but fell 39% YTD amid a volatile market and geopolitical tensions. The crypto market is highly volatile. Investors should evaluate digital assets carefully before investing in the cryptocurrency market.
Risk Disclosure: Trading in cryptocurrencies involves high risks including the risk of losing some, or all, of your investment amount, and may not be suitable for all investors. Prices of cryptocurrencies are extremely volatile and may be affected by external factors such as financial, regulatory, or political events. The laws that apply to crypto products (and how a particular crypto product is regulated) may change. Before deciding to trade in financial instrument or cryptocurrencies you should be fully informed of the risks and costs associated with trading in the financial markets, carefully consider your investment objectives, level of experience, and risk appetite, and seek professional advice where needed. Kalkine Media cannot and does not represent or guarantee that any of the information/data available here is accurate, reliable, current, complete or appropriate for your needs. Kalkine Media will not accept liability for any loss or damage as a result of your trading or your reliance on the information shared on this website.