Highlights

The Powerledger (POWR) token slumped over 15% on Monday.


The token climbed an all-time high of US$2.01 on Jan 4, 2018.


It gave a return of over 34% over the last 12 months.
The Powerledger (POWR) token fell over 15% to US$0.6502 at 8:47 am ET on Monday.
What is Powerledger (POWR) crypto?

Powerledger builds software to distribute and decentralize energy markets for a sustainable future. It has developed a blockchain platform that helps track and trade energy products and other commodities. It plans to make the platform a market-driven grid to provide different energy choices to consumers while making the process democratic.
The Australia-based firm has more than 30 clients in around 11 countries. It operates on two blockchain layers and uses two tokens: Powerledger (POWR), and Sparkz. It uses the public Ethereum blockchain and a private consortium blockchain called EcoChain.
The POWR token or the ERC-20 operates as a license needed for businesses like utilities, microgrids, energy operators committed to 100% renewable energy, and property developers. Notably, the token is traded through the Ethereum Smart Bond Exchange.
Also Read: As curtain falls on 2021, let's revisit 5 hottest IPOs of the year
Powerledger combines renewable energy and blockchain technology to provide cheaper energy services and solutions than the traditional energy alternatives.
Jemma Green, the company's former executive chairman, and John Bulich, the current technical director, founded Powerledger in 2016.
The token can be traded on exchanges like Coinbase, Binance, Kucoin, Gate.io, etc.
Also Read: 2 dividend ETFs to consider in January 2022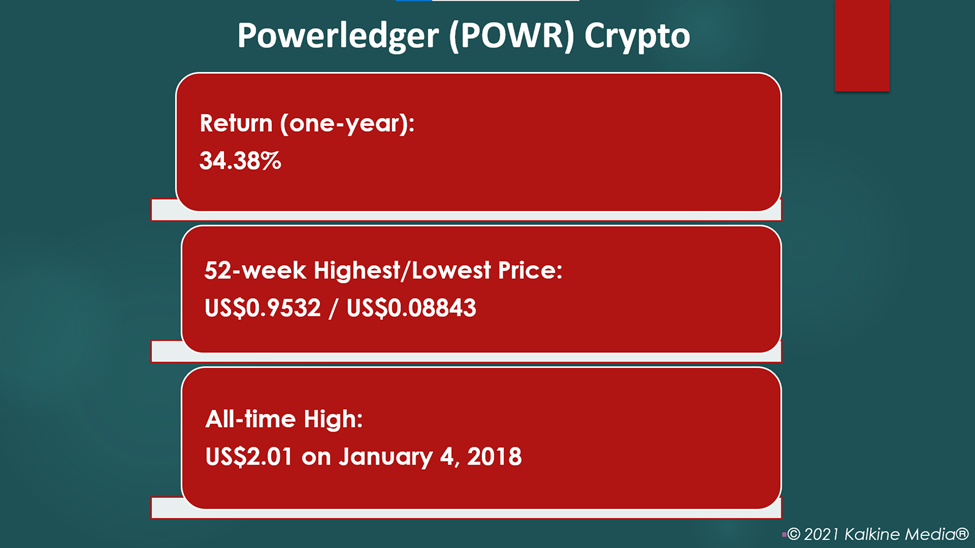 Source: *Data provided by CoinMarketCap.com
Also Read: What is Internet Computer (ICP) coin? Check price, performance
Pricing highlights and supplies of Powerledger (POWR):

The POWR token was down 15.35% to US$0.6502 at 8:47 am ET on Jan 3. Its market cap is US$299.81 million, and its fully diluted market cap is US$646.86 million. Its volume in the last 24 hours to Monday morning was US$1.36 billion.
The token saw the highest price of US$0.9532 and the lowest price of US$0.08843 in the last 52 weeks. It touched an all-time high of US$2.01 on Jan 4, 2018.
The POWR token gave a return of 34.38% over the last year. As of February 2021, POWR's circulating supply was 425,498,654, and the maximum supply was 1 billion.
Also Read: Now, ProShares plans to launch metaverse-themed ETF, seeks SEC nod
Bottomline
Despite the higher returns of cryptocurrencies, the volatility of the crypto market makes them a risky investment. Hence, investors should evaluate all the risks before investing in digital assets.