Highlights
The prices of both crude oil benchmarks witnessed a spike last week.
Precious metals gold and silver also logged significant gains last week.
Coal has also recorded a bull run, as its prices gained more than 5% last week.
Prices of most of the commodities recovered last week. The ease in COVID-19 related restrictions in China, coupled with strengthening market fundamentals and robust demand for commodities against a tightening market backdrop has triggered a rally in the global commodity market.
In the energy domain, the prices of Brent crude oil benchmarks gained more than 4% while WTI crude oil futures logged a weekly jump of 5.83%. Both crude oil benchmarks exchanged hands over US$115/bbl on Friday. A significant jump in both crude oil benchmarks was witnessed as investors weighted an expected demand recovery in China. Not only crude oil, natural gas prices also surged as much as 8.04% last week due to robust demand and lower inventories.
Also Read: Crude oil surges to 14-year highs on delays in Iranian talks
Image source: © 2022 Kalkine Media®
The benchmark Newcastle coal futures also consolidated near US$406/tonne on Friday, supported by a strong demand against a tightening market backdrop. Though the prices of coal dropped 2.4% over the last week, the commodity has recorded substantial gains lately due to increasing demand in the power generation sector.
Furthermore, uranium prices gained more than 2% in the last week on the expectation of demand recovery due to an ease in COVID-19 curbs in China.
Must Watch: As Russia-Ukraine War Intensifies, Commodities Also Soars
Talking about precious metals, the prices of both gold and silver logged a second straight weekly gain. Comex gold futures gained 0.27% last week due to the continued softness of the US dollar. Additionally, the demand for precious metals has been rising as a safe-haven asset due to persistent geopolitical tensions and slower economic growth.
The prices of base metals including copper, aluminium, and iron ore prices tumbled significantly in the last week as COVID-19 restrictions in China and aggressive tightening policy from central banks sparked concerns related to weaker economic growth.
On the flip side, industrial metal zinc gained substantially in the last week. Furthermore, the prices of battery metals lithium and nickel also gained marginally last week.
Against this backdrop, let's skim through a few commodities that were popular among traders in the past week.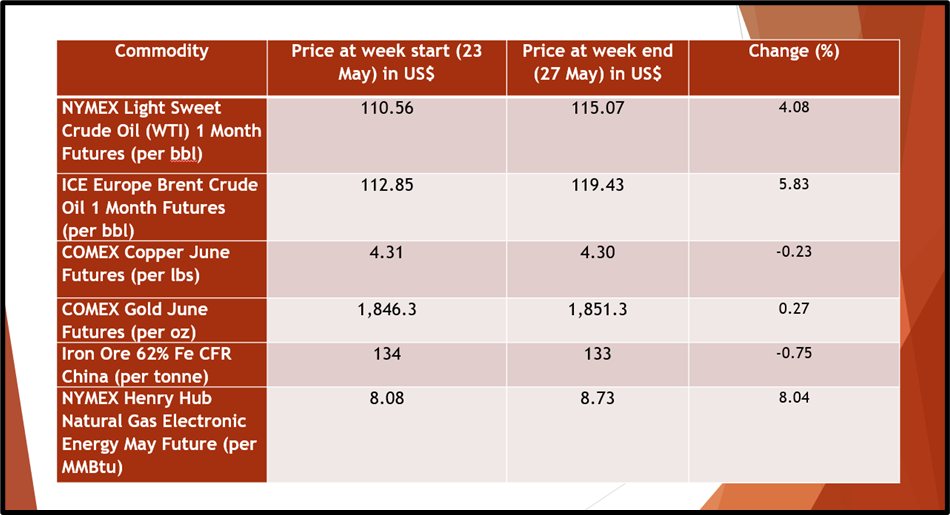 Data Source: Eikon Refinitiv
Here are a few significant commodities that recorded substantial volatility during the last week.
Natural Gas
Last week saw US natural gas futures rise more than 8% due to lower inventories. The US Energy Information Administration data states that the current inventory levels are 15.3% below the 5-year average. The value of the contract has more than doubled since the start of 2022, supported by higher cooling demand in the US and robust international demand.
Crude oil
Image source: © 2022 Kalkine Media®
Crude oil prices gained more than 4.08% in the last week, recording the second straight weekly gain. The prices reached their highest level in the last three months on the prospects of higher demand in China after an ease in COVID-19 related curbs. The prices were also buoyed by rising concerns over future supply amid the European Union's plan to ban Russian oil imports.