Highlights

Shopify is reportedly in talks to acquire Deliverr, per insiders
San Francisco-based Deliverr assists companies like Amazon and eBay to fulfil deliveries in under two days
On Wednesday, April 20, the SHOP stock fell nearly 14 per cent
According to insiders, Shopify is reportedly in talks to acquire San Francisco-based Deliverr, a tech startup that assists companies like Amazon and eBay to fulfil deliveries in under two days.
While the insiders said nothing has been finalized yet, and talks could fall apart, it may value Deliverr at over US$2 billion. If it goes through, it might end up being Shopify's biggest acquisition yet.
In light of this, Shopify's SHOP stock makes for an interesting watch.
Shopify facilitates e-commerce for merchants and is currently in the top 10 companies by market cap on the TSX Composite Index. It has a market cap of C$75 billion.
On Wednesday, April 20, the SHOP stock closed at C$658.05, and it had seen a lot of movement during the day's trade. It ended up in the red by nearly 14 per cent and its volume also was significantly higher.
It must be noted that in 2022, so far, the SHOP stock has sunk over 62 per cent, its 52-week low of C$654.69 coming on March 14. It is 0.51 per cent higher than that.
Also read: How to handle a bearish phase in the market?
Over the past 12 months it has lost 53 per cent and 23 per cent in the last month. As of writing, it is over 70 per cent lower than its 52-week high of C$2,228.73 seen in November 2021.
In fiscal year 2021, Shopify's total revenue amounted to C$4.6 billion, up 57 per cent from that of 2020. Net income for 2021 was C$2.9 billion or C$22.90 per share compared to net income of C$319 million or C$2.59 per share in 2020.
Also read: Canada Budget 2022 earmarks $12.5B more for climate: 2 TSX clean stocks
Shopify said it will announce its first-quarter results on Thursday, May 5, at 8:30 am. The stock's earnings per share stood at 29.24 at the time of writing. Its return on equity is 33.25 per cent.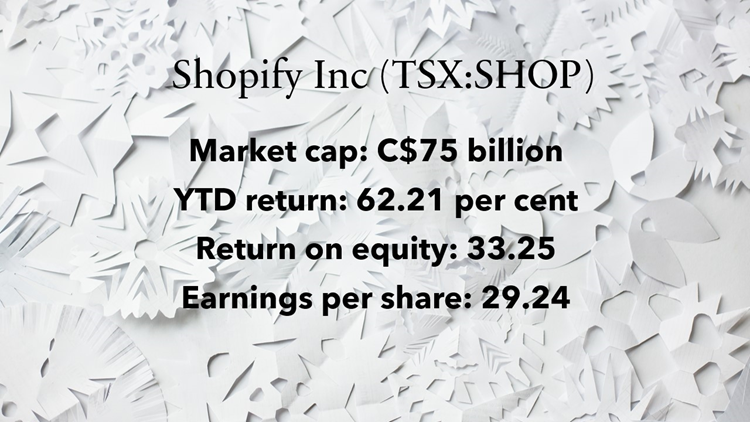 Image source: © 2022 Kalkine Media®
Also read: Is investing in gold worth considering during high inflation?
Bottom line
Shopify's stock saw significant gains during the pandemic years and understandably so. The company enables merchants to do business online, helping also with their online presence.
However, in 2022, its stock has given away some of the gains. Given that the company depends on third-party companies like UPS and DHL, a possible acquisition of Deliverr may be seen by some as a development.
Also read: How does current inflation compare to 1970s stagflation?
Please note, the above content constitutes a very preliminary observation based on the industry, and is of limited scope without any in-depth fundamental valuation or technical analysis. Any interest in stocks or sectors should be thoroughly evaluated taking into consideration the associated risks.