Mid-cap stocks are typically positioned in the perfect sweet spots on the exchanges. They tend to deliver greater yield than large-cap stocks and have lower instability or risks than small-cap stocks. We analyze two TSX-listed mid-cap stocks' that have shined in the pandemic-roiled Canadian markets. The first stock is from the consumer cyclical segment that has delivered three-digit returns in one year. The second stock is from the utility sector that offers a monthly dividend, with a robust dividend yield.
Let us look at the market fundamentals and financial performances of Westport Fuel Systems and AltaGas Ltd.
Westport Fuel Systems Inc. (TSX: WPRT)
Current Stock Price: C$ 9.05
The Vancouver-based company provides a low-emission engine and technology-backed fuel systems. The company drives most of its revenue from European markets.
Stocks of the clean fuel consumer company have rocketed over 238 per cent in the last three months, taking its one-year return to more than 150 per cent.
Westport stock has a double-digit price-to-book ratio of 12.06 and a present debt-to-equity ratio of 1.28, as per TMX data. The company's current market cap is above C$ 1.2 billion.
In the third quarter of 2020 (ending September 30), the company's consolidated revenues declined by 13 per cent to C$ 65.4 million. The decline was primarily due to the impact of the pandemic.
However, its sales bounced back 82 per cent quarter-over-quarter (QoQ) in Q3 because of the recovery in customer demand.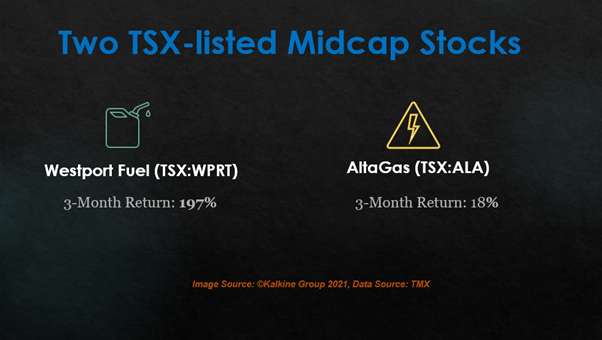 AltaGas Ltd. (TSX: ALA)
Current Stock Price: 19.65
The utility company manages and holds a diversified portfolio of energy infrastructure businesses with a current market capitalization of nearly C$ 5.5 billion.
The stock has added more than 18 per cent growth in the last three months and offers monthly dividend of C$ 0.0833 per common share. The stock's dividend yield of over 5 per cent.
AltaGas' stock has a return on equity (ROE) of 5.29 per cent, debt-to-equity is 1.15 and a price-to-cashflow ratio of 7, according to data on the TMX portal. The energy infra stock is delivering earnings per share of C$ 1.19, with a price-to-earnings (P/E) ratio of 15.90.
In the third quarter of 2020, the utility company registered normalized EBITDA (earnings before interest, taxes, depreciation, and amortization) of C$ 80 million, a massive surge of 433 per cent compared to C$ 15 million in the third quarter of 2019.
As per the company's 2020 outlook, AltaGas estimates normalized EBITDA in the band of C$ 1.275 - C$ 1.325 billion and normalized net income in the range of C$1.20 - C$ 1.30 per stock.