Highlights

BB stock rose by almost 14 per cent in one month

BlackBerry reported a revenue of US$ 168 million in Q1 FY2023

The TSX Capped Information Technology Index was up by about five per cent quarter-to-date
BlackBerry Limited (TSX: BB) can be an explorable option for investors aiming for midcap stocks that can offer growth in the future, especially with the cybersecurity company recently announcing its plans to team up with business communication platform LeapXpert.
The Waterloo-headquartered said on Wednesday, July 20, that this strategic collaboration would allow the integration of LeapXpert into BlackBerry® Dynamics™, thereby enabling customers to securely communicate through popular messaging applications as businesses continue to operate remotely.
Stocks of BlackBerry shot up by about three per cent to C$ 7.89 at 10:29 AM EST on Wednesday, July 20, in the wake of this new development in its remote working solutions. Let us look at this Canadian technology company in detail.
BlackBerry Limited (TSX: BB) financial performance in Q1 FY2023
The C$ 4.47-billion market cap firm reported quarterly revenue of US$ 168 million in Q1 FY2023 compared to US$ 185 million in the previous quarter. The cybersecurity solutions provider posted a gross margin of US$ 104 million in the latest quarter, down from US$ 124 million in Q4 2022.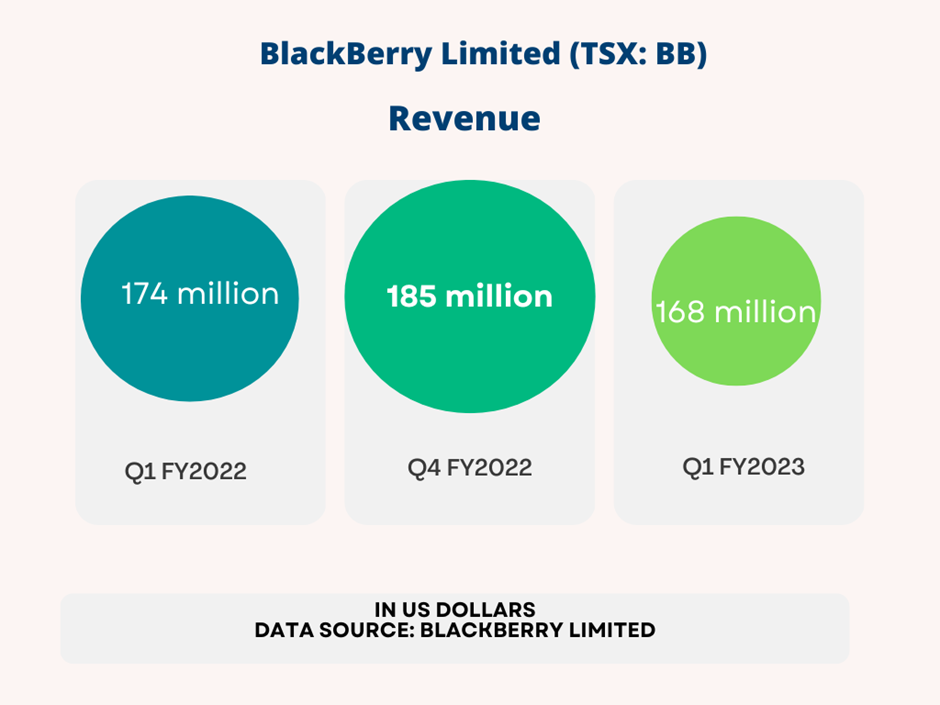 ©Kalkine Media®; ©Garis Studio via Canva.com
BlackBerry increased its spending on research and development (R&D) to US$ 53 million in Q1 2023 compared to US$ 47 million in the last quarter of FY2022. However, R&D expenses in the latest quarter were lower than the US$ 57 million incurred a year ago.
The tech company extended its net loss to US$ 181 million in the first quarter of FY2023, significantly higher than a profit of US$ 144 million recorded in Q4 2022 and a loss of US$ 62 million posted a year ago. This increase in net loss was largely due to the litigation settlement of US$ 165 million during Q1 2023.
BlackBerry's stock performance
BB stock rose by almost 14 per cent in one month. The technology stock gained over 27 per cent from its 52-week low of C$ 6.13 (May 12). This midcap stock still appears to be undervalued as it is down by more than 49 per cent from its 52-week high of C$ 15.41 (November 3, 2021).
Data collected from Refinitiv shows that BB stock had a relative Strength Index (RSI) value of 57.93 as of writing on July 20, representing a moderate to high trend in the market.
Bottomline
The tech index was up by about five per cent quarter-to-date (QTD) at the time of writing. Investors looking for high growth could consider BlackBerry as it continues to strengthen its intelligent security product portfolio and solutions. However, one should remember that growth players can come with risks.
Please note, the above content constitutes a very preliminary observation based on the industry, and is of limited scope without any in-depth fundamental valuation or technical analysis. Any interest in stocks or sectors should be thoroughly evaluated taking into consideration the associated risks.