Highlights
Covid-19 lockdowns in China have resulted in a decrease in manufacturing and it doesn't seem to look good for stock markets around the world
These five Canadian bank stocks cost lesser than they did when they began the year
Canadian Imperial has the lowest P/E ratio on this list, but it is also the smallest bank on this list by market cap
World over, indices seem to be going through a very bearish phase. The S&P 500 is down 13 per cent year-to-date (YTD). The Dow is down dearly 10 per cent.
In comparison, the TSX Composite Index has weathered this year much better. It is in the red by 2.5 per cent this year, and it also recently scaled to a new all-time high, breaching the 22,000-point mark.
This might be because it is a commodity heavy index. Energy and materials together account for nearly 31 per cent of the index and both these have done well this year, energy more so than any other sector.
However, amid all this, let's not forget about the index's biggest sector, standing head and shoulders above the rest. Financials alone account for 31.2 per cent of the TSX Composite.
The S&P/TSX Capped Financial Index is down 5.7 per cent YTD and has global banks in it. Now that is has lost value, is this a good time to participate in the Canadian financial investing sector?
Let's look at some TSX banking stocks whose prices have fallen in 2022.
Royal Bank of Canada (TSX:RY)
The RY stock closed at C$129.70 Monday, May 2. It began the year at C$134.25 and is down over three per cent since.
However, RY has gained about 11 per cent in the last 12 months and its fundamentals are noteworthy. Its market cap is C$182 billion and price-to-earnings (P/E) ratio is 11.5. In addition, it has a dividend yield of 3.7 per cent.
P/E ratio, in essence, is the amount you invest relative to earnings. Essentially, how many dollars invested to earn a dollar. The lower it is, the more desirable.
RY peaked this year, reaching its 52-week high of 149.59 on January 17 and is currently 13.3 per cent lesser. It 52-week low of C$117.36 dates back to May 4, 2021. The stock trading between C$150 and C$117 in that last year may indicate it is a relatively stable stock with regards to volatility.
Toronto-Dominion Bank (TSX:TD)
TD closed Monday at C$92.67 and it has fallen a little more than RY this year, 4.4 per cent. TD has a dividend yield of 3.84 per cent.
TD started to surge around August and on February 11, it peaked to a one-year high od C$109.08. Since then, it has generally had a downward trajectory and has currently fallen over 15 per cent compared to its high.
TD's P/E ratio of 11.6 and comparable to RY. The stock has gained about 10 per cent in a year.
Also read: SLI, SGML, LI, FL & RCK: 5 TSXV lithium stocks to hold for 5 years
Bank of Nova Scotia (TSX:BNS)
Also called Scotiabank, BNS closed Monday at C$81.66, having lost 8.8 per cent this year. It has the highest dividend yield on this list with nearly five per cent.
The stock's 52-week high was on February 9, when it touched C$95. It has largely been falling since late March. Its P/E ratio is 10.2.
BNS is 4.3 per cent over the last one year.
Also read: CPG, MEG, PSK, SSRM & TRQ: 5 TSX no-brainer mid cap stocks for March
Bank of Montreal (TSX:BMO)
BMO's trajectory this year has been bumpy. The ended Monday at C$135.36, its lowest closing price this year.
It is down six per cent this year and saw its 52-week high of C$154.47 on March 22. The stock has risen nearly 17 per cent in a year.
BMO's dividend yield is 3.93 per cent and its P/E ratio is 10.4.
Also read: SHOP, BB, DND, CSU & KSX: 5 beaten-down TSX tech stocks to buy
Canadian Imperial Bank of Commerce (TSX:CM)
Canadian Imperial has the lowest P/E ratio on this list, but it is also the smallest bank on this list by market cap. Its P/E ratio is 9.8 and market cap C$64 billion.
CM closed at C$141.84 on Monday, also its lowest closing price. Like most of the stocks on this list, it gained in early 2022, its 52-week high of C$167.50 coming on February 8, and then started on a downward trajectory.
CM has a dividend yield of 4.54 per cent, comparable to that of BNS.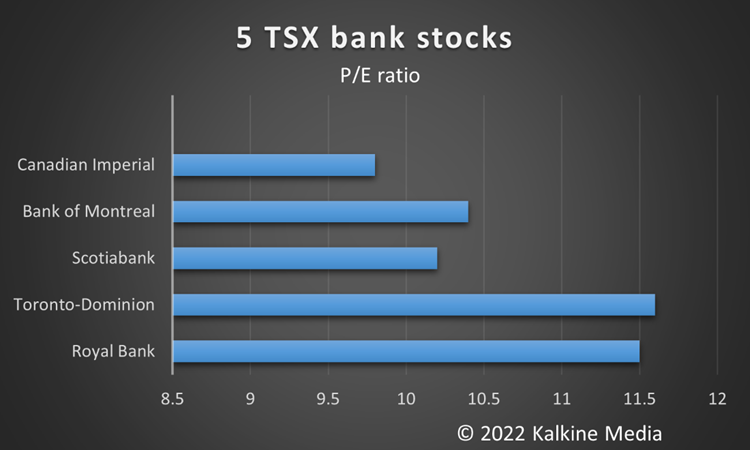 Also read: NGEX, CRE, AMX, NFG & AFM: 5 TSXV mining stocks to buy in May?
Bottom line
The bearish phase of this year continues with factors like inflation, interest hikes, supply chain issues and the Russia-Ukraine war dominating.
Add to that litany, the fact that Covid-19 lockdowns in China have resulted in a decrease in manufacturing and it doesn't seem to look good for stock markets around the world.
These five Canadian bank stocks cost lesser than they did when they began the year. They are among the biggest companies on the Toronto stock market with multi-billion-dollar market caps and their fundamental seem pretty sound. Their dividend payouts may be means of passive income.
However, a bull market or bear, much homework is merited before parking cash in any investment.
Also read: How does current inflation compare to 1970s stagflation?
Please note, the above content constitutes a very preliminary observation based on the industry, and is of limited scope without any in-depth fundamental valuation or technical analysis. Any interest in stocks or sectors should be thoroughly evaluated taking into consideration the associated risks.