Highlights

Enthusiast Gaming (TSX: EGLX) stocks shot up by nearly 33 per cent on Tuesday.
Its revenue rose 57 per cent year-over-year (YoY) in Q1 2022.
Enthusiasts Gaming stocks have grown by over 45 per cent in the last five days.
Enthusiast Gaming (TSX: EGLX) stocks shot up by nearly 33 per cent on Tuesday, May 17, after the gaming enterprise posted Q1 2022. CEO Adrian Montgomery said that the company had a "strong" start in 2022 and that it is "well-positioned" to continue this growth trend.
Does that mean EGLX stock, which has lost nearly 56 per cent YoY, can finally fly in the green? Let us first analyze its financial performance in Q1 FY2021.
Enthusiast Gaming (TSX: EGLX) Q1 FY2022 results
Enthusiast Gaming is a small-cap company that provides integrated gaming entertainment solutions. This TSX company is said to be developing the 'largest' media and content platform to connect video game players and esports enthusiasts.
The C$ 421-million market cap firm posted a year-over-year (YoY) rise of 57 per cent in its revenue of C$ 47.2 million in Q1 2022. This revenue growth, it said, was led by a surge in content viewership, direct sales (up 136 per cent YoY) and subscription revenue (up 83 per cent YoY).
Its growth and acquisition strategies also supported its top-line growth in Q1 2022.
The gaming firm said that its gross profit expanded by 127 per cent YoY to C$ 13.5 million in the latest quarter. Despite this, however, the firm reported a net loss of C$ 11.03 million in Q1 2022, less than C$ 13.51 incurred a year ago.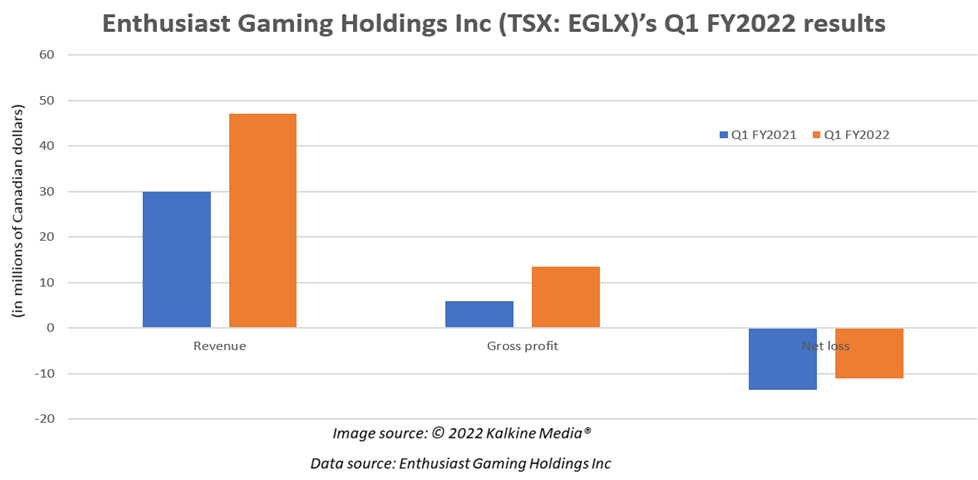 Enthusiast Gaming stock performance
Having closed in green at C$ 3.15 on Tuesday, EGLX stock was trading green at C$ 3.16 at 9:39 AM EST on Wednesday. However, around the opening bell, the gaming was back in red with a loss of about three per cent.
Enthusiasts scrips have grown by over 45 per cent in the last five days. EGLX stock has also gained almost 54 per cent from a 52-week low of C$ 2.05 (May 12).
Notably, EGLX's Relative Strength Index (RSI) value shot up to 63.63, depicting a bullish sentiment in the market. Its Moving Average Convergence/ Divergence (MACD) was seen rising and heading to baseline (or zero line), according to the Refinitiv data.
Bottomline
Enthusiast Gaming Holdings said that its content view across the web and video platforms jumped by 14 per cent YoY to 11.3 billion in Q1 2022. The company also revealed that it was recognized as the largest property (in the Games category based on digital media rating from Comscore) in the UK and Canada.
Despite growth in revenue and margin, Enthusiast Gaming still incurred a loss in its latest quarter. The company said it is focused on meeting profitability objectives in the short run, but its latest net loss status should ideally be something to consider closely before exploring this gaming stock.
Also read: BEI.UN, REI.UN, CAR.UN, IIP.UN and CRT.UN: 5 TSX REIT to buy and hold
Please note, the above content constitutes a very preliminary observation based on the industry, and is of limited scope without any in-depth fundamental valuation or technical analysis. Any interest in stocks or sectors should be thoroughly evaluated taking into consideration the associated risks.