Highlights

The Canadian Government announced on Thursday, May 19, its intentions to ban Huawei and ZTE network solutions from 5G infrastructure.
British Columbia received up to C$ 108 million in funding from the government.
The S&P/ TSX Capped Communication Services Index has registered a gain of roughly eight per cent in 12 months.
The Canadian Government announced on Thursday, May 19, its intentions to ban Huawei and ZTE network solutions from 5G infrastructure, saying these providers can pose threat to the nation's security.
According to the policy statement, Huawei and ZTE's 5G products and services will be eliminated by June 28, 2024, and their 4G products are set to be abolished by December 31, 2027. In addition, the government, expects telecom providers to stop buying any new products by September this year.
Minister of Rural Development Gudie Hutchings also announced funding of up to C$ 108 million in total from the federal and provincial governments on May 19. This funding is meant to facilitate high-speed internet connectivity and improved mobile networks in rural communities, particularly First Nations, in British Columbia.
With these measures to secure Canada's telecom system and enhance network connectivity, let us discuss five TSX telecom players.
TELUS Corporation (TSX: T)
TELUS Corporation is currently the second-largest telecommunication company in Canada by market capitalization. Recently, this telecom operator collaborated with Taoglas Waste Technologies TM, which will enable cities to improve waste management systems. On May 17, the C$ 43-billion market cap company declared to invest C$ 17.5 billion (in the next four years) on network infrastructure and spectrum throughout British Columbia.
Stocks of TELUS Corporation zoomed by over 18 per cent in the past 52 weeks. Its price-to-earnings (P/E) ratio was 25.40, indicating overvaluation (as more than 11).
According to Refinitiv findings, T's Relative Strength Index (RSI) value was 39.68 on May 18. RSI depicts how investors are responding to the stock in the market, whether it is overbought (less than 30) or oversold (over 70).
Also read: Enthusiast Gaming: Does 57% revenue jump make EGLX stock a smart buy?
With market capitalization surpassing C$ 62 billion, BCE Inc is presently Canada's biggest communication service provider. Looking at its P/E ratio of 21.30, one can say that BCE is overvalued. Return on Equity (ROE) is an indicator that compares the company's net income with its shareholders' equity to measure its financial performance. BCE's ROE was nearly 16 per cent.
BCE stock catapulted by almost 15 per cent year-over-year (YoY). As per Refinitiv data, this telecom scrip held an RSI value of 41.37 on May 18.
Rogers Communications Inc (TSX: RCI.B)
Rogers Communications is the third-largest telecom operator in the country by market capitalization. Rogers Communications' P/E exceeding 20 and ROE of about 15 per cent suggest it to be an explorable option. And particularly as the telecom company is committed to completing its merger with Shaw Communications (TSX: SJR.B), which is next on this list.
As of its stock performance, RCI.B spiked by about eight per cent year-to-date (YTD). As per Refinitiv findings, the RSI value of RCI.B was 33.08 on May 18.
Also read: MFC, CIX, SLF: TSX non-bank financial stocks to beat rising inflation
Shaw Communications Inc (TSX: SJR.B)
Shaw Communications recently announced a monthly dividend of C$ 0.099 due on July 8. This communication service provider held an ROE of over 16 per cent and a P/E ratio of 18.
SJR.B stock dropped by nearly eight per cent YTD and had an RSI value of 38.25 on May 18, based on the information Taken from Refinitiv.
Cogeco Communications Inc (TSX: CCA)
Cogeco Communications is a mid-cap telecom firm with an ROE of almost 17 per cent (highest in this list) and a P/E of 11.6. The C$ 4-billion market cap company pays its shareholders a quarterly dividend (the last payout was C$ 0.705 per share).
CCA stock spiked by almost three per cent in the last six months. CCA's RSI value grew stronger to 50.83 on May 18, as per Refinitiv data.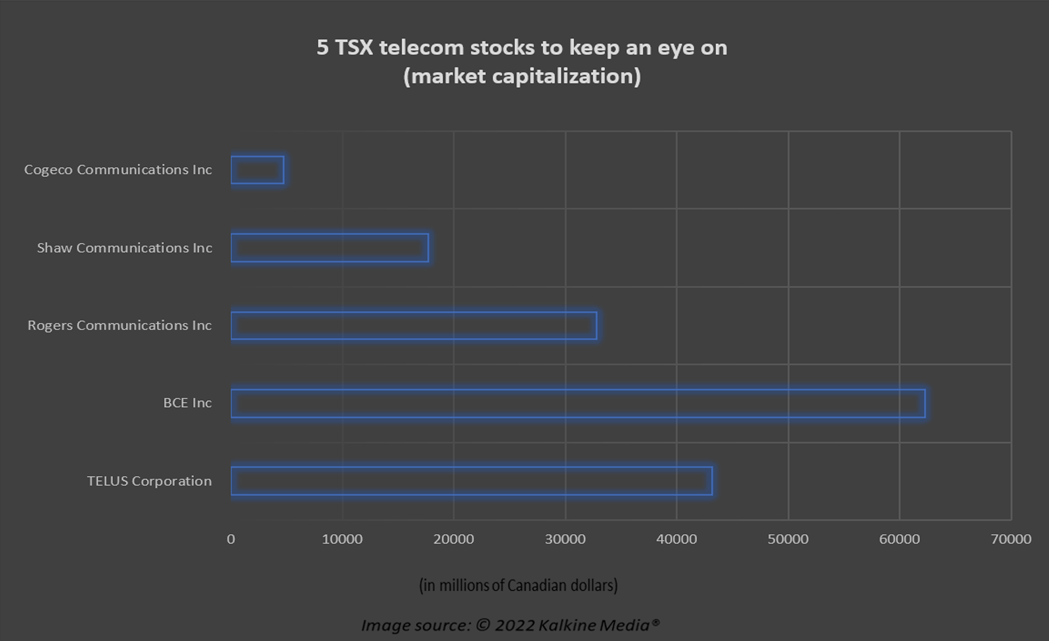 Bottomline
Notably, the S&P/ TSX Capped Communication Services Index have notably registered a gain of roughly eight per cent in 12 months, while the TSX benchmark has only grown by about three per cent during this period. These TSX telecom stocks offer stable dividend income and could also act as safety net to reduce the impact of the market volatility.
Please note, the above content constitutes a very preliminary observation based on the industry, and is of limited scope without any in-depth fundamental valuation or technical analysis. Any interest in stocks or sectors should be thoroughly evaluated taking into consideration the associated risks.