The Canadian stock market's benchmark index recovered by 122.61 points, or 0.56 per cent, to close at 21,838.02 on Wednesday, April 13, as the Bank of Canada announced its highest interest rate hike in over two decades.
TSX Composite Index jumped as the Base Metals sector rose 3.82 per cent, followed by Energy sector and Information Technology sector gaining 1.68 per cent and 1.54 per cent, respectively.
Health Care, Telecom and Industrials sectors also gained by the time of market close. Among the losers were Financial and Utilities sectors, which registered losses of 0.21 per cent and 0.11 per cent respectively.
One-year price chart of TSX Composite Index along with SMA 20-day, SMA 30-day, SMA-50-day (April 13). Analysis by © 2022 Kalkine Media®
Volume actives
Toronto-Dominion Bank had over 10.7 million shares traded, which made this banking stock the most active stock of the day. It was followed by Horizonte Minerals Plc. Ordinary Shares of which over 9.3 million shares traded, and Cenovus Energy Inc., of which over 6.2 million shares changed hands during the day.
Movers and laggards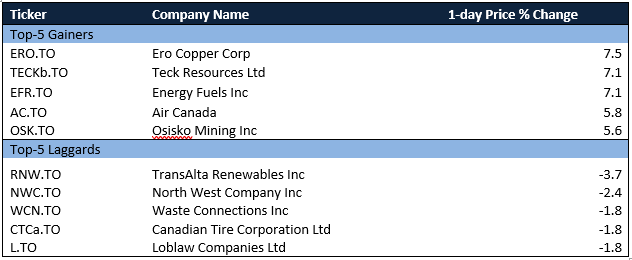 Wall Street update
Wall Street's main indices gained value as well by the closing of the day. The Dow gained 344.23 points, or 1.01 per cent, to 34,564.59 points, and the S&P 500 49.14 points, or 1.12 per cent, to 4,446.59 points. Nasdaq Composite was pushed higher by 272.02 points, or 2.03 per cent, to 13,643.59.
Commodities update
Gold rose 0.44 per cent to US$ 1,984.70. The price of Brent Oil was up 3.96 per cent and was at US$ 108.78/bbl and that of crude oil was up 3.63 per cent to US$ 104.25/bbl.
Currency news
The loonie gained 0.61 per cent compared to the US dollar while USD/CAD ended at 1.2566. The US Dollar Index was at 99.79 against the basket of major currencies, down 0.5 per cent.
Bonds
The US 10-year bond yield was down 0.9 per cent to 2.703 and the Canada 10-year bond yield was down 0.38 per cent at 2.636.