The TSX Composite Index on Wednesday, May 18, closed in the red by 389.63 points, down 1.90 per cent, to 20,101.38 after StatCan reported that April's inflation rate of 6.8 per cent year-over-year breached a new 31-year high.
Basics like food and shelter drove this, however, unemployment fell to a record low last month and this too tends to increase prices.
All major sectors were dealt blows Wednesday, yet the benchmark index remains in the green week-to-date, if only so marginally, after three previous days of gain.
Sectors that made strides this week like base metals and healthcare were the biggest losers, each down over four per cent. All major sectors saw losses over 1.5 per cent.

One-year price chart (May 18). Analysis by © 2022 Kalkine Media®
Volume actives
Manulife Financial Corporation saw nearly 23 million shares traded, making it the most active stock. It was followed by Enbridge Inc that saw over 15 million shares switch hands, and Western Energy Services Corp saw 11 million shares traded.
Movers and laggards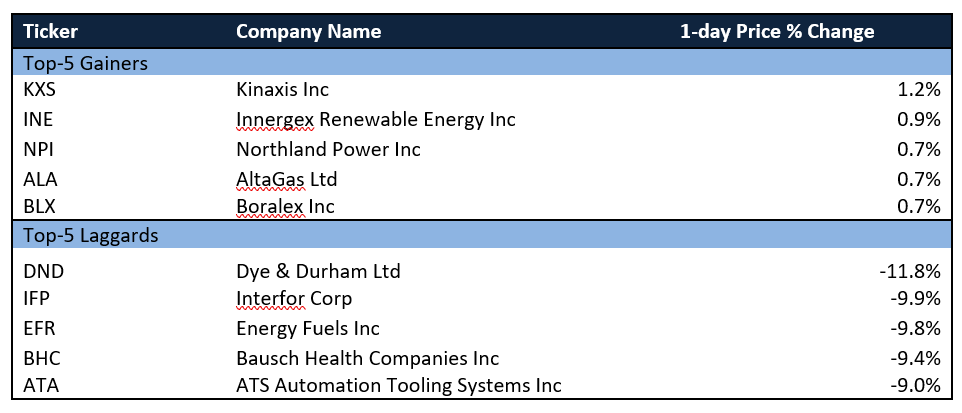 Wall Street updates
On Wall Street, the losses were more pronounced. The S&P 500 sank 4.04 per cent, 165.17 points, to 3,923.68. The Nasdaq fell 4.73 per cent, 566.37 points, to 11,418.15. The Dow lost 3.57 per cent, 1164.52 points to 31,490.07.
Commodities gain
Gold was down 0.16 per cent to US$ 1,815.90. The price of Brent oil was down 2.52 per cent and was at US$ 109.11/bbl and that of crude oil was down 2.5 per cent to US$ 109.59/bbl.
Currency news
The loonie lost 0.62 per cent compared to the US dollar while USD/CAD ended at 1.2888. The US Dollar Index was at 103.81 against the basket of major currencies, up 0.43 per cent.
Money market
The US 10-year bond yield was down 3.71 per cent to 2.884 and the Canada 10-year bond yield was down 2.61 per cent to 2.947.