Canada's TSX Composite Index fell at the end of the week as worries over China's Evergrande slumped investors' sentiments. However, the surging oil prices drove the TSX composite energy Sector up by 1.31 per cent Friday, September 24, which helped in nearly nullifying the drop.
The substantial drop of 2.80 per cent and 1.16 per cent recorded in the healthcare and technology sectors, respectively, further caused Canada's broader index to plummet. Hence, the TSX Composite Index shifted into the red zone, down 59.27 points or 0.29 per cent to settle at 20,402.66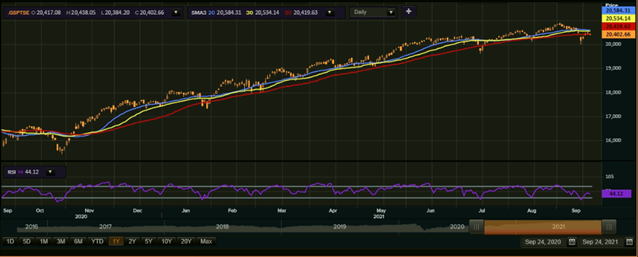 One-year price chart (as on September 24). Analysis by Kalkine Group
Volume active
Algonquin Power & Utilities Corp. was the most actively traded stock where 7.66 million exchanged hands, followed by Baytex Energy corp. where 7.24 million exchanged hands, and Whitecap Resource Inc. with 7.16 million shares exchanging hands.
Movers and laggards
Wall Street update
After surging dramatically upward for two days in a row, equities struggled to find direction throughout Friday's trading session. The main averages bounced back and forth throughout the day.
The Dow Jones Industrial Average crept up 33.18 points to 34,798.00 or 0.1 per cent, and the S&P 500 earned 6.50 points, or 0.2 per cent to reach 4,455.48. The Nasdaq fell 4.55 points to 15,047.70, or less than a tenth of a percent.
Commodity update
Gold traded at US$ 1,751.70, up 0.11 per cent. Brent oil rose 1.09 per cent to US$ 78.09/bbl, while Crude oil rose 0.93 per cent to US$ 73.98/bbl.
Currency News
The Canadian dollar stood marginally higher against the U.S. Dollar on Friday, while USD/CAD closed at 1.2652, down 0.02 per cent.
The U.S. Dollar index stood weaker against the basket of major currencies on September 24, and ended in the red at 93.33, down 0.14 per cent.
Money market:
The U.S. 10-year bond yield traded higher on September 24 and ended in the green at 1.453, climbing 1.21 per cent.
The Canada 10-year bond yield also surged on Friday's trade and closed at 1.375, growing 2.54 per cent.