The TSX Composite Index ended September in the red, falling 87.89 points or nearly 0.44 per cent, thereby holding true the "September Effect" -- the traditionally weak performances by stock markets. It closed at 20,070.25.
Once again the energy sector was in the green, but that was the only sector that was so. Industrials took the biggest hit of the day, falling 0.93 per cent, and this was despite Bombardier Inc scoring a US$534 million deal for 20 Challenger 350 aircraft units.
The financial sector was down 0.8 per cent and technology mirrored the Composite Index's 0.44 per cent drop. The last time the index closed a month in the red was in January. In all, September saw the index 2.5 per cent worse off.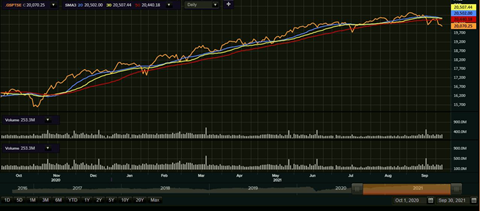 One-year price chart (as on September 30). Analysis by Kalkine Group
Volume active
Bombardier Inc was the most traded stock where nearly 12.99 million stocks exchanged hands. It was followed by the Bank of Nova Scotia where 11.16 million shares exchanged hands and BetaPro Natural Gas Inverse Leveraged Daily Bear ETF where nearly 9.58 million shares were traded.
Movers and laggards
Wall Street update
Equities generally had a downward trajectory during Thursday's trading. The main indices plummetted on market open and rose ever so marginally again in the evening only to plummet again before the day's close.
The Dow Jones Industrial Average fell 546.80 points to 33,843.92 or 1.59% per cent, and the S&P 500 dropped 51.92 points or 1.19% per cent to 4,307.54. The Nasdaq fell 63.86 points to 14,448.58, or 0.44% per cent.
Commodity update
The November crude contract gained 20 cents to land at S$75.03/bbl. For natural gas that was a 39 cents gain for US$5.87/mmBTU. The December contract for gold saw a US$34.10 hike.
Currency news
The Canadian dollar strengthened against the U.S. Dollar on September 30 and USD/CAD closed at 1.2678, in the red 0.60 per cent.
The U.S. Dollar fell marginally against the basket of major currencies on Thursday, and ended at 94.31, down 0.03 per cent.
Money market:
The U.S. 10-year bond yield fell 2.04 percent on September 30 and ended at 1.492, falling.
The Canada 10-year bond yield continued upward and closed at 1.514, growing 0.4 per cent.