A business from the old school economy, with operations across Australia and the U.S. eyeing to capture a pie of online value migration. This Global company has a history of distributing dividends for over 4 decades. Dividend stream hedged by a strategic investment in an ASX100 company, providing visibility for dividend investors. As on 26 September 2020, the investment is worth $2.24 billion while this hot stock is currently holding a market cap of $2.8 billion.
Brickworks Limited (ASX:BKW) was founded in 1934, the ASX listed company engages in property, investments, and building products for the residential and commercial markets in Australia and the U.S. The Company has manufacturing and sales facilities across Australia & North America (NA).
In 2018, Brickworks acquired US based Glen-Gery. Since then, the Company has been expanding the North America business through further acquisitions, to establish itself as a leading brickmaker in the North eastern region of the U.S.
Strategic Investment in ASX100 Company Paying Rich Dividends
Brickworks has a long-standing investment in ASX100 company Washington H. Soul Pattinson (ASX: SOL) a diversified investment house. Investment in WHSP has delivered extraordinary returns, providing stability and growing cash dividends. Furthermore, the current value of Brickworks' investment in WHSP is valued at $2.24 billion (based on 26 September 2020 market cap of SOL), while Brickworks is trading at a market cap of $2.8 billion.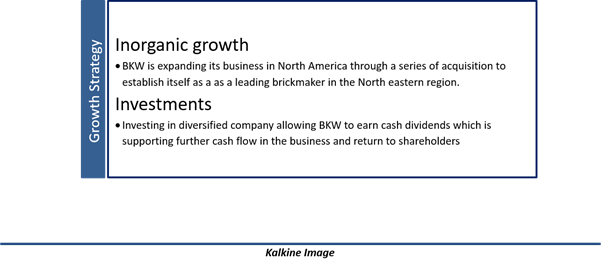 The Company has a history of distributing dividends since 1976. In FY20, the Board declared an interim dividend of 20 cents per share and announced a final fully franked dividend of 39 cents per share, totalling 59 cents per share for FY20
Company Capturing the Value Migration Play in Online Sales: On 30 June 2020, Brickworks announced that a lease pre-commitment for 20 years had been secured with Amazon, for the JV Trust's Oakdale West Estate in Western Sydney, subjected to statutory approvals.
The distribution facility is considered to be a landmark development for the JV Trust, a 50:50 joint venture between Brickworks and Goodman Group (ASX: GMG). The facility will be built on 14.9 hectares of land with a base floor area of 53,500 sqm. the building is expected to be completed in the second half of 2021.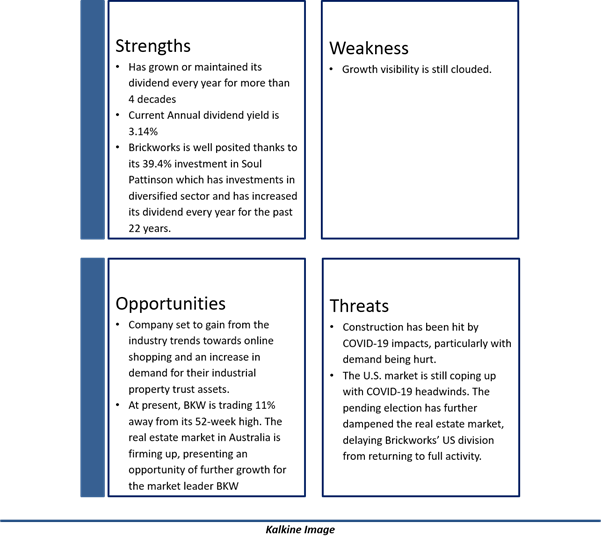 ASX Share Price

Kalkine Image
Financial Metrics – Total Revenue, Gross Profit, and EBIT
Over the five years to FY20 ending 31 July, the company has grown its Total Revenue from $708 million in 2016 to $953 million in 2020 at a CAGR of 7.74%. While EBIT grew marginally, EBITDA grew by 5.71% CAGR and NPAT increased at a CAGR of 39.82% over the last five years ending FY20.
Consistent growth in top line and operating income demonstrates that cost incurred to earn one unit of revenue has remained almost constant over the five years.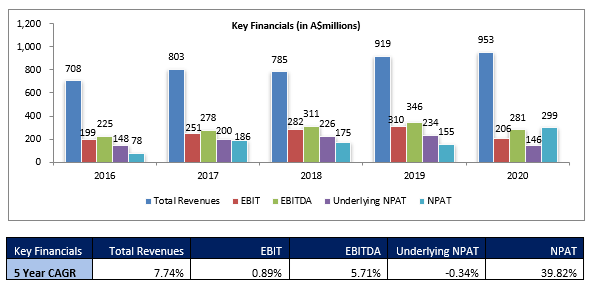 Data Company Report: Kalkine Image
FY20 Performance
FY20 Revenue grew by 4% to reach $953 million while EBIT dropped by 34% to $206 million. EBIT margin showed a significant year-over-year decline from FY19 because of increased selling and administrations expenses along with restructuring costs.
While NPAT increased by 93% on the prior year, underlying NPAT is down considerably in FY20 after eliminating a significant one-off profit received from WHSP, triggered by the merger of its associate TPG with Vodafone.
Although underlying earnings were lower than the prior year, the company was satisfied with the performance across its businesses. The business performance of Australian and the United States Building Products divisions has delivered a strong operational performance, despite the considerable disruption caused by COVID-19.
Segment Performance
The Australian Building Products division experienced a 9% decline with EBIT down by 43% on the prior year. EBITDA stood at $90.7 million. The drop in total dwelling commencements in Australia significantly affected the division's revenue. Demand was buoyant through the year, notwithstanding the shock of the COVID-19. Unplanned shutdowns because of COVID-19 and planned shutdowns because of upgrades and maintenance work also hurt revenues.
Building Products North America contributed $230 million to revenue with EBIT increasing by 63% to $10 million. EBITDA stood at $27 million. The company also completed two acquisitions during FY 2020. From March onwards, demand declined across the various regions because of the pandemic-induced restrictions.
Property Trust EBIT was recorded at $129 million, underpinned by improved performance from the 50/50 joint venture property trust with the Goodman Group. Net asset value in the Property Trust went up by $94 million in FY20 to $727 million. The increasing value reflects the trend towards modernising supply chains to cater to consumer preferences for online shopping.
Investments EBIT declined by 51% to $51 million because of the negative impact of lower coal prices on earnings from New Hope Corporation.
Data Company Report: Kalkine Image
Cash Position
The Company recorded a Cash and cash equivalents of $187.11 million as on 31 July 2020, an increase from $74.9 million reported in the pcp. Total financial liabilities stood at $907.4 million including borrowing of $641.2 million. The Group endeavoured to keep total debt to capital employed (at a consolidated level) below a loan facilities banking covenant limit of 40% imposed per the syndicated loan facility agreement.
Dividend Paymaster
The Company has a history of distributing dividends since 1976. The Board declared an increased interim dividend of 20 cents per share in FY20 Board. Brickworks announced a final fully franked dividend of 39 cents per share, despite a decreased underlying profit, totalling full year dividend to 59 cents per share, a 4% YoY increase.
Source: Company's report
Brickworks dividend is supported by the dividend income received from WHSP and growing rental income from the Property Trust. BKW holds 39.4% stakes in WHSP. The company received a cash dividend of $56 million in FY2019. WHSP also has 44% stake in Brickworks and has investments in TPG Telecom, New Hope Coal, a diversified financial services portfolio and healthcare and pharmaceuticals.
FY21 Guidance- Online Shopping a new Lease of life
FY 2021 has started on a positive note underpinned by a strong pipeline of projects in the Australian residential market. The Company believes that preference towards online shopping will create demand for its prime industrial property. It was also noted that Building Products Australia had witnessed a jump in orders and sales across businesses for the month of September driven by several government stimuli. In Sydney, elevated land prices offset the stimulus measures while in Melbourne, the persistent lockdown has created challenges for the smooth functioning of the business in these regions. The company highlighted that there are no major land sales scheduled for FY2021
The company also stated that there are ongoing discussions with several parties pertaining to the leasing opportunities in their Property Trust division.
In North America, Brickworks believes that COVID-19 will have a negative impact on a short-term basis. However, cost cutting measures and efficiencies could improve earnings once the business environment normalises.
The investment in WHSP is expected to provide a stable and growing stream of earnings and dividends for a longer period.
In addition, BKW believes that a solid balance sheet coupled with a diversified portfolio of attractive assets should provide BKW with a strong footing to withstand any challenges stemming from the COVID-19 pandemic.
Bottom line: The property and construction sector are typically aligned to the overall prospects of the economy, considering the events that have unfolded in 2020, the sector is still not out of the woods. However, the property prices in Australia have been resilient despite the pandemic, surprising many market watchers.
There is no investor left unperturbed with the ongoing trade conflicts between US-China and the devastating bushfire in Australia.
Are you wondering if the year 2020 might not have taken the right start? Dividend stocks could be the answer to that question.
As interest rates in Australia are already at record low levels, find out which dividend stocks are viewed as the most attractive investment opportunity in the current scenario in our report.
CLICK HERE FOR YOUR FREE REPORT!