Summary

Buy Now Pay Later (BNPL) players are positioned between retailers and customers and offer credit for customers to pay on their behalf.
BNPL services are instalment-based methods and remove the credit risk for the merchant.
The leading ASX-listed listed BNPL players include Afterpay, Zip Co, Sezzle, Humm Group and Splitit Payment.
The Buy Now Pay Later (BNPL) space has garnered significant attention in the last 12 months. As the name indicates, BNPL allows consumers to complete their purchase in instalments instead of paying the total price upfront.
ALSO READ: How is Australia's growing BNPL sector faring?
Copyright © 2020 Kalkine Media
BNPL players are positioned between retailers and customers by offering credit for customers and pays for the products on their behalf. In turn, these companies also take on the ultimate credit risk of the consumer.
MUST READ: What is BNPL and why is it important?
Moreover, there has also been considerable advancement in the business model of the BNPL players. Initially, the attention was on physical products, but now these companies are finding the additional scope of expansion in advertising, covering professional services, and revolving credit line-ups for anything that suit the customers' need.
WATCH NOW: The Buzzing Trends || Does BNPL Darling Afterpay holds a bright Future In 2021?
Let us discuss the leading ASX-listed players in the BNPL space-
Afterpay Limited is a leader in the BNPL industry and changing the payment method by permitting customers to obtain products instantly and pay for their items over four instalments, without any interest.
The AU$35.58 billion Company has recently expanded its service to major online brands, including Amazon, CVS, Dell, Kroger, Macy's, Nike, Sephora, Target and more.
DO WATCH: How does Afterpay work?
ASX-listed Zip Co Limited provides retail finance and digital payment services to the automotive, retail, health, home, and travel industries.
The Company has expanded its footprints in the Middle East and Europe with the acquisitions of Spotii and Twisto.
DO READ: Five BNPL players making waves amid digital payments boom
Source: © Lendig | Megapixl.com
ASX-listed fintech player Sezzle is rapidly growing with a mission to empower the next generation financially. The Company's payment platform increases the buying power for millions of Active Consumers by providing interest-free instalment plans at online stores as well as select in-store locations.
humm group limited (ASX:HUM)
A diversified full-service payment player, hummgroup provide leading offerings in BNPL space, revolving credit, and SME finance. The group has launched humm//TAPP instore that enables instant and effortless BNPL access for merchants.
HUM has disclosed the pricing of AU$260 million of ABS (asset-backed securities) under its BNPL offering, humm.
Splitit Payment Ltd (ASX:SPT)
ASX-listed international payment solution provider Splitit enables customers to use the credit by splitting purchases into monthly interest-free instalments. The Company has partnered with Green Feather and is now offered as a payment option in Feather Pay, which is the payment platform of Green Feather that eliminates friction in the transactions related to healthcare.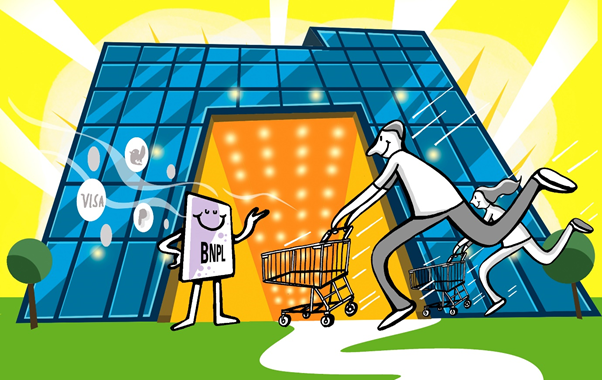 Copyright © 2020 Kalkine Media
ASX-listed Openpay Group is a highly differentiated player in the global 'Buy now pay later' (BNPL) payment space. Openpay has a distinctive B2B offering, OpyPro, a SaaS-based platform that permits companies to manage end-to-end trade accounts.
On 22 June, OPY announced the acquisition of BNPL player Payment Assist. The Company offers BNPL services to the automotive sector in the UK.
Laybuy Group Holdings Limited (ASX:LBY)
Laybuy was launched in 2017 and is a rapidly developing fintech player providing BNPL services in partnership with more than 9,000 retail merchants. Laybuy provides its services across the UK, US, New Zealand, and Australia.
LBY recently completed a Share Repurchase Plan worth AU$5 million. The Company would use the funds to accelerate its growth in the UK and invest in its employees.
ALSO READ: How are Laybuy shares performing? Does the Company pay dividend?
California based e-commerce company Zebit was founded in 2015. The Company is committed to transforming the lives of more than 120 million consumers in the US by offering them access to a comprehensive set of products and the capability to pay in instalments for those products.
ASX-listed BNPL payer Douugh is a purpose-led fintech player that uses AI-first approach to help people spend wisely, save more, and build wealth.
The Company has entered the Australian market with the launch of 'Goodments by Douugh' to enable investors to trade fractionalised shares in the largest global companies.
Australian-based BNPL service provider Payright Limited offers low-interest payment plans for purchases and instalments. Payright offers a flexible payment option for merchants to buy now and pay later intended for larger products that are more considered purchases than the smaller impulse-driven buys.
Copyright © 2021 Kalkine Media (Data Source: ASX, as of 24 June 2021)