Summary

The coronavirus pandemic pushed the corporate world to adopt a new culture of 'work from home' to continue the operations.
Many IT companies capitalized on this opportunity and grew business manifolds within a few months.
While Xero attained a net profit of $3.3 million after a series of consecutive net losses Dicker Data increased HY20 revenue by 18.1%, during the most challenging period.
Fintech darling Afterpay delivered staggering numbers and doubled its revenue, active user base and total income within a year.
The coronavirus pandemic is probably one of the most disruptive events in the modern history that has left the entire world shaken. Economies and businesses across the globe were caught off-guard, and without the prior experience of having faced anything like this before, the world came to a screeching halt.
However, businesses wasted no time in taking stock of the situation and rushed to resume their operations by adopting a new work culture 'Work from home' which has eventually become the new normal.
The IT industry is the brain behind this new work regime, providing the required infrastructure for the seamless integration of work processes for the businesses to get back on its feet. Hence, almost all businesses are ramping up their technologies and IT infrastructure to keep functioning and sustain in these challenging times.
Few major technology players like Xero Limited (ASX: XRO), and Dicker Data (ASX: DDR) are transforming the landscape of the entire work culture. The introduction of newer technologies and upgradations of the existing once are taking place at a rapid pace, which otherwise would have taken years. This has led to a surge in their businesses and consequently, their stock prices have soared too.
Xero Limited (ASX: XRO)
Xero provides cloud-based accounting software to small businesses with a subscriber base of more than 2.38 million. The platform supports 800 apps with more than 200 connections with banks and financial service providers.
In FY20 ended 31 March 2020, the company added a total of 467k net subscribers out of which 188k and 41k subscribers were from its key markets, Australia and New Zealand respectively.
Apart from its core business, the company is also spreading its footprint in the capital lending platform space. Recently, it acquired Waddle, which helps and support small businesses to get access to capital through invoice financing by banks and fintech companies.
Also, the company took a holistic approach to tackle Covid-19, taking care of everyone in the ecosystem including employees, subscribers, and partners. This well-rounded plan helped the company to sail smoothly through the tough times and post robust FY20 numbers.
Image Source: Xero's ASX Update dated 13 August 2020
The company posted a total Life Time Value of NZ$5.5 billion, up from NZ$1.2 billion last year. The Company recorded 30% YoY increase in its operating Revenue to NZ$718.2 million. It turned profitable after consecutive years of losses and posted a net profit of NZ$3.3 million from the net loss of NZ$27.2 million last year. Average monthly recurring revenue (AMRR) notched up by 29% YOY to NZ$820.6 million. The free cash flow of the business has also improved significantly by NZ$20.7 million to NZ$27.1 million YoY.
XRO has risen by ~49% in the last six months, closing at A$118.17 on 6 November 2020, with a market capitalization of A$16.95 Billion.
Dicker Data (ASX: DDR)
Dicker Data is a leading distributor of Value-Added Technology with a focus on IoT solutions, pre-sales capabilities and the hybrid end to end technology solutions. For the last few years, the company has been targeting high-end enterprise products that address cloud computing environment.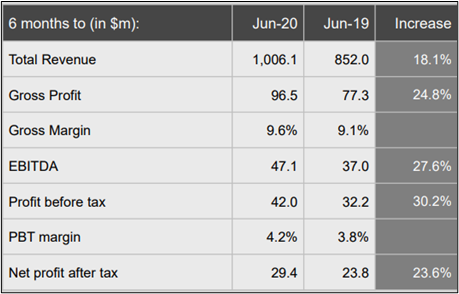 Image Source: Dicker Data's ASX Update dated 20 October 2020
In the recent HY20 numbers, the company posted strong performance across the board. The total revenue notched up by 18.1%, from A$852.0 million to A$1,006.1 million. The gross profit and EBITDA also saw an uptick of 24.8% to A$96.5 million and 27.6% to A$47.1 million, respectively. Net profit after tax increased by 23.6% and stood at A$29.4 million.
The construction of the company's A$55 million worth of new distribution centre is progressing as planned and has been 90% completed and is expected to be finished by the end of this year. After the completion, the warehouse space will expand from existing 13,000 sqm to 23,500 sqm in the first stage. Additional 20,000 sqm would be added in the second stage.
After the disclosure of Q320 performance, the investors are going on a buying spree which has taken the stock to new highs.
DDR has risen by ~45% in the last six months, closing at A$10.40 on 6 November 2020, with a market capitalization of A$1.80 Billion.