Summary

REFFIND Limited has received commitments from sophisticated and professional investors for raising a total of $1,750,000.
Funds will be used for the development of WooBoard and meeting working capital needs.
Significant optimism surrounds WooBoard in the current remote working environment, and REFFIND seeks to deliver on the opportunities.
Australia-based SaaS solutions company REFFIND Limited (ASX:RFN) has secured funding commitments totalling $1,750,000 from sophisticated and professional investors. Proceeds raised are planned to be directed towards financing software development activities and meeting working capital requirements for the WooBoard platform.
The capital raising will be conducted in two components:
Through the issue of 219,178,082 shares under REFFIND's existing placement capacity for $400,000 at an issue price of $0.001825 per share
Raising $1,350,000 by way of convertible notes that have a conversion price of $0.001825 and shall be redeemable within one year with capitalised interest @ 6% per annum paid on maturity
Raising capital through the convertible notes remains subject to shareholder approval, which the Company looks forward to obtaining at its upcoming annual general meeting.
Growth in New Accounts and Opportunities Amid COVID-19
REFFIND has continued to progress its flagship WooBoard platform, seeking to capture commercial opportunities arising from the transition towards mobile and remote working environments.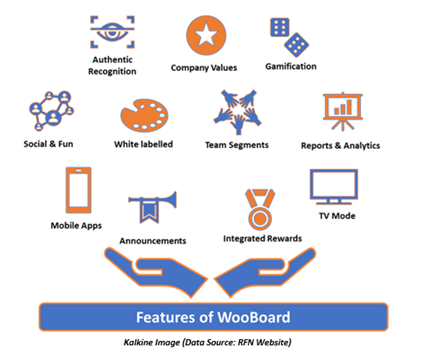 Also Read: Lens Over Key Functionalities of REFFIND's Employee Experience Platform, WooBoard
The Company has witnessed a significant uptick in new accounts amid COVID-19 with 39% growth during the September 2020 quarter over the previous comparable period in 2019. The new accounts added 390 users per month on average, to the platform during the quarter.
The growth has been driven by the implementation of the targeted measures highlighted following the review of WooBoard completed earlier this year. Given growth in the number of users, the Company also witnessed an increase in revenue during the quarter.
REFFIND attributes this growth to fresh paid customer acquisitions during the period that includes a chain of Sydney restaurants and a tutoring centre for high school-aged students.
The Company has also strengthened the executive team of WooBoard and has hired Letrecia Tippett as the Executive General Manager of WooBoard. Her extensive senior leadership experience comprises her engagement at Morgan McKinley and the role of Director at LinkedIn Sales Solutions for Australia as well as New Zealand region.
Must Read: REFFIND (ASX:RFN) Releases FY20 Report
Optimism Surrounds Potential Growth
REFFIND remains optimistic about the potential for WooBoard in transforming domestic as well as global commercial opportunities across small, medium and large businesses in the current scenario of remote working. Moreover, the Company emphasises on expanding the total WooBoard subscriber base and paid user conversions that can help boost customer retention and loyalty.
Overall, the Company continues to make progress in relation to the development of the WooBoard platform, as it seeks to capture and respond to the opportunities stemming from the challenges posed by COVID-19. The Company's 3600 approach includes enhancing the functionality of the platform, hiring qualified and valuable leaders as well as arranging funds to ensure smooth sailing ahead.
As social cloud-based platforms continue to emerge as a fast-growing commercial opportunity, REFFIND strongly believes that WooBoard is well-positioned in the current environment to deliver on these opportunities.
Interesting Read: REFFIND eyes WooBoard commercialisation to cash in on COVID-19 opportunities
RFN share price quoted at $0.002 with a market capitalisation of $2.92 million on 27 November 2020.