Summary

Employee recognition is an imperative tool to boost employee morale, that impacts the overall performance of the organisation.
Although employee recognition is highly acknowledged across workplaces, yet many organisations lack effective employee recognition tools.
There are several challenges while implementing recognition programs like lack of personal touch, how to communicate recognition, and deliver recognition on a timely basis.
REFFIND's WooBoard employee recognition platform helps to overcome such challenges through peer-to-peer recognition, gamification, social features and integrated rewards, as well as allowing instant, public and meaningful recognition.
Are we all not aware of the potent role that employee recognition plays in boosting employee morale?
As per conventional wisdom, employee recognition is one of the vastly acknowledged yet less implemented tools across organisations. Undoubtedly, employee recognition is an eminent tool for managing employees and their work attitude at the workplace. This is because the impacts of having a timely recognition program in the organisation are very apparent in the organisation's success.
Interesting Read: 3 Reasons Why Recognition is Important at Workplace; A Look at REFFIND's Recognition Tool WooBoard
Making All The Difference
Some of the prominent advantages of employee engagement include a positive environment at the workplace, increased employee productivity, motivated employees, and increased employee commitment towards the organisation.
However, choosing and implementing an employee recognition platform can be a tricky thing to do. The process of employee recognition requires identifying the ways to recognise employees, finding the people to be rewarded, and the reason to reward to obtain the right results.
During this process, an employer may face several challenges that may have a catastrophic impact on the performance of employees and ultimately on the organisational performance.
Did you Read: Looking to Stay Ahead of Increasingly Competitive Market for Talent? Check REFFINND's WooBoard
Some of the most commonly encountered challenges include the following:
Lack of Personal Touch While Recognising Employees
It is important to modify and personalise the efforts of recognising employees by understanding the way certain employees want to be recognised. While some employees may want a handwritten note, others may want something of monetary value. Although many organisations ponder upon developing a personalised way of recognising employees, there are many organisations that struggle to do so, resulting in low morale of employees.
Related: Skimming Through Stance of REFFIND's Employee Engagement Platform in Remote Working Environment
Badly Communicated Recognition
In some cases, organisations do have terrific recognition programs, yet the recognition message remains restricted to the receiving employee only. Awarding the recognition to staff publicly among the team members or even organisation-wide is seen as a suitable way of communicating the recognition.
On the one hand, this helps to boost the morale of recognised employees and on the other hand, this encourages other employees to develop positive work behaviour that is appreciated across the organisation.
Related: REFFIND's WooBoard to Gain from Deployment as Essential Service in Fast-Growing Industries
Inconsistency In Recognising Employees
Employee recognition is something that should be undertaken with consistency and in a timely manner. It is believed that employee recognition is a short-lived affair, just like motivation and employees want to be recognised regularly. Employers identifying the thin line between employee recognition and the reason for recognising them is important for maintaining consistency in employee recognition.
Once an employer identifies certain behaviour that is to be recognised, they can easily follow through with recognising and rewarding those certain behaviours on a timely basis.
Related: REFFIND Leveraging WooBoard Platform to Seize Opportunities Amid COVID-19
Overcoming Challenges Through WooBoard
Software-as-a-service solutions company revolutionising employee peer recognition, REFFIND Limited (ASX:RFN) offers a breakthrough employee recognition solution, WooBoard, which empowers employers to recognise employees and share updates on the go.
WooBoard is a gamified, social cloud-based platform that helps to create positive work culture across the organisation that facilitates celebrating wins, rewarding employees and boost their morale to perform better.
Related: Lens Over Key Functionalities of REFFIND's Employee Experience Platform, WooBoard
Opportunistically, WooBoard is a technology-enabled platform that allows users to overcome several challenges that are commonly encountered in implementing recognition programs as well as while recognising employees.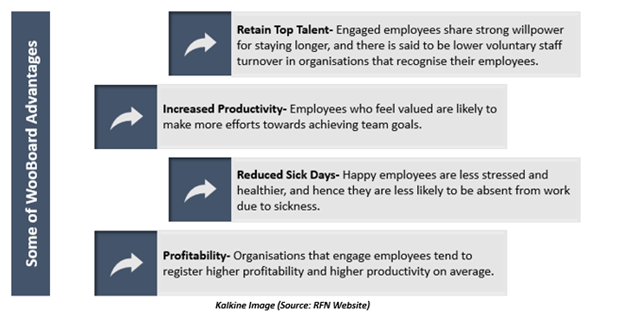 The unique features of WooBoard encourage users to have daily interaction through peer-to peer recognition, social features, integrated rewards and gamification. By allowing employers to easily setup and manage teams while creating announcements, WooBoard ensures employee recognition reaches beyond the rewarded person and across the team or organisation.
Furthermore, by allowing users to like and comment on recognition posts, and add emojis as well as hashtags, WooBoard adds to the fun that employees can have while using WooBoard.
In a nutshell, WooBoard is an effective, innovative platform designed for the modern-day workforce, offering simple, easy-to-use, and lightweight solution that helps to keep employees happy while generating instant, public and meaningful recognition.
June Quarter Update: REFFIND Releases June Quarter Report, A Productive Period for Flagship WooBoard