Summary

The emergence of COVID-19 has led to significant opportunities for HR tech companies with the increasing culture of remote working.
There is a growing list of clients looking to outsource HR and payroll functions to bring increased business efficiencies.
Several ASX-listed companies in the HR tech space have achieved record contract wins during the pandemic phase.
The outlook for the industry remains robust, driven by the structural tailwinds from the COVID-19 pandemic.
No one would have thought that 2020 would turn out to be an excellent year for the HR tech industry. As the need for remote working gained pace with the COVID-19-led stay at home restrictions, HR tech stocks on the ASX are celebrating a robust 2020.
The physical movement and social distancing restrictions imposed in light of COVID-19 paved the way for the entire workforce working remotely. With this boom in tech-enabled workforce management tools, some of the ASX-listed HR tech stocks have been making the news.
Let us look at some of the ASX-listed HR tech stocks that have witnessed growth in both financials and share price.
RELATED: HR Tech Platforms Under Spotlight - XF1, CV1
PayGroup Limited Reports Record New Contract Growth And Increasing Addressable Market
Specialist provider of payroll services and human capital management solutions, PayGroup Limited (ASX:PYG) has continued to deliver its complete suite of mission-critical solutions and services to its clients without disruption during the recent COVID-hit times. Moreover, the Company continues to operate remotely in most of its office locations to cater to the increased opportunities driven by COVID-19.
The COVID-19 has compelled several companies to digitise their HCM, Payroll, Treasury, and Workforce Management functions, which has produced opportunities for PYG worth $5.4 million in new contract wins in the first half of FY21.
The Company executed 80 new contracts during the first half of FY21, including present client upsells as well as new customers. Further, the new contract wins for the first half of FY21 of $5.4 million indicated continued growth for PYG, representing 98% of the total new contract wins for FY20.
PYG has made impressive growth in the last six months, notwithstanding the uncertainties and challenges in the environment. Further, the Company is hopeful that the new contract wins underlying demand for our mission-critical SaaS and SwaS products across the Asia Pacific and the Middle East.
INTERESTING READ: 3 AI/Tech Boomers and Share Prices on ASX: APX, SPT, APT
More importantly, the PYG remains well-positioned to ride out the storm in the existing challenging business environment as there is an increasing number of clients seeking to outsource HR and payroll functions to deliver better efficiencies in the business.
Recently, on 14 October, PayGroup and Volvo Group Singapore signed a 3-year contract worth $120,000 (total contract value). As part of the deal, PayGroup will provide multiple SaaS HCM modules to Volvo. The modules include Core HR, E Claims, and E Leave, among others. PayGroup's SwaS payroll offering is also included in the contract.
On 16 October 2020, PYG share price quoted at $0.535, down by 0.926% intraday with a market capitalisation of $41.44 million.
CVCheck Ltd. Achieves Record Sales in September
Prominent online integrated screening and verification company, CVCheck Ltd. (ASX:CV1) had experienced a recovery in its revenues during the past quarter with record sales being achieved in September. The encouraging growth of the organisation reflects upon the resilience of the business, notwithstanding the renewed shutdowns across New Zealand and Victoria.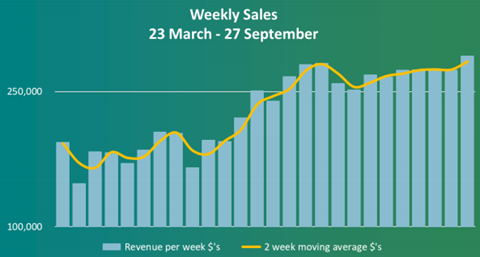 Strong sales recovery (Source: ASX Announcement 07 October 2020)
CV1's revenue for Q1FY21 ended September 2020, grew by 40% as compared to the previous quarter on the back of building momentum in due course of business progress. Further, the new client wins along with recovering order flow from existing customers, backed the strength in sales for CV1.
Impressively, the Company reported a new sales record in September. This was steered by a record month in total website users and the highest new account sign-ups in around a year from both B2C and B2B clients.
INTERESTING READ: Flick through 3 stocks buzzing on ASX: AKP, IHL, 4DX
Notable platform integration includes the successful integration with RealMe®, and new customer wins were many well-reputed brands like Amaysim (ASX:AYS), the Australian Digital Health Agency, Sigma Healthcare (ASX:SIG), Village Roadshow (ASX:VRL) and many more.
The customer wins for CV1 were constituted by:
Providing a wide-ranging screening and verification products
Multiple integrations with other critical HR technology platforms
Strong performance of CV1's customer engagement teams
For CV1, the revenue through product integrations has continued to rise with sales for the first quarter of FY21 by surpassing the previous corresponding period by 156%. Further, the significant rebound in sales predominantly drove the positive cash flow outcome for CV1.
CV1 is a growing business in the HR tech space with broadening revenue streams by offering its check products by way of the CVCheck brand on its proprietary online platform CVCheck.com. While operating for over ten years, CV1 has developed a world-class online platform that caters to the need for a comprehensive range of checks across the globe.
On 15 October, CVCheck signed an agreement with US-based NetForce Global LLC, with the latter becoming the former's first international client in strategic white label rollout.
The CV1 share price was up by 3.030% intraday on 16 October 2020 and quoted at $0.170 with a market capitalisation of $48.21 million.
Elmo Software Acquires Breathe
Cloud-based HR & Payroll software provider, Elmo Software Limited (ASX:ELO) provides a unified platform to streamline processes for HR, and also manages payroll and rostering / time & attendance for its customers.
INTERESTING READ: Reasons why 3 Diversified Stocks PointsBet (ASX:PBH), Unibail (ASX:URW), Carnarvon (ASX:CVN) zoomed on ASX?
The Company recently acquired Breathe, which is a United Kingdom-based rapidly growing, scalable HR platform for small businesses. Opportunistically, this acquisition opens the entry gates for ELO into a new market segment of small businesses while simultaneously increasing the footprints of the Company in the UK.
Snapshot of Breathe (Source: ASX Announcement 08 October 2020)
In addition to this, the acquisition transaction also adds to the revenue and customer base of ELMO and increases the Total Addressable Market for ELO by $2.2 billion, to $11.4 billion, across Australia, NZ, and the UK.
The launch of Breathe into the Australian and New Zealand markets shall help ELO to access a new market opportunity worth $660 million. Furthermore, this shall help to leverage the infrastructure and expertise of ELMO.
The updated FY21 guidance provided by ELO after the acquisition includes the following:
Annualised Recurring Revenue expected between A$72.5 million to $78.5 million
Revenue anticipated in the range of $61.0 million to $66.0 million
EBITDA expected between $3.5 million to $7.5 million
The share price of ELO quoted at $5.860, down by 0.180% intraday on 16 October 2020 with a market capitalisation of $521.61 million.
NOTE: $ indicates Australian Dollar unless otherwise specified.