Summary

Elsight Limited has shipped the initial order for Alrena Technologies worth ~US$300,000.
Alrena Technologies has been recognised with a prestigious global IoT innovation award for its Halo based Medibag product.
Elsight has also received CE certification for Halo that authorises ELS to implement the product across the European Economic Area (EEA) at scale.
ELS looks forward to ramping up its commercial rollout with a key focus on multiple areas of product enhancement and across geographies.
The developer of advanced communication technologies, Elsight Limited (ASX:ELS) has been making impressive progress in the US and Europe. Off late, ELS has provided an update on the progress of its business during the COVID-19 pandemic on various including initial order fulfilment of Alrena partnership, EU Certification as well as planned activities.
Related read: A Lens over Elsight's Cutting-Edge Technology
Let us take a deeper look into the Company's progress and upcoming activities.
Initial Order of Alrena Successfully Shipped
In August 2020, ELS had received a major order from a French Company, Alrena Technologies for delivering Halo units. These units were to be integrated into a lighter and more portable version of ELS' Smartmedicase, branded as the Smartmedibag by Alrena.
ELS highlighted that it has successfully transported all the units of Halo to fulfil the preliminary order totalling ~US$300,000.
Alrena has developed the MediBag for use in remote and rural locations and emergency situations. The MediBag, also termed as "The connected nurses initiative", has been created to establish a real-time connection between nurses and doctors to offer treatment to the patients in rural and remote locations of France.
Do Read: A Walk-Through Elsight's Performance during the First Half of FY20
Alrena Receives Global Recognition
While being highly suitable for the lightweight and smaller Medibag product, Halo is also instrumental in providing the capabilities for highly secure and accessible communications that the system requires.
ELS's partner, Alrena Technologies, has received a prominent global award for its MediBag device featuring Halo. It had been named as the winner of the IoT Innovation category at the IoT World show held in Paris. Moreover, Alrena has achieved notable growth in France, particularly in the remote and rural health area. The French Ministry of Health has also endorsed Alrena's efforts across France.
Alrena's Medibag featuring Halo is believed to be a breakthrough solution for patients living in rural areas of France, particularly during the COVID-19 pandemic.
For more insights on Halo, read; Casting an eye over the breakthrough Connectivity Platform of Elsight – Halo
Certification Obtained From European Union
ELS has achieved an important milestone during the COVID-19 pandemic by securing the CE certification in the EU. The certification demonstrates that ELS's product meets the health, safety, and environmental protection standards of the EU. This certification is granted after the products successfully pass all the necessary tests.
With the certification under its belt, ELS can now work closely with customers to implement Halo across the European Economic Area (EEA) at a large extent.
Must Read: Elsight Reaches Major Milestone with significant Halo order received from Kinetx Prime, Stock Rallies Above 63%
Continuing Efforts of ELS
After the initial release of Halo in November 2019, ELS has carried out extensive POCs and more than 3,000 flight hours on different platforms across nations. ELS has also received certifications in the USA and EU. At present, the Company is focused on speeding up its commercial rollout, encompassing the sourcing of constituents for present and potential orders.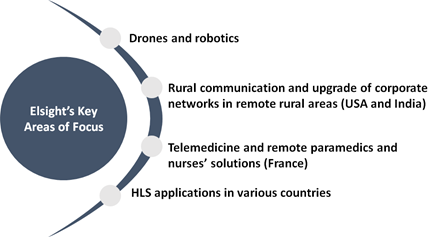 In parallel, ELS continues to adjust and scrutinise its procedures during the COVID-19 pandemic, especially with the emergence of the second wave of COVID-19 in several countries.
Did you read: Scan through Elsight's Remarkable June Quarter Performance
Other than additional precautions, ELS has also moved into an instituted routine of operations, encompassing the rotation of workforce in the office, remote working and work from home practices ensuring negligible interruption in the operations of the business.
ELS looks forward to achieving several other milestones in its way ahead.
On 09 October 2020, ELS share price closed at $0.66 at 12:25PM AEST, up 12.8% from the previous close.
Interesting Read: Elsight's Connectivity Platform Redefining Drone Flight