Summary

Cirralto's share price has edged up by over 1874% in the past six months.
The transformation of businesses towards digital payment adoption provides robust market opportunities to the digital payment suite offered by the Company.
The Company's recently commissioned independent security and infrastructure audits is a de-risking strategy targeted at achieving high performance of its digital payment solutions.
Cirralto intends to release several additional features to SpendaCollect in Q4 2020
Australian payment service provider, Cirralto Limited (ASX: CRO) exhibited an upbeat stock momentum, bolstered by digital payments gaining traction among the consumers. CRO share price has zoomed by more than 1874% in a matter of six months as it closed at $0.037 on 29 September 2020.
The effective blend of services alongside growth in cash collection via its digital payment suit has transpired an impressive journey for the Company on the stock market front. Significantly, Cirralto engaged in various independent security and infrastructure audits for boosting performance while minimising the risks associated with its payment products.
The backdrop to Cirralto's endeavours in the year has been the COVID-19 crisis, which has generated positive spill-over effects for the Company's Spenda Payment Suit. In addition to the organic growth catalysed by transforming the landscape, Cirralto will get a vast technology uplift with the acquisition of Appstablishment.
To KNOW MORE ABOUT THE PRODUCTS, READ: Cirralto's digital payment Portfolio well-positioned
The year so far has been pivotal for Cirralto, leveraging its innovative software and allowing the Company to gain significant footing in a relatively untapped area. As cirralto asx is committed to exploiting its clear competitive advantages actively, let us explore significant technical, marketing, and financial developments characterising its progress in the digital payment market.
ALSO READ: Cirralto's Quarterly Results Illustrating Remarkable Development During June Quarter
Technical Focus Substantiating Strong Performance
Monitoring and Review of its Capabilities
Appstablishment's core Spenda system, Spenda App and Web applications underwent a security audit conducted by Asterisk Information Security Pty Ltd. The security audit report indicated a commendable approach to secure software production, highlighting only low-level threat across all the applications.
Cirralto commissioned an audit of its cloud-hosted infrastructure from Macquarie Telecom. The infrastructure audit indicates that the current transaction load is being managed well while the Company has required insights to address future transaction demands cost-effectively.
Scaling Improvements to Foster Growth
The insights offered by the audit reports are clubbed with the ongoing R&D activities for implementing scaling improvements. Significantly, the improvements would enable:
An 80% decline in data volume requiring integration to an online finance system.
Reduction in cost of Azure cloud-hosted infrastructure by 58%.
Improvement in the utilisation of infrastructure, which would enable scaling of the system and reduction of 50% in the quarterly secure transaction processing costs.
Strategic Implementation of Marketing Efforts
Cirralto started implementing its channel, inside sales and marketing strategies, targeted at communicating and delivering offerings which hold value for its customers and clients towards the end of June quarter.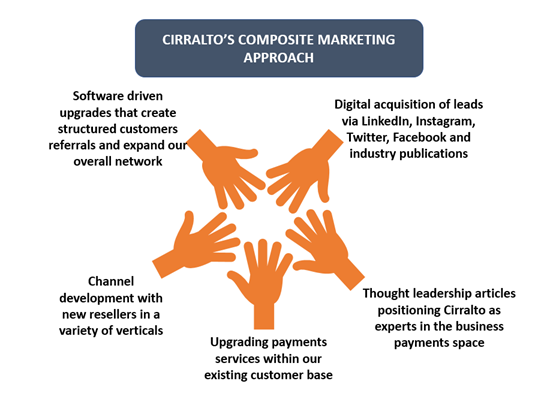 Image Source: © Kalkine Group (Data Source: CRO ASX Update, Dated 31 August 2020)
Given the COVID-19 scenario triggering economic downturn, the Company postponed many marketing activities that were planned to take across the various App marketplaces for the launch of Spenda platform. Nevertheless, the Company intends to conduct digital marketing campaigns, targeting customers who are seeking a transition to digital trading and payments solutions and offering cost-saving efficient business options.
Cirralto has indicated that all its articles and products would be published on the Company's product websites and social media platforms at @GetSpenda and @Spenda
Streamlining Financials to suit Growth Strategy
The recent capital raise of $2.7 million has facilitated the Company to remove its $1.4 million in debt and restructure its balance sheet to meet its immediate growth objectives.
ALSO READ: Cirralto's ~$2.7 Million Raise to Give a Boost to Spenda Business Payments Services
Cirralto's Managing Director Adrian Floate has already indicated the preference to utilise the capital for growing revenue and customer delivery capacity, which is expected to improve yield more than rent, interest payment and the on-costs of a traditional office.
Meanwhile, Cirralto has kicked off recruitment of new east coast implementation and sale resources, as the Company advances towards merger and completion of migration to virtual business. The new hires are expected to join the team early in the fourth quarter of 2020, in line with savings delivered from debt reduction and the Company to virtual operations.
Way Forward for the Company
The Company intends to release several additional features to SpendaCollect in Q4, aimed at expanding its addressable market. The new features in conjugation with the existing effectiveness would complete the SpendaCollect platform as a robust credit and cash flow management tool for suppliers.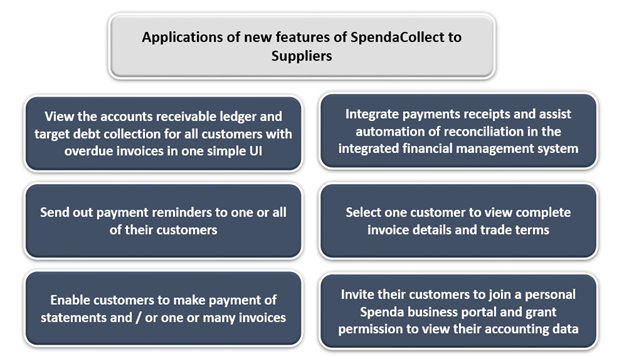 Image Source: © Kalkine Group (Data Source: CRO ASX Update, Dated 31 August 2020)
[All currency is in AUD unless stated otherwise]