Based in Australia, the business under discussion is a motor vehicle accessory designer, manufacturer, and distributor. It exports in overseas markets and has a notable following on social media platforms. It is Australia's largest manufacturer and distributor of products in its segment.
Over the past decade, the company has depicted steady and sustainable growth in revenues and profits. During the period, its revenues have grown at an average compound rate of 7.4% and net profits at 5.8%. Since the March lows marked at $10.4, the stock of this company has shot up over 3 times to hit a high of $33.68.
A pioneer in 4x4 accessory development
ARB Corporation Limited (ASX:ARB) operates 67 stores, which includes 27 company-owned stores. Over the year, the company has added one more store to its portfolio. The company specialises in modification accessories for four-wheel drive utilities and SUVs.
ARB is a financially strong business and is managed conservatively. Chairman Mr Roger G Brown has been associated with the business for over 40 years. The company was founded by Anthony Ronald Brown aka Tony, brother of Roger Brown.
ARB stands for Anthony Ronald Brown and is Australia's largest manufacturer and distributor of 4x4 accessories. The company has a strong international presence with an export network spanning over 100 countries.
Research and development remain in the DNA of the business. ARB collaborates with independent companies, Universities for special projects. Manufacturing units of the company are equipped with modern robots and the latest technologies.
At the end of FY20, it was not carrying debt on the balance sheet. Non-current liabilities included lease of round about $40 million.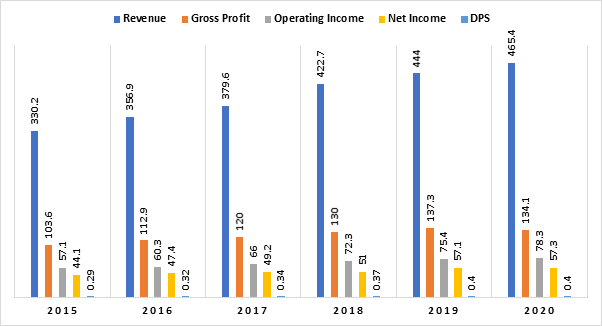 Five-year key financials (in millions, AUD) (Source: Thomson Reuters/Refinitiv)
Despite a pandemic, bottomline and topline remained resilient in FY20
In the year ended 30 June 2020, the company has posted revenue growth of 4.8%, taking revenue to $465.4 million against $443.9 million in the previous year. Profit before tax was $78.1 million with a marginal decrease of 0.5% over the previous year.
During the year, the company was benefitted by wage subsidies in Australia and New Zealand that contributed $9.5 million. Net profit for the year was $57.3 million, marginally up by 0.3% from $57.13 million in the previous year.
In FY20, ARB Corporation paid 39.5 cents per share total dividends (fully franked). Despite the pandemic and cash crunch, the company has depicted sustainability in its dividends. It deferred interim dividend payment but paid interim and final dividends in October. 
Before the pandemic until March 2020, sales were growing at 7.6%. In March and April, customer orders subdued and sales also decline significantly, making the company eligible for Job Keeper payments.
JobKeeper facilitated reinstatement of employees and continuation of projects, which included engineering research and development activities and operational improvement projects.
Source: ARB AGM Presentation, October 2020
Australian aftermarket sales grew by 1.4% over the previous year. This little improvement in sales was despite lacklustre Australian new vehicle sales. ARB's target vehicles' new sales declined by 7% over the previous year.
Export sales growth was 16.9% over the previous year. The composition of export sales in total sales has increased from 24.9% five years ago to 32.7% in FY20. Sales improved by the acquisition of two New Zealand companies along with growth in distribution centres in Australia, the USA, and the United Arab Emirates. There was a marginal decline in sales in the Czech Republic and Thailand.
Sales to OEMs contracted by 12.9% for the year after strong growth in the previous year. This decline was largely driven by new vehicle sales in Australia. Sales to new OEM contracts would commence over the next six months.
During the year, the company acquired and integrated two New Zealand businesses. The first acquisition - Beaut Utes, sells canopies, bed liners, ute lids, etc. Beaut Utes now incorporates the distribution of entire ARB range in the New Zealand market.
The second acquisition, Proform Plastics manufactures plastic sheets and undertakes new product development, distribution and sales of plastic products to OEM and wholesale customers. This transaction provides scalability of new products in domestic as well as international markets.
The company believes its long term competitive advantage lies in product development. In FY20, it spent $12 million in research and development and continued to progress long-term development projects.
It was noted that strengthening of Australian dollar, especially against Thai Baht, has reduced the cost of Thai manufactured products and improved sales margins. In July, the company achieved best sales month ever and noted order book is strong.
First-quarter was strong
In the first quarter, sales grew by 17.7% compared to the same period last year. Based on unaudited management results, profit before tax for the quarter was $29.7 million, which excludes non-recurring Government benefits of $9.7 million.
During the quarter, export sales were strong, with moderate sales growth in the domestic market, while OEM sales declined. Melbourne lockdown also impacted sales negatively.
It was understood that outstanding orders remains high, and the company is emphasising on increasing production to reduce order bank and provide better services to customers.
Board was of a view that the increase in sales could be attributed to pent up demand, increasing local tourism within countries, and Government support to people and businesses. They also believe exports markets would remain resilient unless there are any significant changes to the economic environment.
Management stated that the near-term economic environment remains uncertain, and first-quarter trading results should not be seen as an indicator to full-year performance. They also remain cautious of the potential impact when COVID-19 related support is withdrawn by Governments.