Highlights

The ASX 200 Information Technology index (ASX:XIJ) has delivered a one-year return of 13.93%, as of 28 September 2021.
Rising bond yields may affect tech shares further, as what we are witnessing currently.
HWH, CGO, ICS are some of the ASX tech companies that have delivered a triple-digit return this year (as of 28 September 2021).
Technology stocks have been one of the biggest beneficiaries of the COVID-19 pandemic. The ASX 200 Information Technology index (ASX:XIJ) has delivered a YTD return of 13.93%, outpacing the broader market index. The ASX 200's YTD return stands at 5.43% (as of 28 September 2021).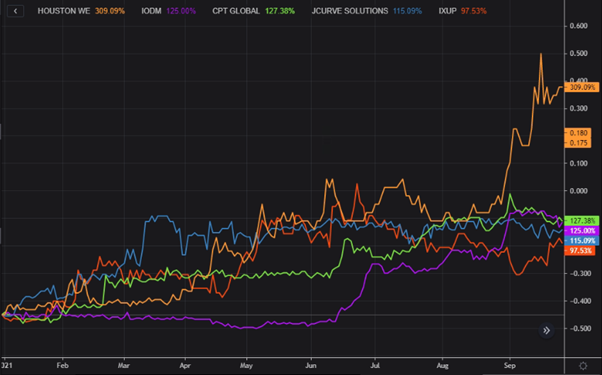 Image Source: Refinitiv Eikon; Analysis: Team Kalkine
Recently, tech stocks have taken a toll on the back of anticipations of an increase in the interest rates across the world. As interest rates go up, future cashflows of these companies look less lucrative. However, despite this recent tech rout, some of the ASX penny stocks in the tech space have delivered a massive YTD return (as of 28 September 2021). Let us have a look at five such shares.
Read More: 5 ASX penny stocks that turned multi-bagger in one month
Houston We Have Limited (ASX:HWH)
Houston We Have is a AU$39.7 million tech company that uses data science, Artificial Intelligence (AI) for analytics to help businesses make better decisions. HWH shares have rallied 309.09% this year, closing at AU$0.18 (as of yesterday).
Five tech penny stocks on ASX with decent returns
On 21 September 2021, the company's wholly owned subsidiary ECHOiQ entered into a partnership with Extential Solutions Pty Limited to deliver transformational solutions for clinical cardiology diagnostics which is a significant step for the company's AI-driven Enhanced Screening Program.
IDOM Limited (ASX:IOD)
IDOM is a software developer of automated debtor management system and other payment related services, having a presence across the globe. Shares of this AU$154.2 million company closed at AU$0.36 on Tuesday, delivering a massive return of 125% this year so far.
Recently, the company expanded its services to a third UK University, WUBS, which would help the company garner an additional revenue of AU$95K to AU$130K a year.
CPT Global Limited (ASX:CGO)
CPT Global is a specialist in the IT consulting business, having a market capitalisation of over AU$20 million. CPT shares have delivered a triple-digit YTD return of 127.38%, as of 28 September 2021, closing the last session at AU$0.62.
For FY21, the company's net profit has shot up 278.33% to AU$3.4 million, from a mere AU$900K in FY20. On the back of increased profit, the firm's final dividend distribution also soared to AU$1.2 million, from AU$478K in FY20.
JCurve Solutions Limited (ASX:JCS)
JCurve Solutions is an Australian technology solutions provider, which has surged to a market capitalisation of over AU$19 million as the company's shares have rallied 115.09% this year and were trading at AU$0.62 on Tuesday.
The company delivered strong financial results for FY2021, clocking a net profit of AU$152.2K, returning to profitability from the loss of AU$298.8K in FY20. The basic earnings per share has also turned positive to 0.05 cents, from negative 0.09 cents in FY20.
IXUP Limited (ASX:IXU)
IXUP provides a secure data analytics and collaboration platform to enterprises for data security. The company's share price last closed at AU$0.16 on 28 September 2021, delivering a massive year-to-date return of 97.53%.
IXUP strengthened its working capital base in FY21 via the completion of a AU$1.5 million placement and AU$2.2 million entitlement offer. Its recent acquisition of DataPOWA Limited will strategically position IXUP for accelerated growth within the global sports data market.
Bottom Line
Some of the ASX tech shares in the small-cap space have performed exceptionally well this year, despite a recent fall due to rising bond yields. As the economy progresses towards re-opening and reverts back to growth, interest rates might go up from the current historic lows, which might further affect tech shares.
Therefore, before investing, investors must do their own due diligence or consult their financial advisor.
Read More: Five ASX penny stocks that remained in limelight today