Source: airdone, Shutterstock

Summary

Dividend stocks may seem attractive to investors even when the companies issuing these incur losses.
Many dividend yielding stocks are issued by blue-chip companies that do not have steady revenue growth.
Five dividend stocks with dividend yields over 7% include: Fortescue Metals Group, AGL Energy Limited, Aurizon Holdings Ltd., Harvey Norman Holdings and Cromwell Property Group.
Dividends may be one of the top priorities for investors to consider before investing in a stock. High-yield dividend stocks offer higher chances of growth in the coming years.
Well-established blue-chip companies may not experience a lot of price fluctuations in the market; however, they may offer steeper dividend levels with time. Thus, dividend becomes a key reason to invest in these blue-chip stocks.
DO NOT MISS: Dividend Yield or Dividend Growth! What is the best way to identify the best dividend stocks?
Here are 5 ASX-listed dividend stocks with yield over 7%:
Fortescue Metals Group
Fortescue Group (ASX:FMG) is a leader in iron ore mining and production in Australia. The company has a substantial foothold as the largest producer of iron ore after BHP Group and Rio Tinto. The company holds mining assets in Pilbara, Western Australia.
Fortescue's Iron Bridge Magnetite Projected is expected to be one of the highest-grade magnetite projects in the world. Apart from iron ore production, Fortescue has other operations up its sleeve, including various exploration activities ongoing in New South Wales, Ecuador and Argentina and other preliminary operations in Columbia, Peru, Portugal, and Kazakhstan.
Fortescue's half-year results for FY21 showed higher growth including EBITDA increase of 57% to USD6.6 million with EBITDA margin rising to 71%. Net profit after tax was up 66% to USD4.1 billion while earnings per share also soared 66% to reach USD1.33 per share.
For full fiscal year 2021, Fortescue is expected to ship between 178 million tonnes to 182 million tonnes of iron ore. The company has a dividend yield of 11.42% and closed at AUD22.840 per share on 3 March 2021.
RELATED READ: Fortescue Metals Group Ltd (ASX:FMG) defers Pilbara's Iron Bridge Magnetite Project
AGL Energy Limited
AGL Energy (ASX:AGL) is involved in the generation as well as retailing of electricity and gas. The company incurred statutory losses over first half of FY21, however, it continued to provide its shareholders with increased dividend.
For the first half of FY21, AGL Energy reported a statutory loss after tax of AUD2.29 billion. This was accompanied by an EBITDA of AUD926 million, a drop of 13% over H1FY21. The company's net profit after tax was lower by 27% over H1FY21 to AUD317 million.
RELATED READ: What Dented AGL Energy's First-Half Performance?
These reduced figures reflect AGL's decision to book impairments for certain problematic contracts and the charges linked to these contracts. Additionally, AGL's CEO and MD Brett Redman commented that the declining energy prices had worsened the scenario for the company. CEO Redman also pointed towards the increasing costs related to the pandemic that led to these reduced figures.
The company announced dividend payments of AUD0.41 per share despite the low revenue figures. This increased dividend was covered by an increase in the cash flow and expected revenue growth in the coming months. The company has a dividend yield of 9.73% and closed at AUD9.48 per share on 3 March 2021.
Harvey Norman Holdings Limited
A refreshing change to the list, Harvey Norman (ASX:HVN) operates as a franchise and is a multi-national retailer, which provides furniture, beddings and electrical necessities. The company released solid and profitable results for the first half of FY21.
The group's total revenue during the half year period was AUD5.2 billion, which was higher by 25.8% over the previous corresponding period. The EBITDA also soared 76% over the previous corresponding period to AUD779.8 million.
Additionally, net profit after tax and non-controlling interests were reported to be AUD462 million, a whopping 116% growth over H1FY20. The earnings per share also doubled to 37.08 cents.
The company paid a dividend of AUD0.24 per share for the entire calendar year of 2020. However, in its latest result announcement, Harvey Norman declared a dividend of 20 cents per share. The company has a dividend yield of 7.15% and closed at AUD5.310 per share on 3 March 2021.
Aurizon Holdings Ltd
Rail transport company Aurizon (ASX:AZJ) is engaged in the transportation of retail goods and groceries across cities in Queensland. The company also transports minerals like coal and iron ore to other parts of Australia.
During the first half of FY21, the company reported an EBIT worth AUD454 million, in line with its previous corresponding period's EBIT of AUD456 million. This slight drop was accompanied by a 2% drop in the company's revenue to AUD1,498 million. The company's net profit after tax also dropped by 1% to AUD267 million.
RELATED READ: Aurizon Holdings (ASX:AZJ) delivers decent half-year FY2021, ups dividend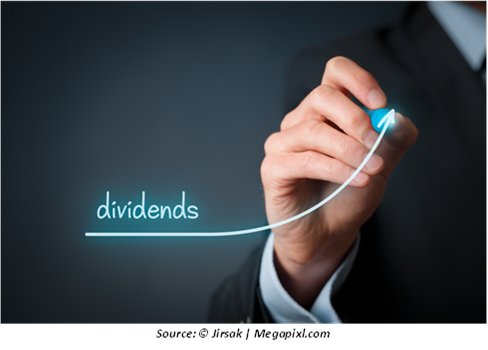 Despite reduced demand during the pandemic and a challenging trade environment with China, the company's dividend increased 5% to 14.4 cents per share, 70% franked. The company's bulk business performance seemed promising, which was driven by volume growth.
The company's next dividend payment would be AUD0.14 per share, lower than last year's dividend payment of AUD0.29 per share. The company has a dividend yield of 7.61% and closed at AUD3.690 per share on 3 March 2021.
Cromwell Property Group
Cromwell Property Group (ASX:CMW) is a global real estate investor and manager. The company has its operations sprawled across 14 countries. The company portfolio consists of over 220 assets and has total AUM worth AUD11.6 billion spread across sectors like office, retail, logistics, property securities and others.
The firm reported statutory profit worth AUD146.8 million, with underlying operating profit of AUD99.1 million. The company announced HY21 distribution per security of 3.75 cents. The net tangible assets per security increased to AUD1 from AUD0.99 and the total assets under management surged to AUD11.6 billion.
ALSO READ: Cromwell Property Reports 13.3% Growth In Statutory Profit In FY2020
The group also announced certain changes to its board. The company's CEO Michael Wilde remains hopeful that the coming year would be profitable for Cromwell.
The company has a dividend yield of 9.43% and closed at AUD0.800 per share on 3 March 2021.