Summary

2020 was one of the most challenging years with the pandemic affecting the world economy. However, some industries managed to outperform others during the period of high uncertainty.
Ultima United Limited, Tesoro Resources Limited, and Predictive Discovery Limited have returned impressive returns to their shareholders in the last one year.
The companies have also achieved major success in terms of exploration, and the results received have been encouraging.
Several activities have been planned that are in-line with the organisational objectives in the short and long term.
The year 2020 has been difficult for many ASX-listed players, yet some small players have been doing wonders for their shareholders. Despite the challenges posed by the COVID-19 pandemic, these companies managed to stay afloat and make significant strides in their business activities.
The graph below gives a snapshot of three penny stocks - Ultima United, Tesoro Resources, and Predictive Discovery - and their respective growth in the past year (As on 18 January 2021)
Source: ASX
DID YOU READ: 5 ASX-Listed Penny Stocks to Look at in 2021
Let us look at the three stocks in detail:
Ultima United Limited (ASX:UUL)
ASX-listed property developer Ultima United Limited engages in the development and management of properties subsequent sale of properties that have been developed or acquired.
The UUL stock has delivered a staggering growth of 3,525% over the past one year (till 18 January 2021). The penny stock hit a 52-week high on 18 January, closing at A$0.580.
In December 2020, UUL bagged a deal concerning the acquisition of multiple lots of land at a property development project. This project is in Niseko, Japan and is recognised as TELLUS Villas. For this purpose, UUL has inked a binding LoI (letter of intent) with Infinity Capital Group Japan Development Godo Kaisha (ICGJ).
MUST WATCH: Investing in Penny Stock Australia
The Company believes that this recent fresh development project is a thrilling initial step for the Company and its growth plans into the Asia-Pacific and outside Australia. The Company's Board remains optimistic about the new and greater opportunities stemming from onboarding of this project in the current and upcoming years.
Till now, UUL's operations were limited to the Australian market. However, the Company looks forward to boosting the marketability and the valuation of the properties developed by them in Australia and beyond.
Tesoro Resources Limited (ASX:TSO)
Tesoro Resources Limited is another stock that witnessed dramatic growth in its share price in the last 12 months. TSO is a discovery and development company focused on precious metals in Chile. Founded in the year 2017, the ASX-listed Company has exploration phase gold assets in Chile.
The Company shares a strong commitment towards the acquisition and development of high-quality gold resources with prospects for district-scale mining projects.
Tesoro has been progressing well with all-round development, including the closure of a Share Purchase Plan (SPP), continuing drilling at El Zorro, etc.
INTERESTING READ: Do You Know These Lucrative Penny Stocks to Look at in 2021
Lately, the Company closed an oversubscribed SPP and received valid applications worth approximately A$4.5 million. The applications significantly exceeded the target of raising A$3,000,000, intended to finance the scheduled exploration and development programs at the El Zorro Gold Project.
The project had four diamond drill rigs on site that were drilling day and night to outline the Ternera Gold Deposit.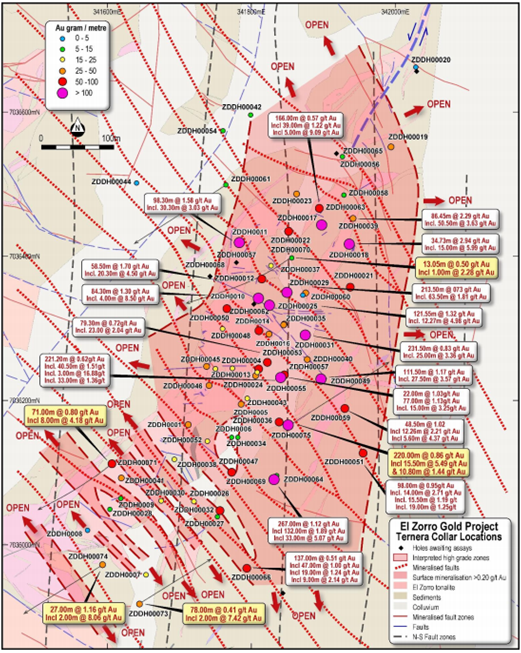 Ternera Drilling with Collar Locations and Significant Intercepts (Source: ASX Announcement 11 January 2021)
According to the update on 11 January 2021, TSO received results from several holes completed at the Ternera prospect on El Zorro Project. Notably, the results include positive gold intercepts returned from the holes and continuity and scale of a new gold zone were confirmed from hole ZDDH00075.
TSO's drilling continues to develop the Ternera deposit and indicates encouraging consistent and extensive gold mineralisation. Moreover, the Company believes that new gold zones are evolving to the south.
Tesoro looks forward to commencing various activities to advance the El Zorro Gold Project as early as possible through detailed metallurgical, infrastructure, hydrological and geotechnical studies.
Tesoro shares have increased by a massive 936% over the last year (as on 18 January 2021). TSO stock closed at A$0.290 with a market capitalisation of A$176.76 million.
Predictive Discovery Ltd. (ASX:PDI)
West African focused gold explorer Predictive Discovery Ltd. was founded in 2007 for gold and uranium exploration. The Company has a significant portfolio of fully-owned gold projects and JV gold projects located across one of the world's most gold-endowed Greenstone Belts.
The projects' location across the famed Birmian Greenstone Belt of West Africa offers significant prospects for substantial gold deposits. PDI is actively engaged in exploring its fully owned projects to fulfil its objective of finding large gold deposits. This exploration work is carried out across projects located in the highly prospective Siguiri Basin, which remains underexplored.
Bankan Creek Prospect (Source: ASX Announcement 11 January 2021)
At its Bankan Gold Project, PDI reported the beginning of the later phase of Diamond and RC drilling in December 2020. The project is located in Guinea, and the drilling focused on two crucial prospects unearthed in early 2020.
Further, the Company has planned to commence an aeromagnetic survey throughout the Bankan Project in early 2021 to discover structural drill targets. Also, a metallurgical study is scheduled to begin in the March quarter of the current year.
The Predictive Discovery stock has increased by 613% over the past year (till 18 January 2021). PDI shares last traded at A$0.057 on 18 January with a market capitalisation of A$58.98 million.