Highlights
Shares of materials sector giant, BHP Group, are gaining all the attention today as the company shared plans to release its quarterly report.
The stock has gained over 12% in the last 12 months.
BHP expects to complete its merger with Woodside in June 2022.
The shares of ASX-listed materials company BHP Group Limited (ASX:BHP) are gaining attention today despite any specific announcement.
However, BHP is about to release its quarterly report for the three months ended on 31 March 2022, which can be why investors are keeping the stock on their radar.
Apart from this, a company's share performance depends upon its operational and financial performance. On that note, let's have a look at its recent developments.
BHP - Woodside merger
Image source: © Kenchiro755 | Megapixl.com
In the previous month, the company updated its share sale agreement with Woodside which is expected to complete on 1 June 2022.
The company revealed that Woodside had published an explanatory memorandum and notice of meeting for its shareholders concluding that this merger is in the best interest of its shareholders.
BHP will likely receive 914.8 million newly issued Woodside shares on completing this merger.
BHP Group half-yearly report
The company also delivered a healthy financial performance for the half year ended on 31 December 2021. As per its half yearly report –
The revenue from discontinued operations jumped 27% to US$30,527 million on pcp and total revenue stood at US$3,257 million, up 104% on pcp.
BHP's net tangible assets per fully paid shares increased to US$10.59 from US$10.26 in previous corresponding period.
Moreover, the company's profit from operations increased by 50% to US$14.8 billion.
BHP maintained a robust balance sheet with net operating cash flow of US$11.5 billion and free cash flow of US$8.5 billion.
Apart from this, in January 2022, the company also completed the unification of its dual listed corporate structure. The company mitigated impacts of COVID-19 coupled with significant weather events on its business with its strong first half.
BHP share price performance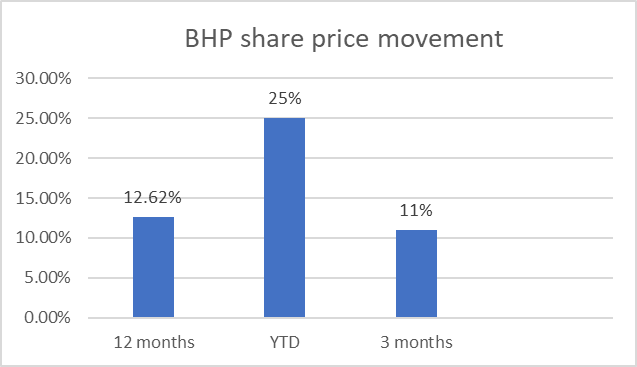 Image Source © 2022 Kalkine Media ®
The stock has delivered over 12% return to its shareholders in the last 12 months. It has gained 25% on YTD so far this year and has delivered a healthy 11% return to its shareholders over the last three months.