Summary

Real Energy Corporation (ASX:RLE) has commenced site preparation and is mobilising equipment for Venus 1 well.
Venus 1 drilling is expected to begin next week, wherein the vertical well will be drilled to a planned depth of 680 metres.
Real Energy shares traded higher by more than 13 per cent upon this market update at $ 0.026 on 20 October 2020.
The shares of Real Energy Corporation Limited (ASX:RLE) marked an impressive uptick of 13.043 per cent to $ 0.026 on 20 October 2020. The Company has a market capitalisation of $ 10.64 million.
The positive sentiment was built around the RLE stock after the Company's latest update on the ASX. Real Energy stated that Venus 1 CSG well is expected to spud next week. Site preparations have commenced.
ALSO READ: Oversubscribed SPP
Venus 1 Site Preparation Begins
The Company has commenced site preparation for Venus 1 CSG well, the first pilot well for Project Venus ( ATP2051). Currently, Real Energy is mobilising equipment for the well.
Drilling operations are likely to begin in about a week.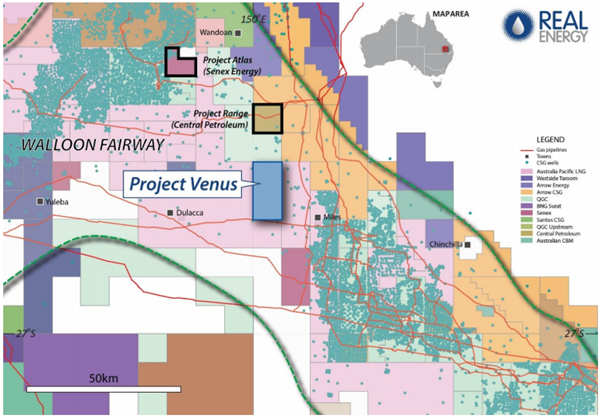 Project Venus Location (Source: RLE's ASX Update, 20 Oct 2020)
Plan of Action for Venus 1 Drilling
The new vertical well has been planned to be drilled to a total depth of 680 metres. Upon reaching the total depth, Real Energy intends to case and suspend the well. Finally, the rig will be demobilised.
Shortly after that, a coil tubing will be mobilised and utilised to run a reservoir enhancement program. Upon the reservoir enhancement, the well will be set up as the first pilot production well.
A controlled drawdown production testing is likely to be conducted, which will continue into early 2021. This testing is curated to establish an initial gas breakout along with increasing gas flows over the controlled drawdown period, needed to model and forecast future gas flow rates plus potentially commercial gas flow rates.
Real Energy believes that the results of the production test will support in making the below decisions-
Should the pilot be expanded?
If commercial flow rates are achieved, should the Company initiate an aggressive appraisal program to certify sufficient reserves for the Project Venus JV, and secure gas sales agreements to allow for commercial field development?
Venus 1 Overview
Venus 1 is located on the North Eastern part of Real Energy's permit. Project Venus is stationed within the Walloon CSG fairway in the Surat Basin. It has considerable near-term upside with 694 PJ of prospective resource.
As per the proposed Strata-X Energy and Real Energy merger to form Pure Energy, the merged entity will have 100% of Project Venus.
The Project offers the potential to achieve early cash flows, primarily owing to its location- immediately adjacent to gas infrastructure and within a proven giant gas fairway.
The Company anticipates success on Venus 1 well and is optimistic to deliver a meaningful contingent resource in the short term. Besides, Real Energy may drill two other wells to have a sufficient number of wells before making further developments to ultimately make good cash flow.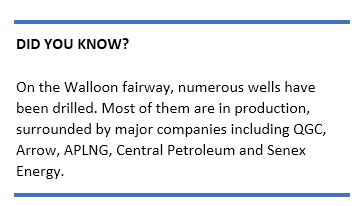 Managing Director Scott Brown opines that once Real Energy has a certified reserve position on Project Venus, the ultimate development could be to sign a gas sales agreement for the Project.
GOOD READ: Action-Packed FY20 & Subsequent Developments
On 21 October 2020 (AEST 2:31 PM), RLE stock traded at $ 0.024.