Summary

Strong gas shows have been reported from the Venus 1 CSG well.
Venus-1 has been suspended as a future pilot production well and the rig is demobilising.
Real Energy Corporation has also released a Scheme Booklet for the proposal to merge with Strata-X Energy Limited via a Scheme of Arrangement, whereby Strata-X Energy will acquire all the shares in the Company.
The Real Energy Board has collectively advised shareholders to vote in favour of the proposal, in the absence of a better proposal.
The Scheme Meeting will be held on 11 December 2020.
The first coal seam gas (CSG) pilot well, Venus-1 has been drilled to a depth of 715 metres.
Gas development company Real Energy Corporation Limited (ASX:RLE) continues to deliver rapid developments. The Company has finally released the much-awaited Scheme Booklet, comprising important information for shareholders to consider the proposed merger of Real Energy Corporation and Strata-X Energy Limited (ASX:SXA) to form Pure Energy.
Additionally, strong gas shows have been reported from the Venus 1 CSG well, the first coal seam gas pilot well in the Project Venus JV between Real Energy Corporation and Strata-X Energy.
Venus-1 Developments
Venus-1 will be set up as the first production well for a coal seam gas pilot pursuing flows of commercial gas.
The well has been drilled to a total depth of 715 metres and has been suspended with the rig being demobilised. Multiple coal intervals with excellent gas shows have been recorded with a preliminary interpretation of the wireline logs indicating ~ 25 metres of net coal pay.
The Juandah coals have been underreamed, a liner run over the underreamed section and a wellhead has been installed. The next phase will cover coil tubing jetting coal reservoir improvements over coal reservoirs that are highly gas saturated.
The Merger Of Equals
In July 2020, Real Energy and Strata-X Energy executed a Scheme Implementation Agreement. The Agreement was aimed to facilitate the acquisition of all the shares of Real Energy whereby each Real Energy shareholder will receive one share in Strata-X Energy (to be renamed Pure Energy) for every three shares held.
The merger remains subject to an array of conditions such as shareholder, court and regulatory approvals along with other customary conditions.
According to Chairman John Wardman, the proposed merger of Real Energy and Strata-X is a merger of equals. It is likely to create an extremely high potential and diversified gas portfolio. Initially, Pure Energy will have 100% of the following gas projects-
Project Venus – CSG Walloon Surat Basin – 694 billion cubic feet (Bcf)
Serowe Gas Project – CSG Botswana - 2.4 trillion cubic feet (Tcf)
Windorah Gas Project - Cooper Basin centres gas – 8.8 Tcf
Over the next 12 months, Pure Energy aims to grow its reserves and resources to add value to its projects.
Is The Proposal Favourable For Shareholders?
The Real Energy Board believes that the proposal is in the best interest of Company's shareholders. Besides the above outlined scheme advantages, the Board is confident that the merger to form Pure Energy may lead to a significant re-rating of Real Energy.
Below are few reasons cited in the Scheme Booklet, that entail why shareholders should vote in favour of the proposal-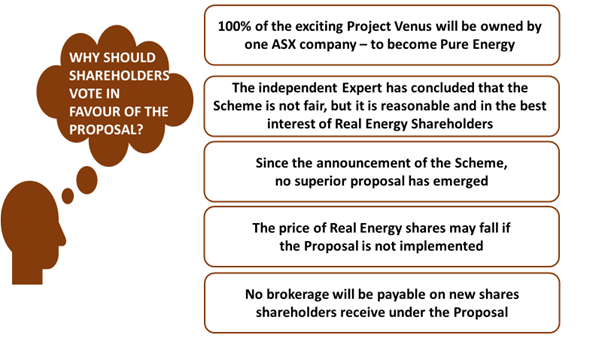 Image: © Kalkine Group 2020, Source: RLE ASX Update, 9 Nov 2020
However, shareholders may disagree with the Board and the Independent Expert or the tax consequences may not suit shareholders' financial position. It should be noted that if a shareholder votes against the proposal and the proposal proceeds, he/ she would no longer be a Real Energy shareholder and may have preferred the asset exposure in Real Energy rather than the combined group to become Pure Energy.
Meanwhile, each Company Director plans to vote or procure the voting of all Company shares held or controlled by them, in favour of the Scheme in the absence of a superior proposal.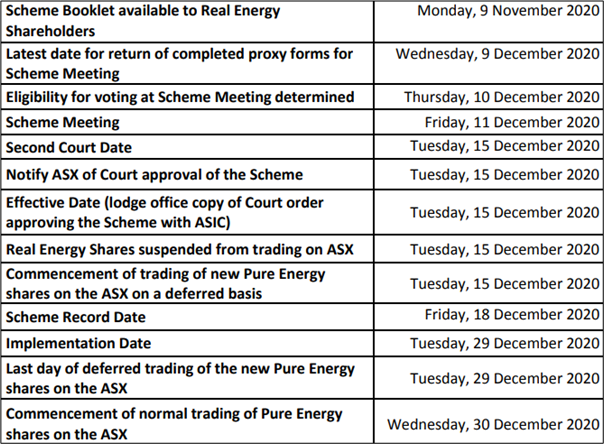 Key Dates of the Scheme (Source: RLE ASX Update, 9 Nov 2020)
RLE quoted $0.024 on 10 November 2020, moving upward by more than 4% from its last close.
GOOD READ: Real Energy's Action-Packed FY20 & Subsequent Developments