Summary

Real Energy Corporation Limited (ASX:RLE) has reported its first progressive report after drilling commenced at Venus-1 on 1 November 2020.
Venus-1 has been drilled to a total depth of 715 metres, beyond the planned total depth of 680 metres.
In the uppermost 3 to 5-metre-thick coals, strong gas shows were recorded, and in the deeper coal seams, drilling observed fair to good gas shows.
In immediate pipeline, underreaming of Juandah coals prior to running a liner, wellhead installation along with demobilisation of Silver City Drilling rig have been planned.
Pure Energy to be formed after the proposed merger between Strata-X Energy and Real Energy will have 100% of Project Venus.
Venus-1 is likely to be set up as the first pilot CSG well for long-term production testing pursuing commercial gas flows.
Ever since Venus-1 was spudded on 1 November 2020, Australian east coast focused gas company Real Energy Corporation Limited (ASX:RLE) has remained a hot topic for market participants. The Company has finally released a progressive report pertaining to the ongoing drilling activity at Venus-1.
Venus-1 is the first pilot CSG well in the 154km2 ATP 2051P area of Project Venus Joint Venture between Real Energy and Strata-X Energy. It is situated within the productive Walloon CSG fairway of the Surat Basin.
According to the latest Company report, it has reached a total depth of 715 metres.
Venus-1: Drilling Update & Observations
Real Energy had previously suggested that the targeted total depth of the Venus-1 well is 680 metres. However, the well has surpassed the planned target, reaching a total depth of 715 metres, as per the Company's ASX announcement from 6 November 2020.
The following significant observations have been made-
The Company advised that in the uppermost 3 to 5-metre-thick coal seams, very good gas shows were recorded .
Besides, in the deeper thinner coal seams, fair to good gas shows were observed.
Current operations at the well are wireline logging.
Plan of Action Ahead
The Company has a robust plan charted out for the Venus-1 well.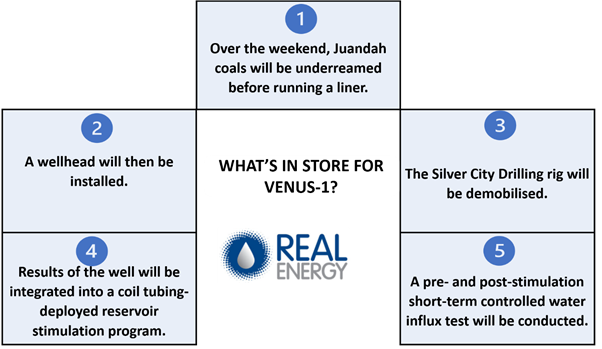 Image: © Kalkine Group 2020, Source: RLE's ASX Report, 06 Oct 2020
It should be noted that-
Integration of the results from Venus-1 into a coil tubing-deployed reservoir stimulation program is designed to enhance water influx and eventually gas flows from the targeted gassy coals.
The planned pre- and post-stimulation short-term controlled water influx test will help in comparing the before and after stimulation results.
The post-stimulation water influx rate along with other data is necessary to design optimum production equipment as well as methods for the well, as required to conduct a controlled drawdown production pilot flow test over numerous months.
The results of the production pilot test will assist Real Energy in determining if expanding the pilot is the better option than starting an aggressive appraisal program in case commercial flow rates are achieved. The appraisal program will be designed to certify adequate reserves for the JV to secure gas sales agreements, enabling commercial field development.
RLE traded at $ 0.025 a share on 6 November 2020.
GOOD READ: Real Energy's Action-Packed FY20 & Subsequent Developments