Summary

Vanadium Redox Flow Batteries present an innovative static energy storage solution, possessing a rechargeable and long battery life, as well as scalable storage capacity
One of the world's largest Vanadium deposits; Julia Creek holds resources of ~2,760 million tonnes with an average grade of 0.3% V2O5
QEM is currently focused on optimising the production route for balanced vanadium and hydrocarbon extraction at Julia Creek
Julia Creek is both a vanadium and oil shale project, providing a dual commodity opportunity with significant latent value
The majority of current vanadium consumption stems from the iron and steel industry, in which vanadium is used as a strengthening agent. To a lesser extent, the versatile metal is also used in alloys and chemical applications. However, energy storage is rapidly becoming a high-growth segment of vanadium consumption. The quality requirements for vanadium in the energy storage sector are usually more stringent.
Modern Times, Newer Solutions: Innovative solution to energy storage puzzle
Professor Maria Skyllas-Kazacos, from UNSW in Australia, invented the energy storage technology -Vanadium Redox Flow Battery (VRFB)
The growing global chorus for cleaner fuels is anticipated to be reflected in a higher proportion of the world's energy mix coming from renewable and clean energy sources in the future. Vanadium is uniquely endowed as it exists in 4 different oxidation states. Due to this unique attribute, vanadium can be used in storing electrical energy in the form of chemical energy.
Read Here: QEM reports Vanadium extraction efficiencies up to 92%, Optimisation studies to follow
The energy can be converted back and forth from its different oxidation states. The usage of only one material minimises the chances of cross-contamination. Further, the Vanadium Redox Flow Battery can convert and store electrical energy in 2 distinct tanks with electrolytes, allowing the safe storage of energy for longer periods without any loss.
Interesting Read: QEM's Julia Project Vanadium Project, an answer to the Energy Storage Puzzle
As per Bloomberg New Energy Finance, almost $548 billion is anticipated to be invested in battery capacity by the year 2050, with two-thirds on the grid level and the remainder by households and businesses. This highlights the substantial opportunity in the energy storage space.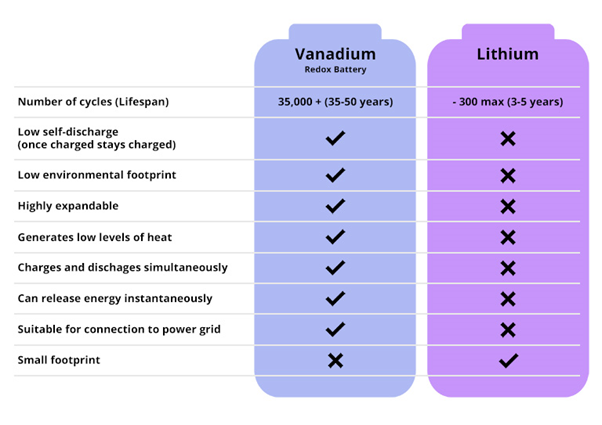 Advantages of Vanadium Redox Flow Batteries over Lithium ion Batteries Source: QEM Limited
Vanadium Redox Flow Batteries are ideal for static energy storage application. The VRFB offers a long battery life and scalable storage capacity option, with minimal maintenance obligations and environmental footprint. Hence, in addition to vanadium's application for steel and alloy purposes, it presents a strong case for application in the energy storage space.
Julia Creek – One of the largest Vanadium deposits globally
Shale oil and vanadium explorer QEM Limited (ASX:QEM) is methodically progressing its flagship Julia Creek project, which contains one the largest vanadium deposits in the world. Julia Creek is the only oil shale and vanadium combination project globally, enabling significant potential production cost efficiencies and enhanced market opportunities. QEM is committed to delivering innovative energy solutions through the production of vanadium pentoxide and energy fuels.
Suggested Read: QEM Advances Dual Commodity Opportunity Following Outstanding Test Results
The Julia Creek project stretches over 249.6km² in North Western Queensland, Australia. Following a major exploration program, the vanadium JORC resources increased by ~62% in October 2019 to 2,760 million tonnes with an average grade of 0.3% V2O5.Additionally, within the same orebody Julia Creek contains 3C oil resources of 783 million barrels.
The identified vanadium mineralisation is located at a shallow depth and offers a favourable strip ratio of ~2:1, minimising the operational expenditure associated with the mining, hauling and waste management. QEM intends to develop an open pit mining operation at the project to benefit from the shallow mineralisation.
Must Read: QEM Releases Investor Presentation Outlining the Dual Commodity opportunity at Julia Creek
QEM plans to conduct the next stage of test works to identify the favourable beneficiation routes for optimal oil and vanadium extraction yield, as well as the desired cost inputs relating to; temperature, reagent usage and acid consumption. QEM remains optimistic about determining the right balance.
QEM traded at $0.099 a share on 4 November 2020 with a market capitalisation of $10.5million.
Must Read: Outstanding test results from QEM Limited's dual commodity opportunity reinforces significant value potential
All financial information pertains to Australian dollar unless stated otherwise.