Summary

AGL Energy is involved in generation and retailing of electricity and gas for residential and commercial use.
The annual dividend has ranged from AU$1.19 in 2019 to AU$0.98 in 2020.
The share price is down over 23% year to date.
Founded in 1837, ASX-listed AGL Energy Ltd (ASX:AGL) is involved in generation and retailing of electricity and gas for residential and commercial use. The public company has a substantial portfolio of wholesale energy contracts and assets to support its retail customer base of over 3.6 million.
The annual dividend ranged from AU$1.19 in 2019 to AU$0.98 in 2020. The current dividend yield of the oil & gas stock stands at 8.71%, while the industry yield is 4.35%.
In the last five years, the annualised growth of the AU$5.68 billion firm stood at 2.5%, while industry growth was 3.34%.

AGL's Special Dividend Program
According to AGL, it targets a payout ratio of nearly 75% of underlying profit after tax (PAT) where a minimum franking level of 80% can be maintained. On 13 August 2020, AGL launched a Special Dividend Program for FY21 and FY22.
"Under the Special Dividend Program, AGL anticipates paying special dividends of up to 25 percent of Underlying Profit after tax, thereby augmenting AGL's dividend policy payout ratio of 75 percent to take the effective payout ratio to 100 percent of Underlying Profit after tax over this period," according to AGL.
The company also said that it aims to bring down the franking on dividends to zero in FY21 and FY22. AGL believes that this temporary reduction would help it return to generating franking credits from underlying earnings as early as the FY23 interim dividend.
READ MORE: Top five renewable energy stocks on ASX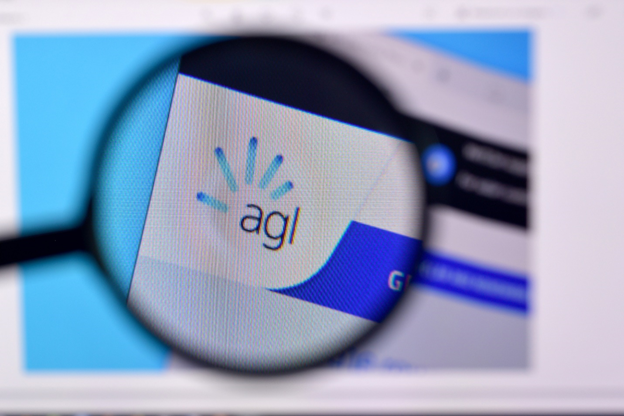 Source: © Mehaniq | Megapixl.com
Highlights of AGL's earnings for the first half of the financial year ended 31 December 2020:
Statutory loss after tax was AU$2,287 million.
Underlying earnings before interest, tax, depreciation and ammortisation (EBITDA) stood at AU$926 million, down 13% on 1H20
Underlying profit after tax (PAT) was AU$317 million
Total services to customers: 4.2 million, up 246,000.
Total generation volumes: 20,816 GWh, down 4.5%, reflecting reduced market demand
Flexible storage capacity development: 850 MW of grid-scale batteries well advanced with planning
Interim ordinary dividend of 31 cents per share and special dividend of 10 cents
FY21 underlying profit after tax guidance in the range of $500 million - $580 million, unchanged from 21 December 2020 update
Guidance for FY21 Underlying EBITDA of between AU$1,585 million and AU$1,845 million
AU$150 million of operating cost reduction identified for FY22, in addition to offsetting inflation
Programs under way to deliver AU$100 million reduction in sustaining capital expenditure by FY23
READ MORE: Which are the top five ASX-listed technology dividend stocks?
AGL share price snapshot
The AGL share price was trading at AU$9.29 at 1:04 PM (AEST), down over 23% year to date. The stock has given a negative return of over 46% in the past 12 months. The 52-week high stands at AU$17.75, while the 52-week low is AU$7.96.
The ASX 200 Utilities index fell roughly 22% during the past year.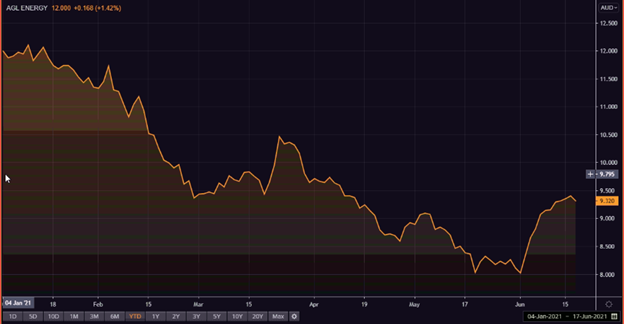 Source: AGL (YTD) share price chart (Source: Refinitiv Eikon)
Thus, it has been a tough year for AGL shares mainly due to conditions in the country's electricity market. Low and unstable electricity prices and the looming closure of the Liddell coal-fired power plant are not helping much. The shares were also negatively impacted after the CEO's sudden exit in May 2021.
Earlier in March, the company announced a restructuring plan. Under the set-up, the company planned to split into two companies. While 'New AGL' was to house its electricity retailing business, 'PrimeCo' was to hold AGL's electricity generation business. However, the company's shares had fallen nearly 20% following this announcement.
READ MORE: What will Bitcoin be worth in 2025?