Summary

The NSW Independent Planning Commission (IPC) has approved development of the Narrabri Gas Project with certain conditions.
Santos has already spent nearly $1.5 billion on appraisal and development of gas assets, and total cost of the project is estimated to be $3.6 billion.
Approval for the gas project bodes well with the Federal Government's recent announcement of National Gas Development Plan for the revival of the economy.
Homegrown energy pioneer, Santos Energy Limited (ASX: STO) on 30 September 2020 announced the NSW IPC's approval for the Narrabri Gas Project. Narrabri Gas Project is a coal seam gas (coal-based methane) project where gas production will be sourced from coal seams without extracting coal. Gas wells will be drilled to prolific coal seams, initially extracting the first formation water and then coal seam gas.
Suggested Reading: Santos Embraces IPC Narrabri Gas Project Approval
Santos to put plans in motion at Narrabri Gas Project
Santos has already notified that it accepts conditions proposed by the IPC and is looking forward to work in collaboration with the Federal Department of Agriculture, Water and Environment. The company will commence its work-over operations on the existing well until it receives approval for further drilling and development of the field.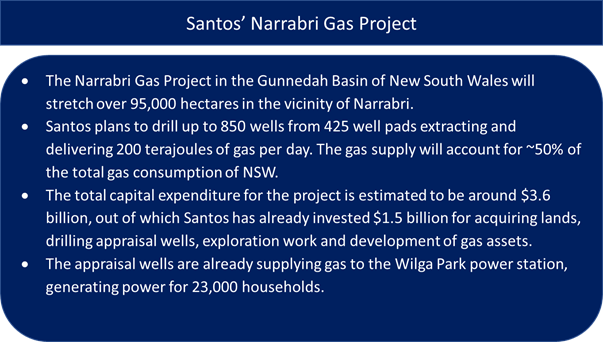 Santos, in its latest announcement, stated a time frame of 12 to 18 months for drilling of the appraisal wells upon receiving mandatory approvals. Further, findings of appraisal wells would provide foundation for the final development plan.
Earlier on 15 September 2020, Australian Prime Minister Scott Morrison had announced the National Gas Development Plan. The strategy includes creation of gas hubs, development of gas fields and construction of a pipeline for gas transportation. The NSW IPC's decision is in line with the Federal Government's strategy to promote natural gas for a speedy recovery of the economy post-Covid-19 pandemic.
The new proposed gas pipeline infrastructure constructed by APA Group will allow Santos to develop the Narrabri Gas Project at a lower capital expense. The existing pipeline to southern markets from Queensland is long and constrained, making the gas transportation expensive. The gas infrastructure strategy of the government will provide more options to transport Queensland gas to South at an affordable cost.
Must Read: Brent Crude Tumbles over fears of fresh lockdowns; How are ASX Oil Stocks Trading today
Record Production during H1 2020, Santos sets ambitious targets for 2020
Currently, Santos is Australia's biggest domestic gas supplier with operations in Cooper Basin, Surat Basin, Bowen Basin, Carnarvon Basin and gas assets in Timor-Leste and Papua New Guinea. Santos witnessed a record hydrocarbon production of 38.5 mmboe during H1 of 2020 registering a 4% y-o-y growth.
Interesting Read: LNG in a Hive of Activity, Contango as Winter demand Beckons
The revenues from sales stood at $1,668 million, lower 16% from H1 of 2019. EBITDA stood at $995 million, representing a dip of 21% against H1 of 2019. Despite record production, low crude oil prices affected overall performance of the company. The company recently paid an interim fully franked dividend of $0.029 per share in 2020. Santos targets a sales volume of 101-107 mmboe with a total production of 83-88 mmboe during 2020.
Read Here: Saudi and Russia go stern on OPEC+ laggards, Look at ASX Oil players
Santos traded at $5.11 on 9 October 2020, with a market cap of $ 10.5 billion.
(All financial information pertains to Australian Dollar unless stated otherwise.)